Vengeance, Bloodlust and Afternoon Tea: Armageddon, Cupcakes & The Poisonous Love of Heiner Müller's 'Medeamaterial', 'Heartpiece' & 'Quartet'
Heiner Müller
iMind Theatrical Productions
Theatro Technis
(2005)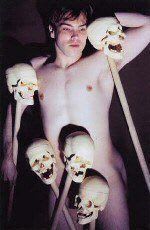 Some title!
Heiner Müller is regarded as a German successor to Bertolt Brecht and owes much to the influence of Samuel Beckett. His work is rarely performed in this country and apparently these three plays are even more rarely performed than most.
American actor/designer/director Cradeaux Alexander has already produced the two main pieces Off Off Broadway. They will never attract mainstream audiences but these quirky plays and unusual, stripped-down interpretations are both challenging and amusing.
Medeamaterial
This twenty-minute re-telling of the Medea story provides Alexander with an opportunity to show his acting talents. Quite why Medea should be played by a naked man wrapped in flowing red cloth is not entirely apparent.
The actor is hemmed in by four microphones at different heights and most dramatically writhes his way through the tale of jealousy, unfaithfulness and the slaughter of children.
The performance is, at times, reminiscent of Robert Lepage doing a solo Hamlet. The use of different voice colours helps to identify the speech of Medea and Jason but this potted version of a Greek classic can be difficult to follow.
Heartpiece
It is hard to write much about a play that lasts no more than two minutes.
Antonia Schnauber plays a woman who wants to know the true nature of her heart and therefore asks a doctor, David Sayers to remove it. It eventually takes three doctors (according to the publicity material) to do the trick after much moaning and groaning.
The result is not some bloody, pumping set of valves and arteries but a brick.
Quartet
This is the longest play at around 45 minutes. Müller has adapted Choderlos de Laclos' epistolary novel, Les Liaisons Dangereuses for two voices (or in this version four). It is sensual, funny, intelligible and by far the most satisfying part of the evening.
Alexander's treatment of the play is fascinating and works well. It primarily follows Valmont and Madame de Merteuil (John Malkovich and Glenn Close in the movie) using pairs of actors and actresses to play single parts. They become not only these two but the men also take on Mme de Tourvel (Michelle Pfeiffer), and the women become the frisky young Cecile (Uma Thurman).
Dressed in black and white, the male and female pairs speak their lines as one. This builds to an exciting and very sexy interpretation of the French classic.
Alexander's version of Quartet relies on carefully choreographed performances and is well acted by Miss Schnaube (like Müller she is German, but speaks with unaccented English) and Ava Burton as Madame de Merteuil and Sayers teamed with Executive Producer, box office manager and actor Rohan Quine as a sometimes overly-camp Valmont.
Reviewer: Philip Fisher