The Hobbit
J.R.R. Tolkien, adapted by Glyn Robbins
Vanessa Ford Productions
Darlington Civic Theatre and touring
(2010)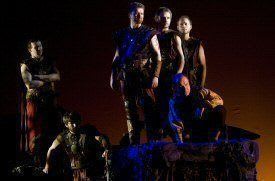 There's no doubt that bringing J.R.R. Tolkien's epic fantasy novel, The Hobbit, to the stage is an ambitious project. Creating the sights, sounds and atmosphere of Middle Earth in a theatre is, indeed, no small task. However, it is a task that producer Vanessa Ford has taken on under the direction of former thespian Roy Marsden.
Bilbo Baggins (Peter Howe), a quiet and contented Hobbit, has his life turned upside down when he is chosen by Gandalf the Sorcerer (Christopher Robbie) to join Thorin Oakenshield (Andrew Coppin), exiled King of the Dwarves, on his quest to reclaim their kingdom and treasure. The adventurers battle through the Misty Mountains, wind, rain, hail and thunderstorms, narrowly escaping Trolls, Goblins, Wolves and Giant Spiders until, finally, Bilbo alone must face the guardian of the treasure – a fearsome dragon named Smaug.
Glyn Robbins' adaptation doesn't flow seamlessly and at times seems somewhat disjointed. This is compounded by David Shields's set design, comprising of two rotating podiums, which make the wobbly sets associated with the soap opera Crossroads seem positively sturdy by comparison. Furthermore, on numerous occasions, it was impossible not to notice the varying pieces of technical equipment, including machinery and ropes, that were responsible for producing the 'sparkling new magical effects' mentioned in the programme notes, thus dispelling any sense of magic that could have been created by a slicker crew.
On the plus side, one cannot fault the enthusiasm, energy, commitment or talent of the ensemble cast. Credit should also be given for Abigail Hammond's costume design, Mark Bloxsidge's sound design and John Harris's lighting design, all of which contributed to creating the atmospheric setting of Middle Earth.
Regrettably, their efforts alone cannot make a silk purse from a sow's ear and this production is ultimately let down by the technical side of things. Indeed, I have seen school Nativity plays with better production standards.
Whilst this interpretation of The Hobbit works on some levels, it falls desperately short on others and I suspect that the legendary Tolkien is spinning in his grave at this very moment.
This production is also touring to Truro, The Hall for Cornwall; Northampton, Derngate; Cardiff, New Theatre; Dartford, Orchard Theatre; Derry, Millennium Forum; Nottingham, Theatre Royal; Aberdeen, His Majesty's Theatre and Belfast, Grand Opera House.
Dvid Chadderton reviewed this production at the Palace Theatre, Manchester
Reviewer: Steve Burbridge