Hobson's Choice
Harold Brighouse
Octagon Theatre Bolton
Octagon Theatre, Bolton
–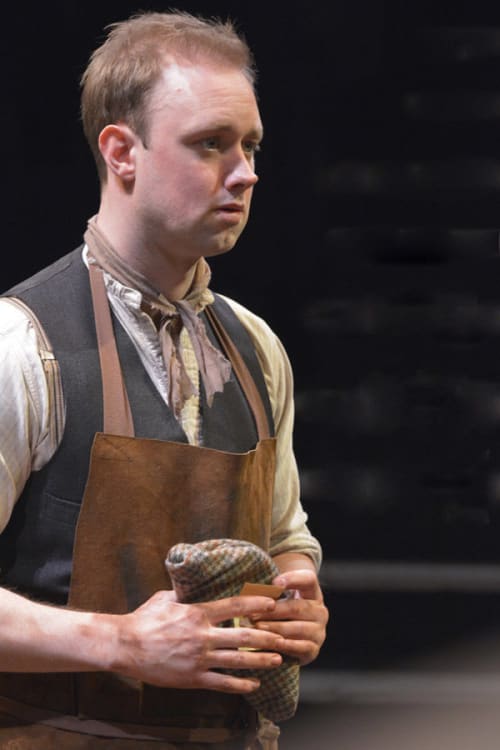 A year short of the centenary of its first performance—in New York rather than Lancashire—David Thacker revives Manchester School playwright Harold Brighouse's most famous play, and one of only two of his many plays that are ever revived today.
Even in 1915 the play was a nostalgic comedy, looking back to 1880s Salford where widower Henry Hobson leaves the running of his bootmaker's shop to his three daughters while he drinks with his pals in the Moonrakers. Hobson talks about marrying off the two younger daughters to cure their "uppishness", but at 30 he considers his eldest Maggie to be already an old maid.
Feisty, intelligent Maggie, whose salesmanship keeps the shop going, won't settle for that, and she tells nervous young Willie Mossop, the best bootmaker in the shop, that she is going to marry him. When Hobson protests, Maggie and Will set up their own place in competition with him, and she even arranges her sisters' marriages as well.
Of course it turns out that Hobson needs Maggie more than he likes to admit both as a daughter and as a business manager. It's the classic comic trope of the pompous man falling from his pedestal and having to learn some humility against a more political message—certainly for 1915—of an illiterate worker and a woman gaining mastery over a middle class man. Add to that lots of domestic family humour and this is a perfect comedy.
Thacker has assembled a very large cast for a regional production (it's a co-production with the New Vic, Newcastle-under-Lyme and Oldham Coliseum) of 12 actors and no doubling of parts with some very good actors such as Susan Twist (as Mrs Hepworth) and Christopher Villiers (as Dr Macfarlane) each making just one short appearance.
By far the best performance in this production is Michael Shelford as Willie Mossop, who gets exactly the right balance of comedy and realism as he dithers and looks amazed at the situations into which he is forced. While plenty of funny lines do fall through and get laughs, it seems that the rest of the cast need reminding that this is a comedy.
Director Thacker is, rightly, renowned for his productions of American realist drama, but a lot of the lines here are delivered with the hot intensity and deep significance of Tennessee Williams's Deep South rather than rattled off with chilly Salford cynicism.
Natalie Grady, a great comic performer, portrays a Maggie who comes across more weary than commanding, which doesn't exactly go against the text but isn't as funny. Maxwell Hutcheon as Hobson doesn't have enough self-righteous pomposity at the beginning, so his lengthy speeches at the start are as dull to the audience as to his daughters and he doesn't appear much different at the end of the play to at the start. There's little shock to be given from puncturing a half-inflated balloon.
Jessica Baglow and Rosie Jones work well together as sisters Alice and Vickey Hobson, especially in the later scenes when there is something of the Cinderella sisters about their joint pomposity. James Cotterill's set is simple but effective on the in-the-round staging—you can actually smell the leather of the shoe shop in the first scene if you are near enough to the front.
There is still plenty of humour that shines through this classic and very well-constructed comedy and I'm sure the performances will tighten up as the actors get used to working the lines in front of an audience, but I'm not convinced that Thacker's comedy directing is in the same league as his directing of more serious drama.
At three hours including two intervals (it says 2 hours 25 minutes in the programme but press night ended at 10:30PM) it's almost as long as last year's Long Day's Journey into Night, but it's worth seeing if somehow this play has previously passed you by.
Reviewer: David Chadderton