Hobson's Choice
Harold Brighouse
Theatre Royal Bath Productions
Vaudeville Theatre
–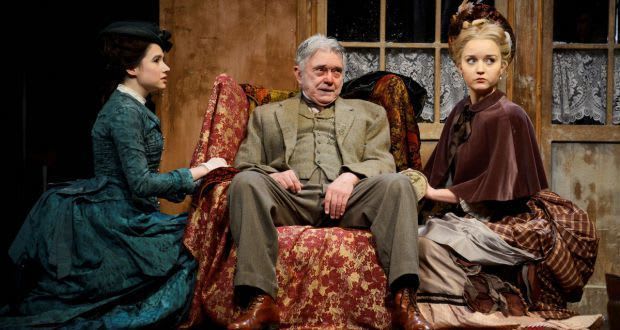 First produced somewhat incongruously in New York during 1915, only reaching Britain a year later, Harold Brighouse's classic English comedy Hobson's Choice is a play set in 1880 that has shades of King Lear in that it features a foolish old man with three daughters, whom he fails to appreciate.
This centenary production transfer from the Theatre Royal Bath features TV favourite Martin Shaw as Henry Horatio Hobson, proud proprietor of a Salford shoe shop.
The shop thrives for two reasons. First, eldest daughter Maggie, played with a somewhat ironic iron fist by Naomi Frederick, is a shrewd businesswoman. Secondly, Bryan Dick's ultra-timid Willie Mossop makes the best boots in town.
While he is underpaid for his talent, Willie fares better than widowed Hobson's daughters, all obliged to slave away without remuneration while dad drinks away the profits in the local. This allows Martin Shaw to have fun blustering and stumbling when Henry Horatio is in his cups, i.e. throughout the evening.
In fact, in this production directed by Jonathan Church, the shop's final attraction is its gorgeous design, courtesy of Simon Higlett, who also creates impeccable versions of the home behind the working area and a surprisingly comfortable and adaptable cellar.
For reasons that are not entirely apparent, the womenfolk accept their lot, insults included, without complaint or rebellion.
The camel's back eventually breaks with comical consequences when, sick of being labelled "an old maid", feminist Maggie orders Willie to become her husband. He reluctantly accepts and they set up modest shop.
At the same time, she helps her flightier sisters, played by Gabrielle Dempsey and Florence Hall, to escape into their own ostensibly more prosperous marriages.
It is the nature of these old-fashioned, well-made plays that the funniest moments are saved for, and duly arrive, in the final act, while all loose ends are securely tied.
On the acting front, all do their bit with the three leads catching the eye most along with Ken Drury as fierce but dedicated Dr McFarlane.
The producers have obviously determined that the combination of a safe comedy and Martin Shaw (not to mention a cameoing Christopher Timothy) has a market for a limited summer run and they are probably right.
Reviewer: Philip Fisher