Holding The Man
Tommy Murphy, based on the book of the same title by Timothy Conigrave
Big Boots Theatre Company
The Jack Studio Theatre
–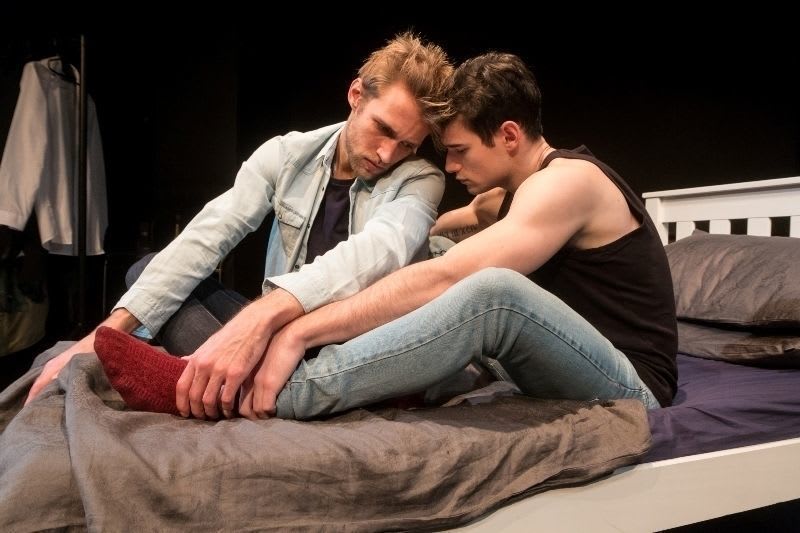 Tommy Murphy's play, Holding The Man, started as a book by writer and actor Timothy Conigrave. It is an autobiographical coming-of-age story that becomes a gay love story, set in Melbourne and Sydney during the 1980s.
When I first saw Holding The Man in 2010, as the audience stood in ovation I was left wondering if I had seen a different play from those on their feet. What had they found in Tommy Murphy's adaptation that I had missed?
Were they standing because it was a play about gay love in a theatre landscape where LBTG work was woefully underrepresented? Was it because—just as you should not speak ill of the dead—you have to applaud the work of the Conigrave who died young, weeks after putting down his pen for the last time?
In Holding The Man, the action is made up of multiple episodes, some little more than snapshots, inhabited by people with no back-story. The parents of both boys are reduced to little more than stereotypes and yet how they must have suffered, as must Tim's partner, John, whose character is also thinly written.
As a début book from someone terminally ill, it is a significant achievement but it is, and therefore the play is, unremittingly Tim-centric, as indeed the author comes across in life. Even after the point when the relationship between Tim and John becomes established, we continue to get Tim's side to the exclusion of everyone else's including John's.
Whilst Tim's sexual behaviour is driven by curiosity and excitement, John is more a one-man man and, because he rarely speaks up for himself, Tim's voice and behaviour goes unchallenged.
In being faithful to the source material, Murphy has created a flawed play from a flawed book even if Conigrave's work is an engaging and moving read (I cried continuously as John is taken down by one AIDS-related illness after another).
In director Sebastian Palka's production at The Jack Studio, the play benefits from being in a smaller, more intimate space. Palka has chosen to set it in a rehearsal room as an homage to actor Conigrave and it works to have the action take place in such an informal setting, plus it intentionally reduces the running time.
Palka and his cast bring out the tenderness of the piece and I would only really question the wobbly accents and inconsistent insertion of "mood music", which seems a strangely cinematic and manipulative device to use for this interpretation of Murphy's adaptation.
Christopher Hunter gives a strong performance as Tim. His younger Tim is engaging whilst the older character has nuances of youthful immaturity mitigating his selfish acts. As his partner, John, I found a genuine warmth in the performance of Paul–Emile Forman who makes his professional début in this difficult role; well done to him—the sincerity of John's affection for Tim gave the love story narrative much needed sense.
Dickon Farmar, Sam Goodchild, Maria-Jane Lynch and Emma Zadow between them play all the other characters very ably. Farmar and Lynch excel as the parents, Zadow as lifelong friend Juliet and Goodchild is a standout in his roles.
No one can work miracles, and Holding The Man is never going to be a well-written play, but for this début production from Big Boots Theatre Company Palka has assembled a skilful cast whose performances give this show the heart that for me was missing in 2010. That is some achievement and I look forward to seeing more of their work.
Reviewer: Sandra Giorgetti