Holy Crap
Book, music and lyrics by The Heather Brothers
King's Head Theatre
King's Head Theatre
–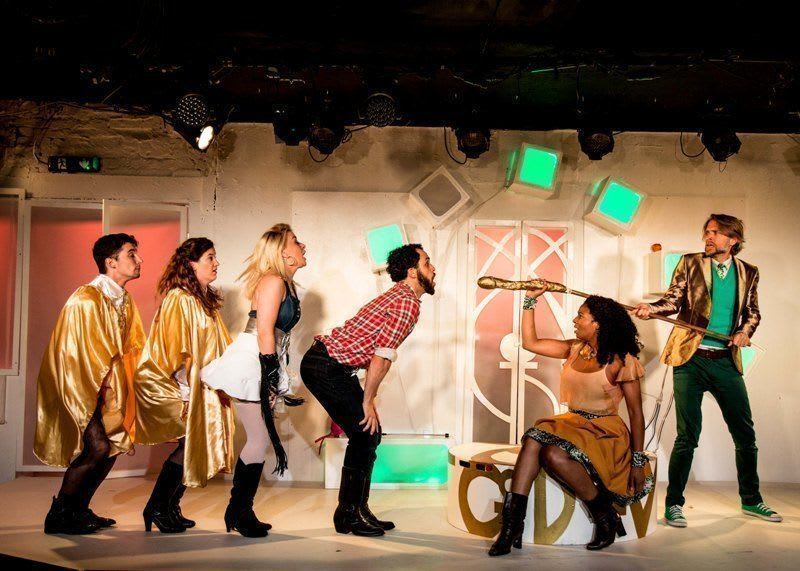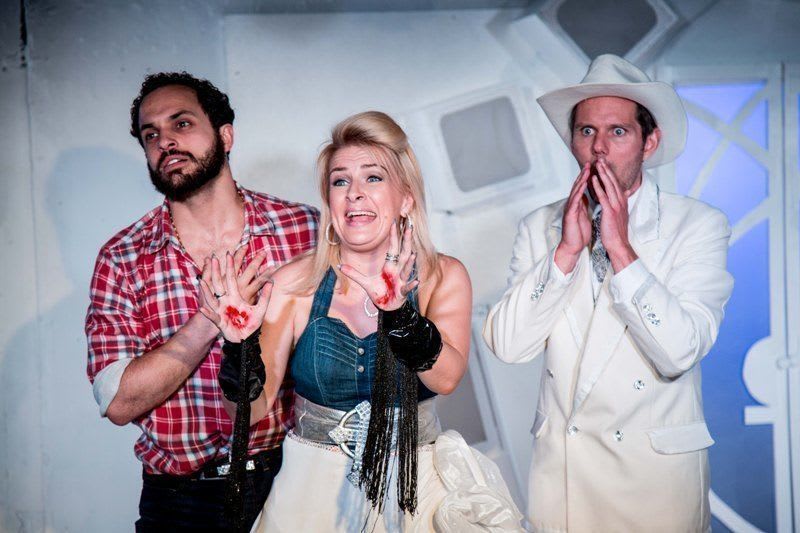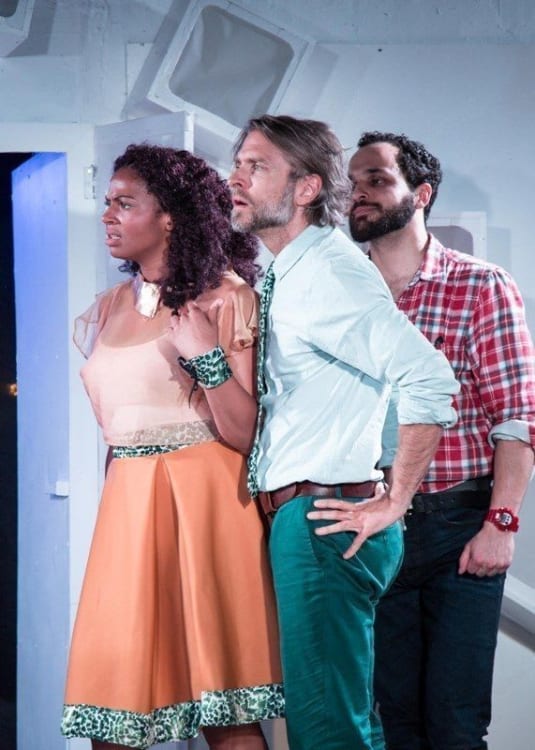 The writers of Holy Crap have exploited British society's indiscriminate tendency to copy all things American and taken it to a whacky extreme.
GODTV (pronounced gee-oh-dee-tee-vee) is launched at the nation with Born Again Christian and former rock star Rex Bedderman as its front man, whilst not very behind the scenes is the charismatic American evangelist television star Bobby Del La Ray who is funding the new station with money being laundered by the Mafia.
But things do not go to plan. When the "godless and bankrupt" British audience fails to take pay-to-view evangelism to its heart, there is a pressing need to raise money, not least to appease the Sicilians who have Bobby's mother hostage.
Using the premise that to fight sin you must first recognise sin, Bobby justifies the broadcast of pornography on GODTV, and so Sodom and Gomorrah—The Musical is born and the money starts rolling in.
Greed and corruption drive an unstoppable Bobby to "make a virtue of sin itself". He cranks up the filth quotient and becomes the megalomaniac leader of a new church whose followers hang on his every word.
Whilst gullible Max is kept on board with one daft scam after another, the still small voice of sense and decency comes from Destiny, who fails to fall for the tricks meted out by Bobby and his sidekicks Vinnie and Clarissa, but who stays around in the hope of being noticed by Max.
I won't give away the ending except to say that predictably love conquers a lot, if not all, and Holy Crap has a bit more nuance than one might at first imagine.
The same cannot be said of the book and lyrics which are as subtle as a thwack on the head with Bobby's gigantic dildo. There are a few clever lines and lots of laugh out loud moments but the comedy, like the storyline, is largely predicable.
On the one hand, this show speaks of a society without a moral compass driven alternately by indifference and avidity; on the other hand, this is really just a saucy romp—a sort of "Carry On Up The Vatican" for our times.
All the nonsense of the plot gives the designer, Offie Award nominated designer Zahra Mansouri, and her wardrobe team free reign to come up with huge sequined codpieces embellished with shiny crucifixes as the cherries on the top of a costume collection that could be rented out for a fancy dress tarts and vicars party. Or possibly just tarty vicars' party.
In our largely secular society, it is difficult to see who could be offended by Holy Crap since it loses no time in descending into unchecked silliness, though I do think the recommended age of 12+ is low given the prevalence of simulated humping and implied licking in Lucie Pankhurst's choreography.
The cast good-naturedly do what they can with the material they are given with John Addison a suitably reptilian Bobby and Rachel Marwood's good comic judgment rescuing Clarissa.
Letitia Hector as Destiny gets a chance to show off her good singing voice. Her duet with Arvid Larsen as Rex, and Nuno Queimado's (Vinnie) sparring song with Peter Bindloss (making his professional début as Luigi and others), are the only numbers I can still picture. There is good support too from a comic Emma Salvo in various roles.
Benji Sperring directs this energetic cast but they can't deliver what is not there. For me, Holy Crap fails to live up to the good idea that its writers started with and remains a serviceable entertainment of the sort that is funnier after a couple of shots of not so holy spirit.
Reviewer: Sandra Giorgetti