Holy Sh*t
Jack Fairhurst
Brick Fox Theatre
The Kings Arms Theatre, Salford
–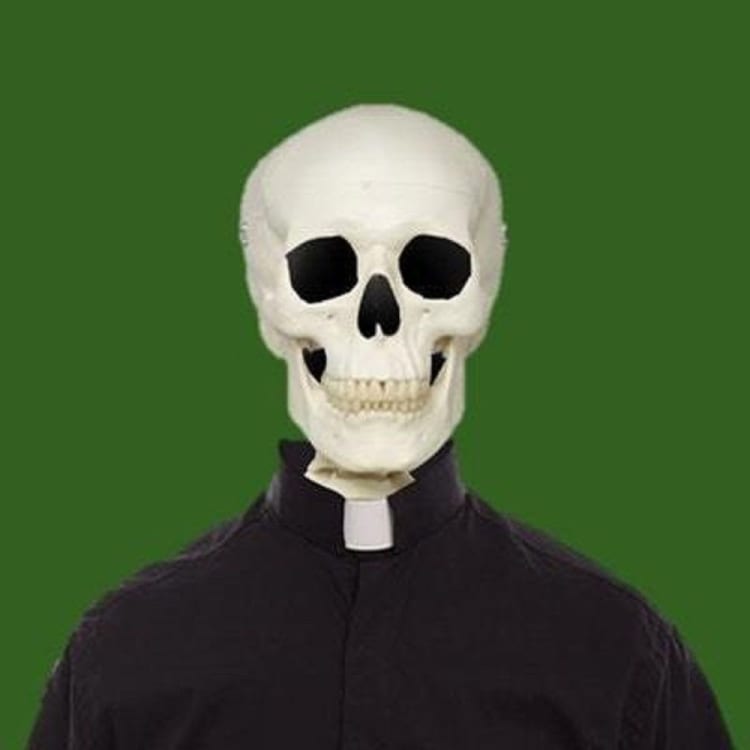 The most striking aspect of Jack Fairhurst's Holy Sh*t is not the dark subject matter but rather the sheer ambition of the play.
In the first of many unlikely plot twists, Fathers George Hobbs and Charlie Moss share a parish. They have very different attitudes to their vocation; in fact the latter is decidedly ambivalent. Father Moss proposes an unlikely method for funding the vital repairs required by their church: they should disinter newly buried corpses and sell them for medical research. Despite misgivings, Father Hobbs agrees and so becomes entangled in a plot leading to the involvement of a local criminal boss, pursuit by the police and murder.
Brick Fox Theatre Company is made up of students and alumni from Royal Holloway, University of London, which allows for a larger than usual fringe cast. Director Rosa Higgs captures the madcap nature of the play early in the proceedings. A drawer pulled out of a large wardrobe serves as an open grave into which cast members, situated within the audience, cheerfully jump. The macabre nature of the material is not disguised with the priests arguing over taking The Lord's name in vain while ignoring the immorality of their actions.
Jack Fairhurst has, however, written a play that might be better suited for a venue bigger than is available on the fringe. The opening scenes, where the humour is largely verbal, work well. However, as the play progresses, an element of physical farce creeps in with bodies hidden in wardrobes. The intimate nature of fringe venues makes it very hard to achieve such scenes with any success. Director Higgs sets a pedestrian pace so the play never reaches the momentum needed to push the audience to the point of hysteria where such shortcomings might be overlooked.
The slow pace makes it far too easy to spot holes in the plot, like why the priests bother to conceal, rather than simply burying, a body. Perhaps conscious it is unusual for two priests to share a parish, Fairhurst includes a flashback to their first meeting but it fails to provide a satisfactory explanation.
Most significantly, there is no sense of events getting out of control. At no point do the priests pause and question how they have moved from a dark scheme to raise money to offering to hide the corpses of murder victims for the local mob. The corruption of Father Hobbs, who begins as a reluctant participant in the scheme but becomes a strong proponent, is not emphasised.
There are fine comic scenes in Holy Sh*t but this is a case where less ambition might have resulted in a stronger production.
Reviewer: David Cunningham