The Homecoming
Harold Pinter
Almeida Theatre
(2008)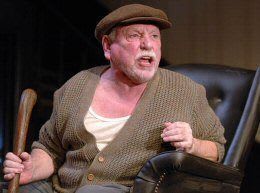 Harold Pinter is proving very popular on both sides of the Atlantic at the moment. Michael Attenborough's production of The Homecoming has opened only a week after The Lover and The Collection at the Comedy and follows hard on the heels of a Broadway version starring Eve Best and Ian McShane.
It is inevitable that one wishes to compare these two interpretations, appearing almost simultaneously to mark the play's 40th anniversary. Overall Attenborough is the winner, deriving more comedy and more menace, largely thanks to the performances of Kenneth Cranham as Max, the patriarch of a non-nuclear and distinctly unorthodox family, and Nigel Lindsay as his spivvy son, Lenny.
Where Daniel Sullivan's version at the Cort shone was in an immaculate performance from British actress Eve Best playing Ruth, which is not necessarily to belittle Jenny Jules but to honour one of the best two or three stage actresses currently performing.
Strangely, Jonathon Fensom's set does not have quite the shabbiness that one expects of the residence of such a seedy family. The carpet looks brand new and all of the furniture might well have been in the warehouse only a few weeks before. A few cigarette burns and coffee spillages would work wonders.
This is the living room of a house occupied by four tough East Enders, each of them colourful in his own way. Max, who makes anger into an art form, on this occasion, carries a fearsome weapon that looks like a shillelagh, rather than an ordinary stick.
He uses it to threaten, albeit impotently, the other members of the household. His brother Sam is a chauffeur, portrayed with great dignity by Anthony O'Donnell. He was clearly in love with Max's deceased wife Jessie and keeps the peace to preserve her memory from uncomfortable revelations.
Lenny, smooth on the surface but both tough and sleazy beneath, is the breadwinner, thanks to a collection of flats in Soho - and their occupants. His younger brother, Danny Dyer's Joey, is being trained to become a champion boxer but clearly has neither the talent nor the brain, even for that occupation.
Despite their differences, these men apparently get on together well until the return of the brainy son, Neil Dudgeon playing Teddy. He is a doctor of philosophy who lives in the States with beautiful Ruth, whom none of the others have met despite the fact that the couple have been married for nine years and have three children.
Initially, the play features a meeting of brain and brawn, in which neither comes out on top, although cool Ruth does tantalise the men by her very existence.
The petty problems of individuals begin to boil over but are soon forgotten, as Ruth becomes the focal point for the second half of the two-hour long play. The lady having dismissively accepted the unashamedly sexual approach of Lenny and outrageous accusations of sexual looseness from her newly found father-in-law, her husband not unreasonably prepares for their early departure.
There is then a fascinating power struggle that, depending upon your point of view, either leaves Ruth prostituted by these low lifes or lording it over them.
Michael Attenborough has done a fine job in bringing out the comedy in this piece, helped by some excellent acting, especially from Lindsay and Cranham, whose portrayal of Max's apoplectic explosions appears to put his health at risk, so red-faced does he become at regular intervals.
The casting of a black actress, Jenny Jules in the central part should not either add to or detract from the quality of the production, although the behaviour of the central characters would have been very different had Teddy really brought home a wife of Caribbean origin. She does a good job in looking cool and detached, although, at times, might be regarded as too much so.
Overall, this ensemble works well together in a worthy revival that is yet another reminder of what a good, original playwright Harold Pinter has been for the last four decades.
Reviewer: Philip Fisher