Honeymoon in Vegas
Book by Andrew Bergman, music and lyrics by Jason Robert Brown
Nederlander Theatre, New York
From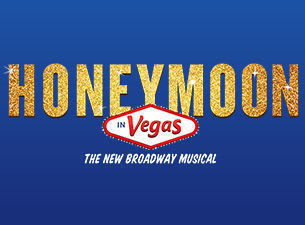 Honeymoon in Vegas is based on the 1992 movie of the same name, which starred James Caan, Nicholas Cage and Sarah Jessica Parker.
It unashamedly harks back to the musical comedies of the middle of the twentieth century, offering good clean fun and many laughs.
There are a painfully innocent guy, a beautiful, intelligent doll, an ageing but good-natured gangster type, a big band and even a tap routine. This should be a strong recommendation to many.
The opening sees Jack, a hapless Woody Allen type played by Rob McClure, enthusiastically telling the whole of Brooklyn that "I Love Betsy". The feelings are reciprocated but, after five years of such protestations, Brynn O'Malley's character is impatient to be married.
The impediment on this occasion is unusual, since Jack's overbearing mother has been dead for longer than the couple have known each other. However, with the aid of the design team and Gary Griffin's directorial wit, Nancy Opel's Bea has gone a stage beyond "over my dead body", haunting and hindering from the grave with alacrity.
In a rash moment, our hero finally agrees to marry and arranges an instant Las Vegas wedding. In a rasher moment when he gets there, he enters a poker game and despite a straight flush ends up $58,000 in debt.
The price for release asked by Tony Danza as Tommy Korman, a latterday Mafiosi Shylock for the release of the debt is high, a weekend with Betsy. This takes the action to Hawaii and introduces a degree of comic intrigue.
From there onwards, the bookies could have done well by offering odds on which man would eventually get the girl.
However, anyone who has ever been to a theatre before will not be surprised at the outcome, though the means of getting there at the end of 2½ hours are ingenious and amusing, a team of Flying Elvises being a special highpoint, in every sense.
What sounds like a lightweight bit of froth turns out to be most enjoyable, thanks to some very good gags and strong performances from all.
In particular, the three leads deliver. Rob McClure is suitably kooky and unhappy, singing in both happy and sad phases with feeling. Tony Danza does one of those Sinatra/Bennett crooner jobs, which fits the ageing Lothario persona. Best of all, Brynn O'Malley sings sweetly, especially in "Anywhere but Here".
Jason Robert Brown's music complements the story and will appeal to traditionalists, while the choreography by Denis Jones adds to the spectacle.
Honeymoon in Vegas therefore achieves exactly what it sets out to do. The question is whether in today's star-obsessed sensation demanding theatrical world that is enough to make the producers as rich as Tommy Korman.
Reviewer: Philip Fisher