Honk!
Music by George Stiles, book & lyrics by Anthony Drewe
Dot by Dot Productions
Union Theatre
–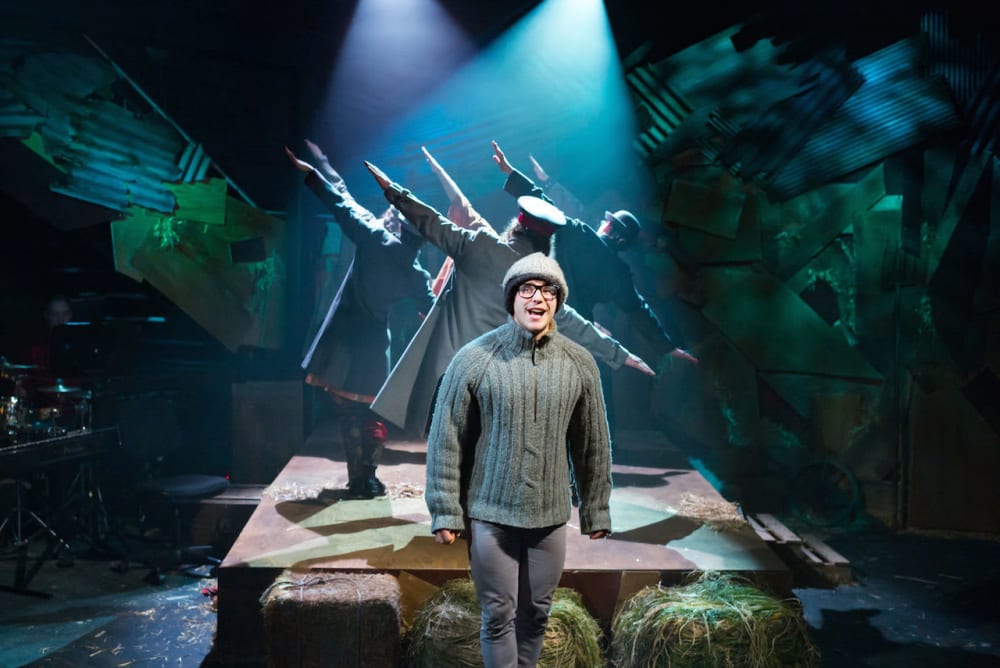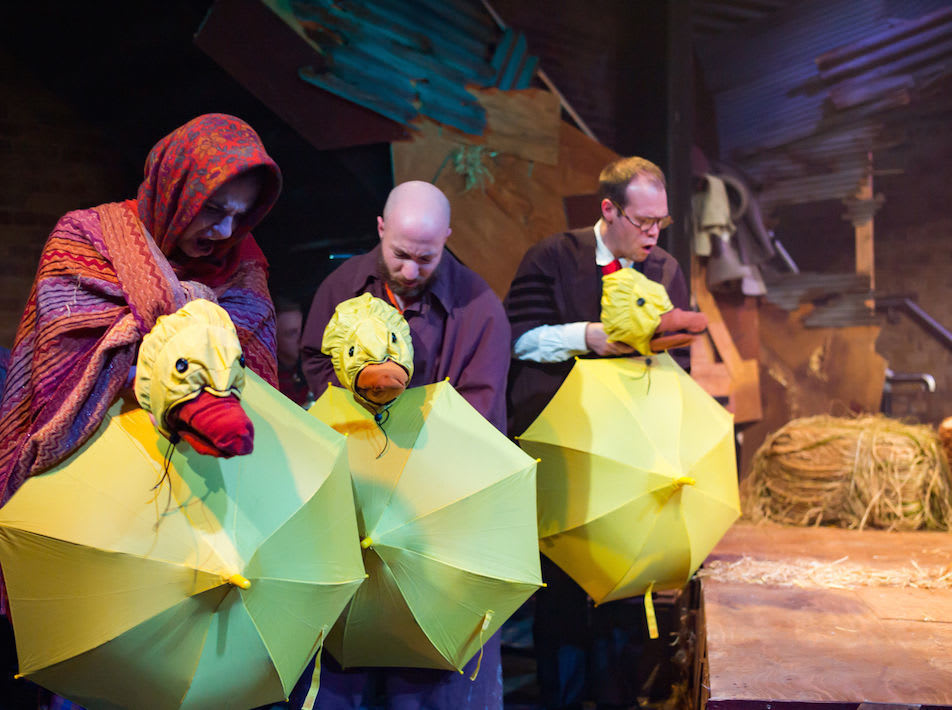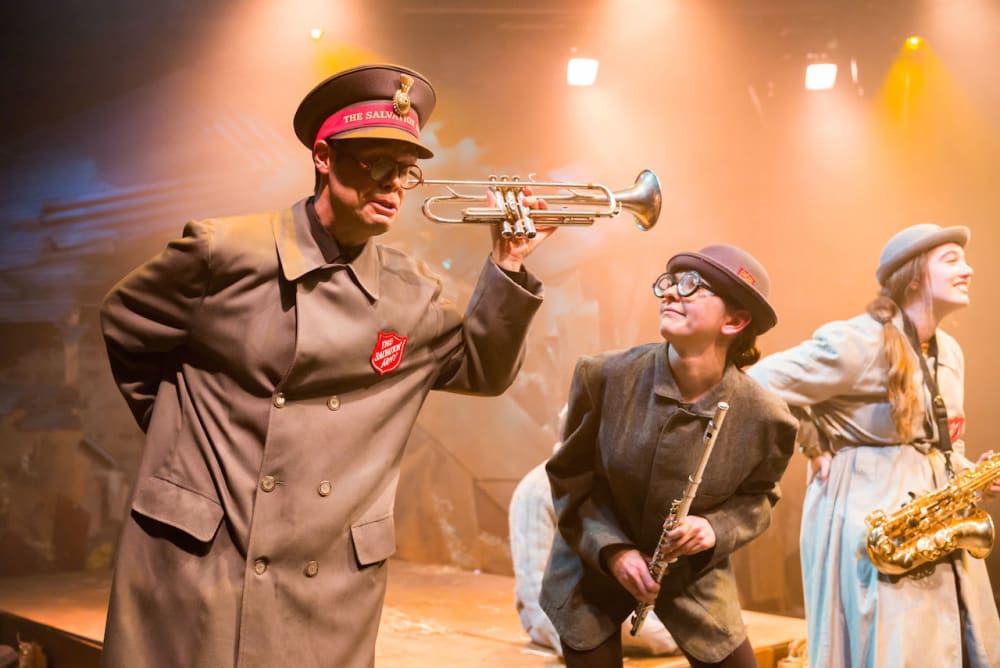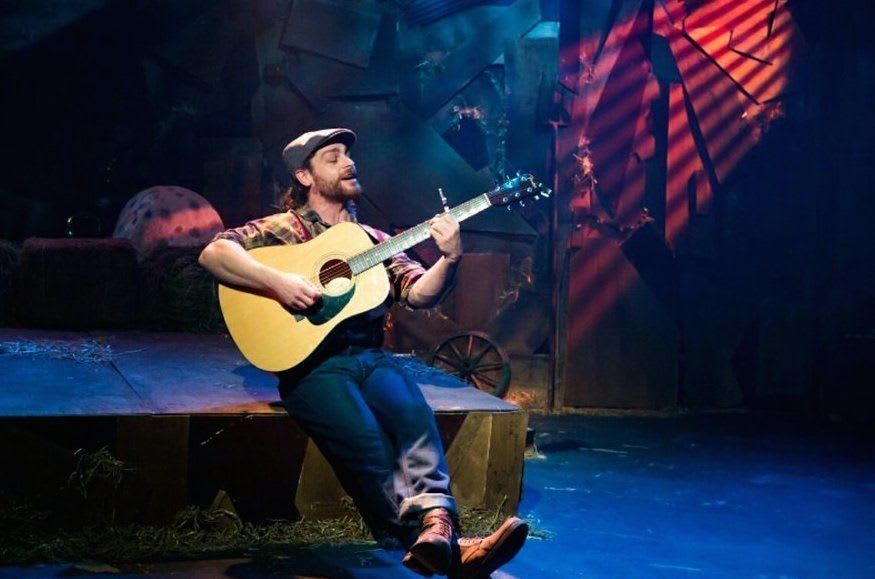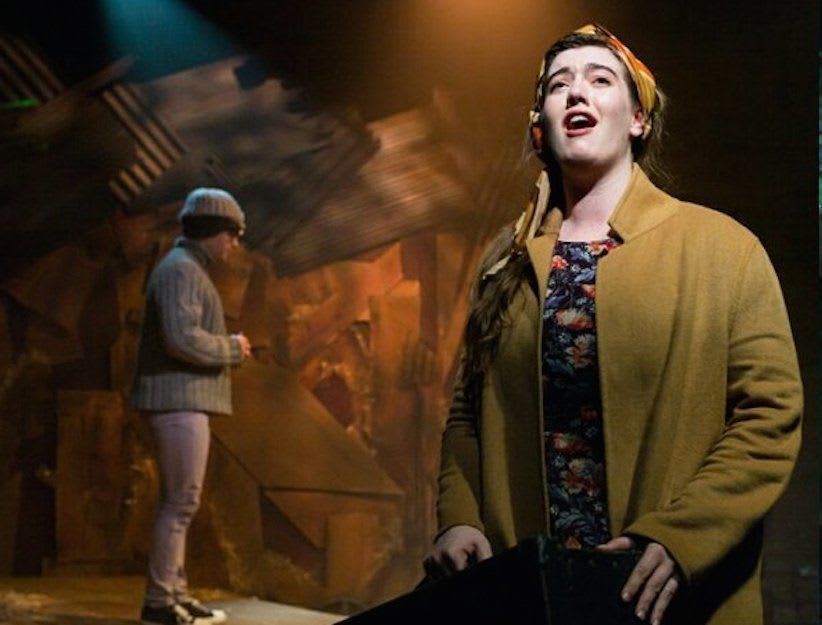 Stiles and Drewe's take on the Hans Anderson Ugly Duckling story gets a welcome and lively revival in this boutique production with a versatile cast of just seven under Andy Room's direction.
Back in 2000, Honk! won the Olivier Award for Best Musical against the fierce competition of The Lion King and Mamma Mia and it is packed with good tunes and clever lyrics to carry its message that looks aren't everything and difference is something to celebrate. It is also a challenge to theatrical invention to put a range of farmyard and countryside animals on stage in a way that is witty and rapidly recognisable.
After Leon Scott's Drake leads into the introductory number "A Poultry Tale", his wife Ida (just say it) Duck (Ellie Nunn) settles onto her nest while he goes off for a spin round the lake. They are both a bit worried about one egg that's surprisingly large. Could it be an accidental intruder, surely Ida has not… It might be a turkey.
The cardboard cut out ordinary duck eggs look a bit bargain shop but they set the style for some tongue-in-cheek jokiness as they hatch out into bright yellow ducklings with yellow umbrella bodies. Though the characters are all anthropomorphised, Rosemary Elliott-Dancs's costumes are carefully chosen to match species and character and, whether waddling or strutting, running or hopping, gait and head movements all clearly identifying each animal.
When the big egg does hatch out, it's a big grey chick that cries "Honk!" instead of "Quack!" but when it takes so readily to water it is clear that it isn't a turkey. Though his siblings tease him and dad Drake isn't above finding Ugly ridiculous, mum Ida loves him and is very proud of the way he can speed round the duck pond.
All is well until, when Ida's attention is distracted, a marmalade cat (Sam Sugarman) lures him away for some dinner. Ugly (Liam Vincent-Kilbride) doesn't realise that it is he who is going to be it. Ugly escapes from that fate but he's lost and he is looking for his mother all autumn and winter, while meanwhile Ida leaves Drake in charge of the family while she goes off to look for him.
Ugly has all sorts of encounters, with a squadron of geese under command of their Greylag Squadron Leader (another nice performance from Leon Scott), a march full of frogs and becomes the hero of a young swan called Penny who has got caught up in fishing line.
By the time that they find each other, it is another springtime and he has shed his grey feathers and grown up into a swan and he's soon reunited with both Penny and with the ducks. Even schoolmaster Turkey has managed to survive the threat of Christmas.
The whole cast play with enthusiasm and versatility. Ida's caring mum and Drake in an apron trying to run the household in her absence are touching without being sentimental. There's an underwater sequence as she takes Ugly swimming and diving that is full of shiny fishes and bursts of air bubbles.
Particular highlights are Robert Pearce's Bullfrog dance duo with Ugly ("Warts and All", that almost turns into a Charleston) and a delightful tango for Sam Sugarman and Emma Jane Morton as the ginger Tomcat and another puss called Queenie who may act like a lady but still "likes a bit of rough."
Liam Vincent Kilbride, who is still in his last year of training at the Royal Conservatoire of Scotland, is an engaging and delightfully innocent Ugly, though he sometimes needs to project more in his quieter moments.
For the whole show, balance is a frequent problem, especially for ensemble numbers. The acoustics in this railway arch theatre seem much more difficult to handle than those of the similar arch of the Union's old theatre on the other side of the road.
There's an excellent small band, supplemented in the action by instrumentalist actors, all under Oli Rew's musical director. However, they are nearer the audience than the performers are and often too loud, drowning the vocal line, while this acoustic also demands especially careful articulation or we lose Drewe's lyrics which takes away some of the pleasure of this welcome revival, though it still has plenty to offer.
Reviewer: Howard Loxton