The Lion King
Music and lyrics by Elton John and Tim Rice, book by Roger Allers and Irene Mecchi
Lyceum Theatre
From

Listing details and ticket info...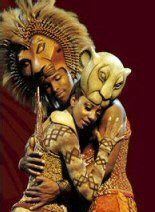 Having just completed its first decade in New York, the stage version of The Lion King is around the same age as many of the delighted members of its audiences. Even on a Saturday afternoon in mid-January, the Lyceum theatre was packed and that rare bird the ticket tout was present outside, plying his no longer legal trade.
Despite the creative presence of two theatrical knights and a corporation inaugurated by somebody has practically been sanctified by the film industry, a production directed by Julie Taymor is inevitably design-led. That is possibly as it should be, when this musical has been created to capitalise on the success of Disney's animated movie, released in 1994.
Ms Taymor certainly plays a big part in the overall visual effect. Not only is she the show's director but she also designed the costumes and shared with Michael Curry in the work on the artistically created masks and puppets that are so much a part of the experience.
While Richard Hudson designed The Lion King, it is reasonable to assume that the overall concept, featuring garish colours and spectacular almost-animals is entirely down to the director. This is given extra weight by her designs for Die Zauberflöte at the Met, which have much in common with this work.
From the start, with a bright orange sun rising on an African jungle and a procession of animals through the audience, including a sizeable elephant, the eyes are assailed with delights.
Almost immediately, accompanied by African drum beats, an array of puppet human-animals, of which the best are giraffes on stilts, take the breath away. In terms of its design ethos, the musical is a kind of second cousin to War Horse, currently doing great business at the National. Where that play features better technology, the variety in The Lion King cannot be beaten.
Strangely, the story might be anthropomorphic with characters hidden behind masks representing jungle inhabitants but the story is very human with almost Shakespearean overtones.
The hero Simba, played at a young age by the colourfully-dreadlocked Shakur Williams, a really energetic young man who bounds around the stage almost like a lion cub, has a fair amount in common with the youthful Hamlet, albeit with a brighter future. Born a prince, he sees his uncle kill his father, is sent into an exile where he gets moody and introspective and then finally comes home to recover his crown.
One difference in the Lion King is tha,t where Hamlet spurned Ophelia and drove her to an early grave, Simba, by this stage played by Brian Temba, a man with a sweet soul voice heard at its best in He Lives in You, has a different view of his lady love.
He is not only rescued by his future princess, Alexia Khadime's Nala, but, by the spectacular close, is about to take her as his wife.
This is Disney though, and the plot requires a battle between good and evil. Simba and the Lions are pitted against three pretty hopeless but evil hyenas spurred on by evil Uncle Scar, sung and played powerfully by James Simmons. He is everything that a baddie should be and it was really surprising that the audience did not at any point hiss him.
Perhaps they were more interested in seeing their hero restored to his throne. In this he is helped by not only by Nala but also a cute cockatoo and loyal retainer, the chirpy Eric Mallett's Zazu.
The Lion King lasts for 2 3/4 hours and the hero spends much of that time in the wilderness with two friends played by a couple of talented comics, David Pendlebury and Keith Bookman as Timon and Pumbaa respectively. The latter was a smelly warthog, the former a meerkat.
They are a pair drawn from any number of lovable creatures on which Ms Taymor and her crew have lavished incredible creative efforts. On stage even animals that in the wild would be murderous look cuddly and sing and dance with energetic enthusiasm.
Not only do the actors turn themselves into a series of different animals, more bizarrely they even get to act as grass. This probably reminds them of school days when they weren't quite good enough to have a leading part in the nativity play and got to be wheat sheaves.
Strangely, the music does not live up to the hype or the visual delights that are second to none. It is a combination of soft rock and soul, with an African edge but has few memorable songs, with the pick being delivered by the Xhosa-speaking witchdoctor, Rafiki.
This impression may in part be due to the fact that, at the performance under review, this part was played by understudy Thulisile Thusi who has an absolutely beautiful voice with which her colleagues could not compete.
The Lion King has now been playing in London since October 1999 and looks set to keep going for some time.
Its major attraction is the ability to keep a very young audience attentive, pleasing not only the kids but their parents and grandparents, who get to enjoy the fun without worrying about the behaviour of their young charges.
This is primarily because the youngsters can identify with the leading characters, played as streetwise London youngsters in both voice and body language, who mysteriously both grow into handsome royalty with American accents.
It also helps that there is a simple story in which good triumphs over evil, together with lashings of colourful spectacle the like of which they are unlikely to have seen before, even on a film screen.
Reviewer: Philip Fisher