Honour
Joanna Murray-Smith
Wyndham's Theatre
(2006)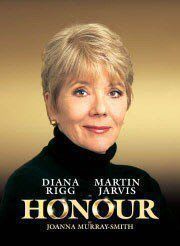 Australian playwright, Joanna Murray-Smith must be very pleased about the drawing power of her comedy drama, which dissects infidelity and its aftermath.
When Roger Michell directed the play in the Cottesloe Theatre three years ago, his all-star cast was led by Corin Redgrave and Dame Eileen Atkins, well-supported by two very talented young actresses.
Now the hottest young director in town, David Grindley, has taken the play into the West End with another theatrical dame, Diana Rigg, starring in the almost title role opposite another much-loved British star, Martin Jarvis.
The story is hardly new. A wealthy, ageing media personality falls for a beauty thirty plus years younger than his wife and heads off for an impossible new life. The screen and stage is packed with stories of this type and the media love tales of old blokes chasing young women - look at Sven-Göran Eriksson.
The opening scene shows George imitating his namesake in Sir Tom Stoppard's Jumpers, dictating to an amanuensis, who turns out to be an up-and-coming writer/journalist contributing to a book on media stars.
After a couple of interviews and with no great dramatic logic, 60 year-old George is seduced by Solaris star Natasha McElhone's gorgeous, young Claudia, a woman less than half his age.
The attractions between them are contrasting. He is flattered by a lionising young woman who will offer him much younger flesh than anything that he can get at home.
Claudia sees the glamour of life with, an albeit-ageing media personality together with the chance to learn about life from a man of great age and wisdom, symbolised by the large hardwood bookcases in the library at his comfortable Hampstead house.
Any viewer would immediately question how either a highly intelligent man who gave up his Times column on principle or a woman with a starred first from Cambridge could be quite so stupid? One imagines that Miss Murray-Smith's answer would be to point to repeated examples of equal stupidity all around her.
The writer is at her best with the females who are the fall-out from this explosive affair. Dame Diana gets every one of the best lines and milks them gleefully. After her initial surprise, Honor reacts - well, honourably. She does not scream and shout in the way that this actress did so successfully as Martha in Who's Afraid Of Virginia Woolf?
Instead, she gets on with her life and begins to take responsibility for the first time in over three decades. This may be partly because she suspects that boring old George will be back within a week. All of this is in character for a woman who had enjoyed a sparkling but very brief career as a poet but selflessly gave it all up at the start of her marriage 32 years before.
Her anger is vocalised by her daughter Sophie, played by Georgina Rich, who is still only just over a year out of drama school but like Anna Maxwell Martin at the National, makes the most of this small but challenging part.
Sophie rails against her father, tries to give her mother backbone and insults her nearly stepmother, a woman with whom she was just about a contemporary at college.
Dame Diana Rigg is excellent as the dignified wife, while Martin Jarvis conveys both the rapture and confusion of an old man who didn't ever expect to get an opportunity for temporary rejuvenation with an intelligent beauty.
Natasha McElhone portrays Claudia as a one-dimensional careerist who achieves goal after goal without any real humanity. In this, she fails to create the depth that another film star, Catherine McCormack, achieved first time around.
Honour loses something by its transfer to a proscenium arch theatre. At the Cottesloe, it was played in traverse with the audience peering in voyeuristically from both sides of a long and narrow stage, like uncomfortable guests in the living room. Despite the efforts of designer, Liz Ascroft who provides some unexplained empty chairs in the background, this effect cannot be replicated.
This is an entertaining play that provides some interesting and often amusing insights into what happens when male hormones go mad.
With its starry names and contemporary issues, Honour will inevitably sell well and audiences will enjoy the pacy structure as the hundred minutes are packed with short sharp scenes, rather like an upmarket TV drama.
Reviewer: Philip Fisher