Horrid Henry – Live and Horrid!
Adapted by John Godber
Trafalgar Studios
(2008)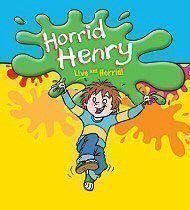 Look out! Horrid Henry is on a nationwide tour and the loveable brat has dropped into the now–available slot at Trafalgar Studios.
In the fifteen years since the first Horrid Henry book came onto the scene, the stories have sold in their multi–millions and such popularity, of course, has spawned a CD, an animated television series and merchandise aplenty, so there is a certain inevitability in there now being a stage show.
What John Godber's contribution has done, at the very least, is prove that some of the twenty or so books can be successfully adapted for performance which I dare say could precipitate further transformations. However, Godber's talent naturally means there is much more to it than that.
The key stories in the show will be familiar to millions of young fans and my instinct tells me that most will stay on the right side of the fine line between the enjoyment of anticipating the outcome of a story that you know and the tedium of waiting for the predetermined. I suspect that the young heckler who shouted "that was brilliant" spoke for many in his praise of Godber's judicious selection and handling.
The action is set in the context of Henry's fantasy. Sent to his room for a misdemeanour, Henry imagines a show all about himself – Henry is King and makes up the rules and the content as he goes along. There is Rod Stewart–like strutting about and a handful of tales carried to extremes of silliness, added to which Henry gets to sing with his favourite band, the Killer Boy Rats.
Given this mayhem of a mixture is executed at breakneck speed, it is again to Godber's credit that the thing hangs together in an intelligible sequence, particularly given that there are two Henrys.
Steven Tagg and Stephen McGill make Henry likeable and are a great team – as the fantastically energetic Henrys, the young audience clearly adored them as they did Alex Tregear who is wonderful as the gullible Duke of Poop brother, Perfect Peter.
A whole host of other characters are skilfully covered by the other members of the cast, principally Rachael Swift, Philip Bosworth and Ruth Calkin who put in especially good turns as long–suffering parents, bossy teachers and weird babysitters.
The others – Clark Devlin, Katy Porrett and Howie McCullough – show no less skill as they also all act, sing, dance and frolic through the action. The slow motion football sequence is as deft as you could hope for and shows what a disciplined and multitalented cast this is.
A special mention has to go to the design elements of this show. The terrific set design by Pip Leckenby – a simple–enough–looking wall but peppered with hidden doors and windows – hits the nail on the head.
The super–size armchair, radio controlled spider and ballet sequence outfits were fab, whilst the costumes and wigs make the characters instantly recognisable and lend a cartoon feel to visuals that is enhanced by whooshing noises and thumping footsteps effects.
Director Hannah Chissick and Movement Director Nick Winston exploit every opportunity the set and plots allow– dizzyingly fast comic–strip–like poses are struck in doorways and no window goes un–slammed in the slick, fast–moving staging. And a virtue is made of having two Henrys in the pacing: even if the extra one is generally superfluous to the story, there's no faster costume change than the double coming on as the original goes off!
Nothing against pantos but this show makes a welcome change – or addition to – the usual Christmas offerings. There may be no "it's behind yous" but there are plenty of " Nah Nah Ne Nah Nahs"!
"Horrid Henry – Live And Horrid!" runs until 11th January 2009 – recommended age 5 plus.
Reviewer: Sandra Giorgetti