Hortensia and the Museum of Dreams
Nilo Cruz
Cherub Company London
Finborough Theatre
(2005)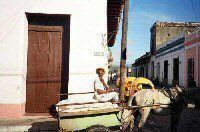 Nilo Cruz was the first Latino playwright to win the Pulitzer Prize for his wonderful Anna in the Tropics, which starred Jimmy Smits on Broadway and Diana Quick in London.
This poetic writer's subject matter generally combines the Cuban culture from which he hails and the inevitable sense of dislocation that their large immigrant community in the USA feels.
Hortensia and the Museum of Dreams is a work of magic realism that takes as its starting point a historical exodus of children similar to that in Europe during the Second World War.
Operation Pedro Pan (J.M. Barrie must have been proud) took place just after the Bay of Pigs in 1961. With many Cuban parents believing that war was inevitable, they packed 14,000 of their children off to the safety of the USA with promises that they would be just behind.
Luciana and Luca were two such children and 37 years later (according to the history books, although the actors do not look old enough) at the time of Pope John Paul II's visit to Cuba, they return there separately. There is an unexplained distance between them that is only resolved at the end of the two-hour drama.
Marcello Walton's Luca is picked up in the street by Lucy Barker, playing the beautiful Delita. She is a young woman who believes that in this way she can achieve her own temporary escape to Northern affluence.
Journalist Luciana, well played by Irini Venier, wanders into a small town and is adopted by the mysterious curator of the title, played by the ever-excellent Linda Bassett. The younger lady also provides entertainment and a taste of love to Hortensia's two sons.
Hortensia believes that Luciana has answered her mass-mailed letter requesting publicity and church support for her Museum of Dreams - more accurately of miracles. There she has a Catholic shrine to the miracles that have kept ordinary people in this benighted country happy.
Eventually, it becomes apparent that Hortensia's purpose, at least in Luciana's life, is to allow her a blissful reunion and reconciliation with her brother and her own soul.
Hortensia and the Museum of Dreams is a love story, an exploration of a certain kind of faith, an allegory of life in Cuba, and has a touch of Latin American magic realism thrown in.
Director Michael Gieleta draws good performances from his leading actors. He also does a good job in creating the steamy atmosphere of Cuba, with the assistance of designer Alex Marker and the Finborough's effortless ability to overheat.
Reviewer: Philip Fisher