Hot Dog Play
Ann Loud
Ann Loud with Unmuted Participants
C ARTS | C venues | C digital
From

Listing details and ticket info...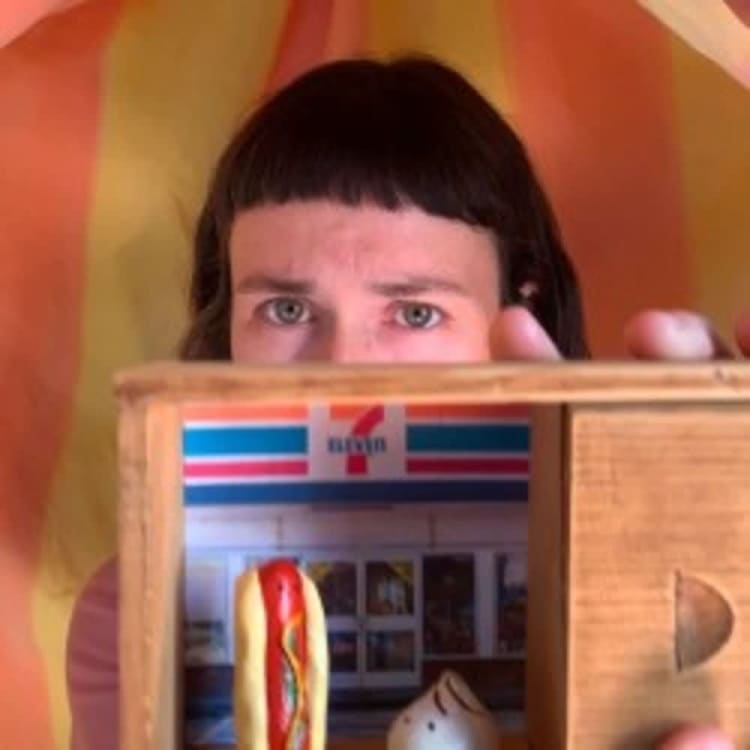 Hot Dog (author and sole performer Ann Loud) is in a weird place mentally and physically. Dumped by her girlfriend, she constructs a 'therapy tent' in which she records and shares her thoughts and tries to come to terms with her situation.
Hot Dog Play combines authenticity with surrealism. Hot Dog's attitude is so fatalistic, she perceives the world as one in which she and her family are, well, hot dogs and likely to be consumed in eating contests such as the one in which an uncle has perished. Consequently, her list of likes and dislikes comprise things like mustard and sesame seed buns. Hot Dog's girlfriend was a Dumpling and her visual aid to demonstrate their courtship is, of course, a hot dog and a dumpling in a box complimenting each other on the quality of the sauce they wear.
The play is a convincing portrayal of someone close to mental breakdown brought on not so much by the end of a relationship as by the passive and timid personality which provoked the break-up. Ann Loud faces the camera but her eyes betray her agitation, constantly flickering from side to side as if anticipating an attack. She speaks with little passion as if convinced no-one will care and notably stumbles over the word 'articulate'.
Hot Dog tries to make herself more interesting, but the result is far from convincing. She has learnt to play a few chords on a ukulele but the song she composes is trite. It is hard to avoid feeling rather than trying to move forward, Hot Dog is seeking justifications for inertia. There is a sense of self-pity as Hot Dog meditates on the weight of the burdens she has inherited from her parents.
The challenge with developing a convincingly depressed and passive character is that Hot Dog is not very appealing, which makes it hard to share her concerns. She is not a character to whom it is easy to relate. Although able to articulate, drawing upon her family history, reasons for her passivity, Hot Dog cannot take responsibility for changing her situation.
She identifies with, and frets over, a book that was banned not for being salacious but for being boring. When Hot Dog uses puppets as a visual aid, they gang up and criticise her. By the time she lists the reasons which deter her from taking out a library card, you start to see Hot Dog as a bit of a drip.
Hot Dog Play is a sympathetic portrayal of a character with whom it is actually hard to sympathise.
Reviewer: David Cunningham