Hot Gay Time Machine
Toby Marlow, Lucy Moss, Zak Ghazi-Torbati
Kenny Wax & Paul Taylor-Mills
Trafalgar Studios 2
–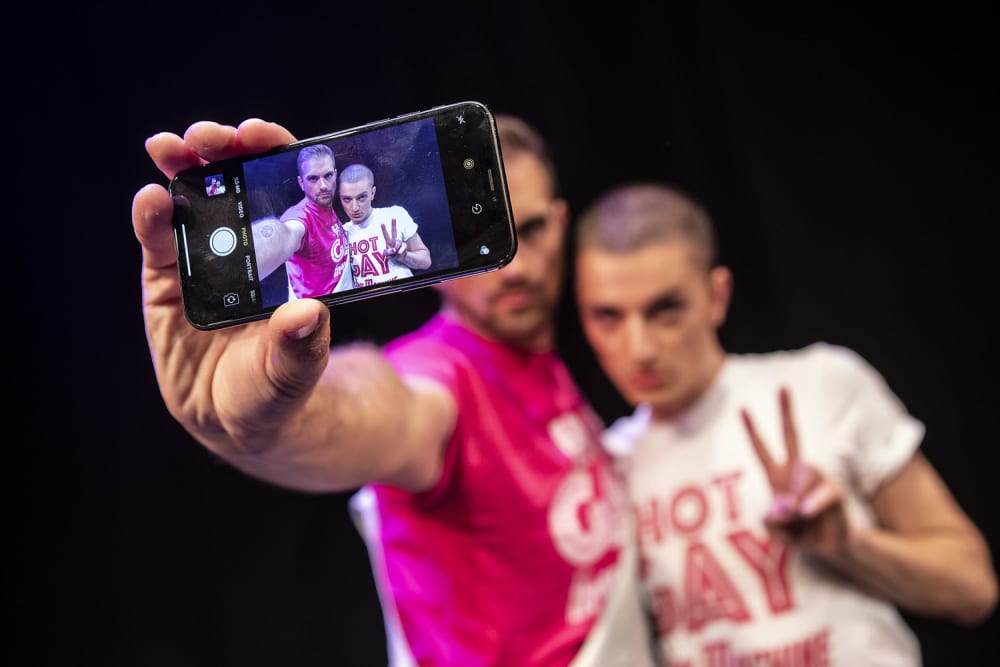 Fresh from a sell-out run at the Edinburgh Fringe, Hot Gay Time Machine has done the rounds, stopping off at Brighton Fringe and bagging itself a well-deserved award before landing with a bang in the West End.
It's not the first time two of the show's writers have had West End success this year either. Toby Marlow and Lucy Moss are the brains behind the much-praised all-female hit musical Six. It too transferred from Edinburgh Fringe to the Arts Theatre earlier this year. This time, the duo has teamed up with Zak Ghazi-Torbati to write and produce what can only be described as a right old musical romp through the ups and downs of coming out and being a 'hot gay'.
There are few plays that do what they say on the tin as much as this crazy, camp, autobiographical journey through both Toby and Zak's eccentric lives. It's one of the gayest plays I've ever seen, smouldering hot throughout and based on a super swish time machine. The cabaret-style musical relies heavily on the pink-painted piano that takes centre-stage to help blast out all the club classics from decades of gay disco—from "YMCA" to "It's Raining Men", they're all in there—but cleverly none of them is overly used. By far, the true genius is in the original songs penned mostly by Marlow and performed by both superbly.
The enthusiasm involved in the choreography by both performers is both mind-blowing and infectious. Zak apologised at the beginning of the show that he may be somewhat subdued due to a bad back, but apart from perching on the edge of his stool from time to time, he managed to keep up with the flips, flicks and shimmies Marlow performed with great gusto.
Normally, a sparse, 'rough and ready' West End stage would be hugely disappointing. Normally, I'd be the first to criticise a show that bagged a transfer to the West End and then failed to upgrade its production values. But #HGTM gets a reprieve. This is a show solely about the boys, their wit, the bants and those wonderfully crafted songs that every gay in the audience could relate to. Trafalgar Studio 2 is a brilliant space, but I'm not sure the volume or acoustics were quite right for this 'shouty' aggressive style show—at times it was so loud it detracted from what was being sung.
Hot Game Time Machine won't appeal to everyone, but yet again it demonstrates the writing prowess and talent all three writers have and how they're able to tap into a subject and turn it into a show of pure musical joy. This is a niche production gays will relate to and love, but now these guys have proven they can write such a hit, they need to focus on generating a smash hit so that bigger, more mainstream audiences can appreciate and enjoy them too.
Reviewer: Thomas Magill