The Hour We Knew Nothing of Each Other
Peter Handke, from a new translation by Meredith Oakes
RNT Lyttelton
(2008)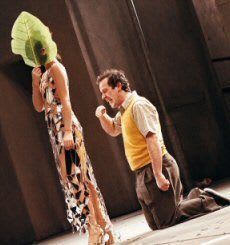 If anybody thinks that it is easy to be a theatre critic, they should try to come up with a few hundred words about this play, first seen in 1992. It is worthy, enjoyable and completely indescribable.
To start with, even though there is a cast of around 27 actors, most of the highest quality, and a text apparently translated by Meredith Oakes, not a word is uttered in getting on for 100 minutes. This is not unique at the National, since not too long ago, Matthew Bourne presented the aptly named Play Without Words but at least that had music.
On one level, all that happens is a series of relatively nondescript individuals walk, jump, run and limp across a wide stage, backed by a series of inside out structures designed by Hildegard Bechtler that could have come straight from a Rachel Whiteread exhibition.
James MacDonald's production deliberately starts out to be low-key so that a few minutes in, visitors begin to wonder what they have let themselves in for. Gradually, there is more humour and a little interaction between characters and this builds to comic crescendos and dramatic peaks.
The Hour We Knew Nothing of Each Other is actually built on hundreds of little dreamlike vignettes, stories told in seconds that often say much about characters whom we only see for the length of time that it takes them to cross the stage.
While the general emphasis is on images that suggest that this city square might be in Britain, there are also infringements from those who looked distinctly foreign, at times in tropical heat waves or Russian frozen spells and, in one memorable image, both simultaneously.
The evening also can feel almost like one of those Christmas mega-quizzes in a Sunday supplement. You know that much of what you are seeing is based on clever cultural references but surely nobody could manage to identify the lot, or quite possibly even half.
In this play, Charlie Chaplin and Magritte share the stage with, inter alia, a pair of firemen, a not so cool skateboarder, a Manchester City fan, Africans and Arab,; a tablet-bearing Moses, Papageno, and, more bizarrely, Tarzan, Nosferatu and a human banana.
As well as individuals, there are also couples and groups coming together, the most memorable of which, ignoring a great coup de théàtre that you will have to find out about by going to the National, might be a well choreographed sword fight by oldies brandishing walking sticks.
Throughout, both writer and director have an eye on comic images and, in a strong cast that includes good physical performances from the likes of Harry Towb, Sarah Woodward, Lisa Dillon and Mark Hadfield, it seems unfair to single out Jason Thorpe.
However, whenever he donned his canary yellow slipover and at the same time the persona of a determined little schoolboy, the comedy reached its peak, helped by homages to Harpo Marx and Norman Wisdom.
He did a fine job of lampooning a humourless aircrew, helped Hadfield's road sweeper and even got involved in one of the play's more tragic moments seeking fun at a deathly moment that symbolically melted into some noisy attempts at street corner procreation.
The Hour We Knew Nothing of Each Other becomes a microcosm of life, as Austrian playwright and novelist Peter Handke repeatedly comes up with images that are at times surreal but at others all too real.
While it is easy to concentrate on the comedy, the darker side of contemporary existence is also portrayed and explored, but always in bite-sized chunks.
This is a rich evening that will keep the brain churning long after the body has left the South Bank. It may sound unpromising but anyone willing to take the plunge will see a completely different kind of theatrical event and is bound to experience a lots of laughs and a few shudders by the end of the evening.
Booking until 5th March
Reviewer: Philip Fisher