House Arrest
Alan Bennett
Profile Books
Released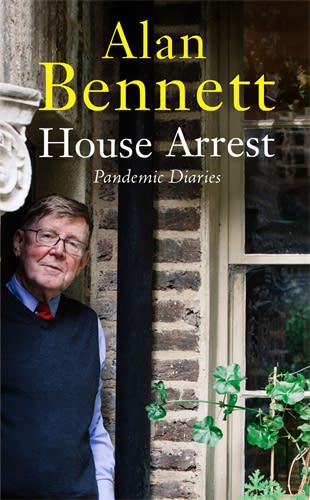 Who'd have thought that you could still buy a hardback book for £6.99?
Admittedly, this volume subtitled "Pandemic Diaries" runs to less than 50 pages and can be read in the time it would take to watch one or two of its author's Talking Heads, but it is still a delight.
Opening in February 2020 with brief murmurings about the prospect that his partner Rupert might soon be working from home, House Arrest then whimsically follows the 86-year-old national treasure through the trials and tribulations of coronavirus lockdown over the next year, completed by a brief postscript celebrating a return to normality the following autumn.
Incongruously, although a touring production of The Habit of Art has to be abandoned, the playwright finds himself busy thanks to Nick (Sir Nicholas) Hytner's wisdom in choosing to revive Talking Heads for TV and, even better, commission a couple of new pieces.
Referring to the knighthood graciously awarded to the former Artistic Director of the National Theatre, one inevitably wonders why, despite his antipathy to the current prime minister counterbalanced by a love of the Queen, this review is not being written about the efforts of Sir Alan Bennett or even Lord Bennett?
Although he refused the former honour 25 years ago, given the quality of many recent elevations to the peerage including one bemoaned in this book, the House of Lords could certainly benefit from both his wit and wisdom.
The bulk of this witty and thoughtful tome invites us to enter the mind of a now largely immobile mental butterfly.
It is filled with wise and often witty observations drawing on a lifetime of cultural interests, often alluding to the author's stage and TV work but stretching much further afield.
There is inevitably family history and talk about life in both Camden Town and Yorkshire, combined with reminiscences of old friends and colleagues adorned by the kind of memorable quotes that would naturally find their way into a commonplace book.
Many prospective readers are likely to have enjoyed previous volumes of Bennett diaries and once again this one, though slight, will not disappoint.
Reviewer: Philip Fisher