How It Is (Part 2)
Samuel Beckett
Gare St Lazare Ireland
The Coronet Theatre
–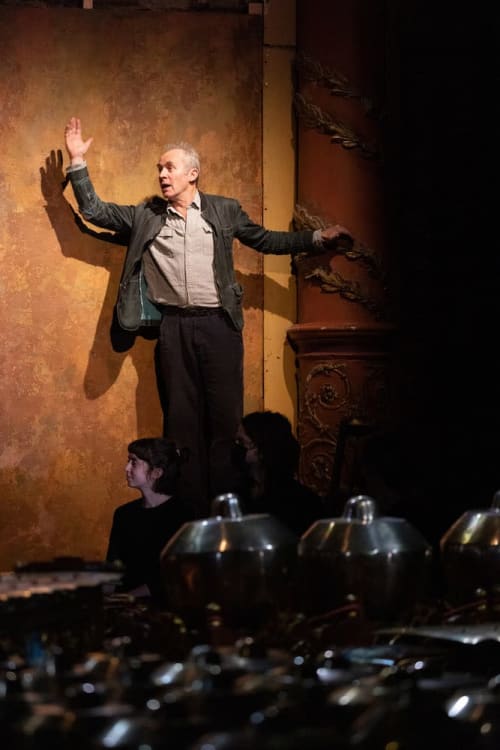 I've not seen Gare St Lazare's How It Is (Part 1), and Part 3 is yet to come, held up by COVID (a Beckettian scenario if ever there was one), but here at last is Part 2—each can stand alone. The whole lot would be an epic six plus hours. A filmed version of all three parts was made for the Dublin Theatre Festival last year in collaboration with the Orchestra of the Age of Enlightenment—now that would be worth finding. I'd love to do some forensic work on that. Something to have watched during lockdown…
COVID strikes again tonight (not press night). Part 1 is a solo piece; Part 2 was meant to be a duologue, but Stephen Dillane has to hold the fort doing both his (he was the soloist in Part 1) and Conor Lovett's role. For two and a half hours with no interval. Heroic.
Dillane is remarkable, calm, unflustered, his measured voice rich and resonant—he needs no microphone. He goes on the book for Lovett's role and without for his without a flicker of stress. He poses on the aisle banister with balletic ease, he roams the stage, the alcoves of Coronet's auditorium, and sits amidst the Irish Gamelan Orchestra (with Ireland's first full set of Javanese traditional instruments).
They are centre stage, he is peripheral; their music is of the spheres and of eternity, his struggle is with words and memory. He tries them out again and again. But it's Schubert's lieder—Der Leiermann, Der Jager and Nacht und Träume sung by Claudia Schwab—that gently open proceedings. They lull us with pleasure; he wakes us out of it to his harsh reality.
Night and Dreams it is—Dillane, the unnamed narrator, is inching in the dark and the mud until his hand feels another's comatose body, face down in the mud. Is he pleased, perhaps, but he is brutal towards that person's anatomy. I'll spare you the details of what he does with the tin opener. We have only his words for it, and so many words, dissecting his experience.
Is he a reliable narrator? Is the person Pim, real or imaginary? Is he his alter ego, a voice in his head? Who is he dehumanizing, subjecting to pain, torture and totalitarian control? What had happened before in the light? Is he hallucinating?
Beckett professed not to be an existentialist, but this reeks of it as the man tries to make sense of his predicament. I imagine a warfare trench (8 May, Victory day is mentioned); my companion says it's primordial. Dante's Divine Comedy was an influence, and that clue is also there in the text. Are we both right? "Yes or No" he asks himself. "No" he replies. "No witness". Is he rehearsing, refining his story?
How It Is, Beckett's statement of fact, what he thinks it is to be human… Are we being put to the test? "If it weren't all lies, it'd be the truth" was a favourite saying of my mother's who had been through the mid-twentieth century's many ordeals and oppressions. Is it all bollocks, as Beckett seems to be implying? He uses strong words, angry words. "You can say nothing when time ends you end." "Hanging on nothing left but words". "Can't go on".
Written in 1961 in French, Comment c'est, a pun on commencer, to begin, How It Is was Beckett's last full-length prose work. It has no punctuation, which leaves it up to us the reader or the performer to resolve its stress and intonation. Director Judy Hegarty Lovett, who also designed the production, makes fine sense of it, though there are a few walkouts, either it's bladder issues (no interval) or no staying power.
This is where the Irish Gamelan Orchestra, formed only in 2013, comes into its own: it is transfixing. If you can't concentrate on the words, and our concentration span is meant to be only twenty minutes, listen to the sound of the actor's voice, watch his movements (though be careful where you sit—How It Is is performed in traverse and sometimes Dillane is obscured by the carved frames that hold the big gongs), and absorb Beckett's dark wit. Surf the words, chew on the endless stream of words, a "flageolet of pleasure".
The fourteen-player ensemble, joined by violinist Schwab and Cathal Roche on saxophone and clarinet, under the musical direction (and sound design) of Mel Mercier, are a force. Performing original music on sixty plus percussion instruments (made in 2017), on a wooden flute and a two-string fiddle (I love the fiddle)—what an aesthetically pleasing sight they are. They are the set. Not only are they the prologue but the halfway break, and the signifier that the end is near.
Sometimes, Dillane is in the spotlight (lighting Simon Bennison); sometimes he is not. At the end, he sits in the centre of the orchestra, the sound enveloping him, swivels this way and that, and seems to conduct the air around him. In the beginning…
How It Is is not an easy watch, it requires commitment, but it is a necessary, fascinating watch. Touring company Gare St Lazare Ireland under the joint directorship of Judy Hegarty Lovett and Conor Lovett has been in existence for over 23 years—with over 17 Beckett titles in its repertoire—I'm thrilled to have caught up with it at last.
Reviewer: Vera Liber