How the Other Half Loves
Alan Ayckbourn
Tabs Productions and Rumpus Theatre Company
Pomegranate Theatre, Chesterfield
–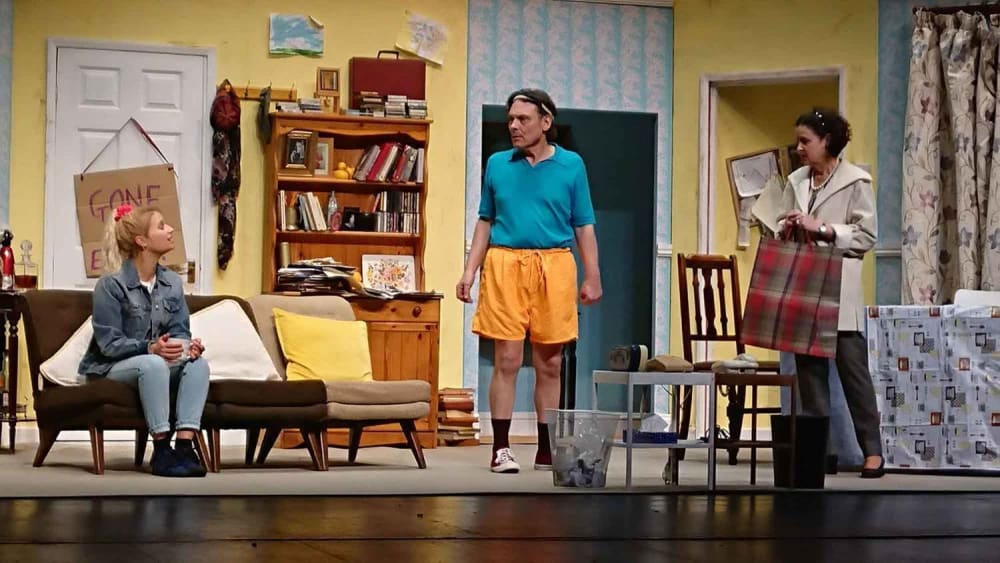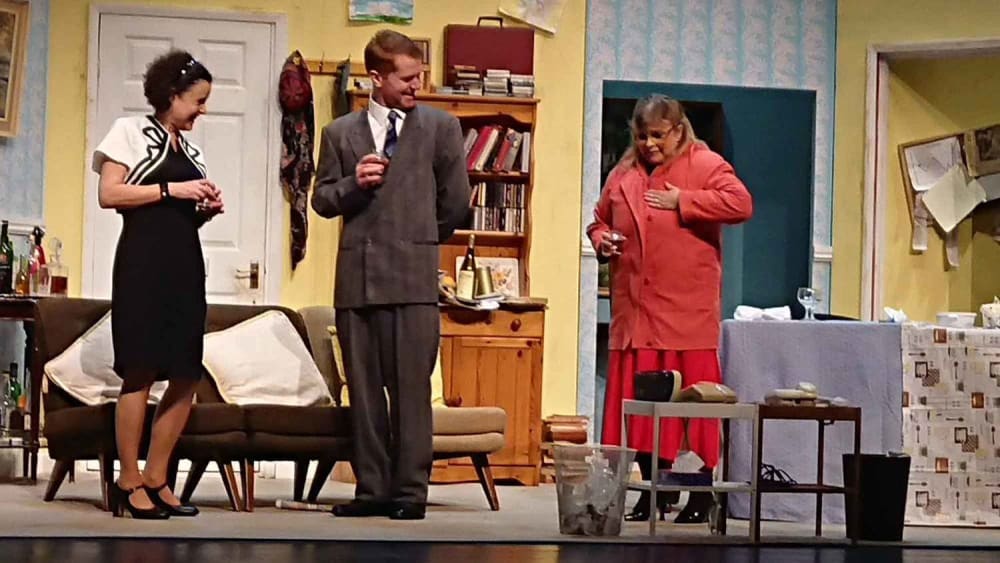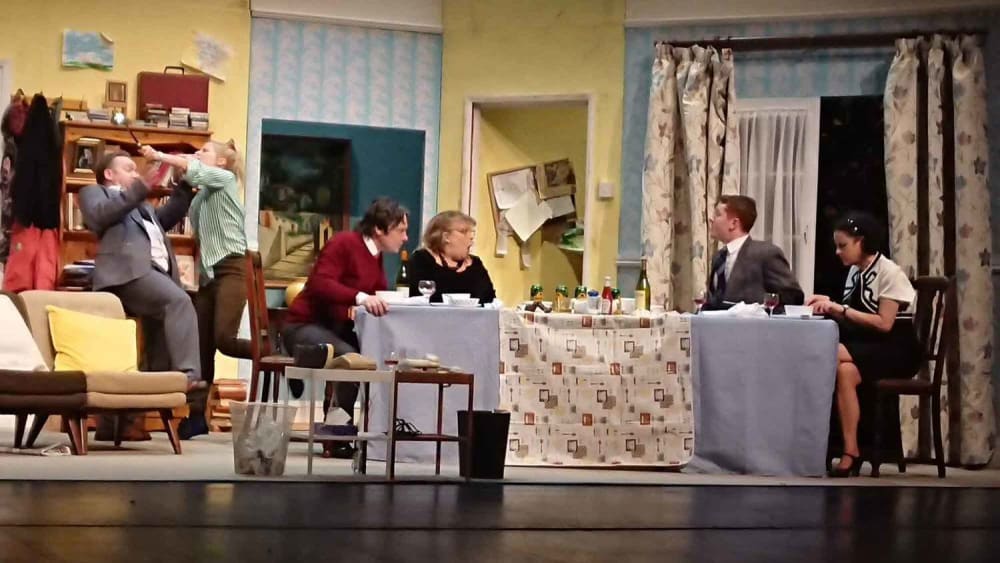 Performing seven plays in eight weeks—the ensemble get a week off in the middle—would be a daunting prospect for most theatre companies. But scheduling Alan Ayckbourn's physical farce How the Other Half Loves as part of a rep season celebrating 70 years of the Pomegranate appears ludicrous.
The play, written in 1969 and performed at the theatre in 1984, secured Ayckbourn's place as one of this country's favourite playwrights. Its fast pace calls for expert timing from actors who have to trust one another to get it right—not easy with a short rehearsal period.
But Tabs and Rumpus pull it off almost perfectly. There's hardly a missed cue and just the occasional line out of place as six actors serve up a "very entertaining" evening, as the man next to me said at the end.
How the Other Half Loves features three contrasting couples, two dinner parties and one affair. Company department boss Frank Foster and his elegant wife Fiona are well off. Bob Phillips and his wife Teresa are a younger couple with a baby who are not comfortable in their life nor their marriage.
Bob and Fiona are having an affair, each covering it up by maintaining they are supporting their friends the Featherstones who are allegedly having problems with their own marriage.
When the two couples invite William and Mary Featherstone to dinner on consecutive evenings, the fun really starts. The two dinner parties are played out simultaneously, with William and Mary caught literally in the middle of their bickering hosts. It's a recipe for disaster or triumph; in director Karen Henson's hands, it's a great achievement.
One of the quirks of a rep season is that you can see an actor playing hugely different parts from one week to the next. Susan Earnshaw, malicious and spiteful the previous week as domineering June Buckridge in Frank Marcus's The Killing of Sister George, plays nervous, socially inept Mary Featherstone in How the Other Half Loves. The two roles are worlds apart. Yet Earnshaw shows she has the ability and aptitude to make both a success.
Few people might imagine Earnshaw and Chris Sheridan as a couple. But Sheridan gives William Featherstone a spirited exterior so that the character isn't as boring as he is usually depicted. And both show exceptional facial expressions when they switch from one dinner party to the other.
William Featherstone and Frank Foster can both come over as dull and uninteresting. John Goodrum, director of the first three plays in the season, now takes to the stage and portrays Foster as slightly eccentric and finicky. His obsession with things being done correctly means he can't see what's happening around him and leads to misunderstandings which are responsible for so much of the play's humour.
Susie Hawthorne revels in the part of Fiona, so tired of her husband's fussiness that she wants the excitement of an affair, although it's never clear why she takes up with slobbish, chauvinistic Bob.
David Martin provides swagger as Bob and Anna Mitcham is charmingly convincing as slightly dippy Teresa who has little idea of how to be a good wife or mother.
How the Other Half Loves is a really clever play, showing Ayckbourn at his most inventive. This production demonstrates that Tabs and Rumpus are among a select few organisations that are still adept at staging high-quality rep theatre.
Reviewer: Steve Orme