How the Other Half Loves
Alan Ayckbourn
Bill Kenwright
Theatre Royal Haymarket
–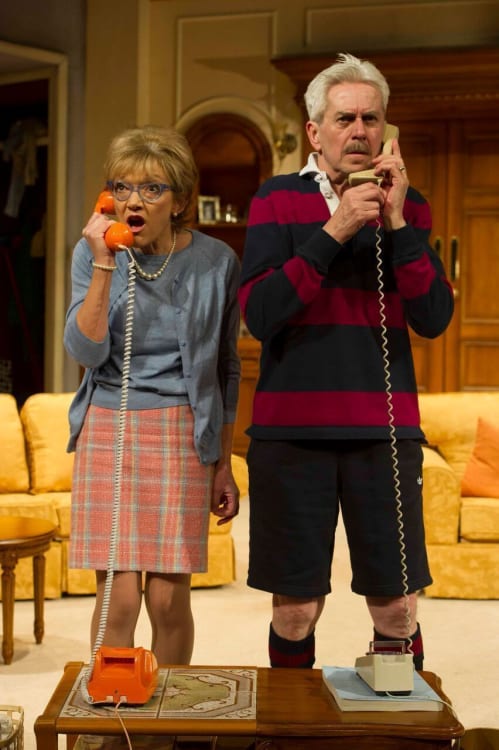 With over 80 plays to choose from, some of them works of near genius as befits a popular author knighted for his play writing, it is hard to imagine why anyone would revive this dated, unimaginative sitcom that first saw the light of day in 1970.
How the Other Half Loves has many of the traits that devotees of Sir Alan Ayckbourn will instantly recognise. It features three contrasting couples and a single set design by Julie Godfrey that doubles as the homes of two.
The plot relies on old comedy staples, primarily un-PC sexual impropriety and misunderstandings. On this occasion, it also requires quite extraordinary stupidity to sustain the plot through close to 2½ hours, with the best laughs generally coming from physical comedy.
The central gag is set up in the opening few seconds as we learn that unscrupulous Jason Merrells as Bob Phillips has been shagging the boss's haughty wife, Fiona Foster, played by Jenny Seagrove.
They independently but ineptly try to hide their almost all-nighter by using the timid Featherstones as particularly unlikely cover.
The upshot is two uncomfortable dinner parties on consecutive nights but played out together around a dinner table shared between the affluent Fosters and aspirant Phillips.
Nicholas le Prevost as Fiona's implausibly dim businessman husband has to avoid the obvious throughout the evening in his efforts to prevent the plot from fizzling out before it even gets going.
This requires streams of wrong conclusions, most involving the poor old Featherstones. Matthew Cottle's William will get on well with his new work colleague also being short of common sense, while his wife Mary is at least a reasonable comic invention, if somewhat derivative. This allows Gillian Wright, nervously shaking like the runt of a canine litter, to deliver a charming performance.
Ultimately, the play centres on Tamzin Outhwaite doing her best as an enraged and frustrated mother of a tot haranguing Bob, while Fiona bluffs like mad for the benefit of her buffoon of a husband.
For those with long memories or cultural historians (if the 1970s counts as history), the costumes are a delight. Miss Outhwaite wears a wondrous selection of bright, multi-coloured mini-dresses and footwear, while the costumes of her female colleagues are more muted but still memorable.
While the actors enjoy themselves, a question arises as to why all seem considerably older than the parts that they are asked to play. The likely answer is that most are TV favourites (half the cast is drawn from EastEnders) likely to prove popular with the kind of audiences that enjoy Ayckbourn revivals.
Alan Strachan's production is at its best and funniest in scenes where two different time lines and locations overlap. However, the play's weaknesses are all too apparent when every scripted surprise can be predicted sometime before the putative bombshell eventually hits.
Reviewer: Philip Fisher