How to Keep an Alien
Sonya Kelly
Rough Magic
Traverse Theatre
–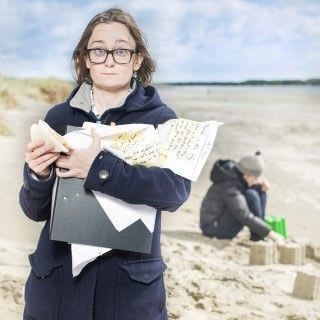 Irish writer/performer Sonya Kelly has the ability to write poetically. She can also be very funny.
How to Keep an Alien is her very personal tale about falling in love and its consequences.
The object of the actress's affections is an Australian stage manager whom she met while rehearsing a particularly turgid Gogol production.
Love burgeoned quickly but was lost as soon when Kate from Queensland's visa ran out.
The first 45 minutes wittily tells their story and relates the pleasures and insecurities of a long distance relationship.
All of this is largely delivered as a monologue, with the stooge-like assistance of Justin Murphy, who doubles as stage manager.
The final half hour loses the narrative drive. While its quaint contents might have great importance to those involved, they shed little light on life or the story and could have benefitted from some positive pruning to turn a flabby 75 minutes into what should have been a far tighter hour.
Anyone who might doubt whether the piece is autobiographical will have been assured by the appearance of a very happy Kate at the press performance curtain call.
Reviewer: Philip Fisher