How to Win Against History
Seiriol Davies
Young Vic Maria Studio
–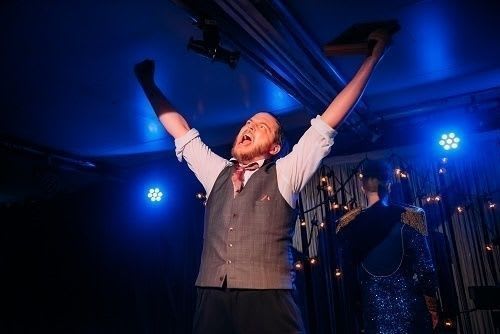 It is safe to say that How to Win Against History is the kind of show that people will either love or hate but few are likely to fall anywhere between these two extremes.
Although billed as a musical, the performance might better be described as a 75-minute-long camp cabaret that allows its creator Seiriol Davies and performer / co-deviser Matthew Blake to have a whale of a time, accompanied on the keyboard by Dylan Townley, all under the direction of Alex Swift.
Their ostensible subject is the late Victorian Henry Cyril Padget, who became the 5th Marquis of Anglesey during a short but extremely eccentric life, which sadly terminated before the elevated gent had even reached his 30th birthday.
While it might seem relatively run-of-the-mill today, Padget's penchant for cross-dressing must have seemed completely bizarre in an era when even the pianos kept their legs chastely covered.
In the person of Mr Davies, the future Marquis sports a bottlebrush haircut, beard and gorgeous, navy blue, sequined gown. He also speaks in 21st century fashion, to add to the theatrical mystique.
His marriage of convenience to another weak-willed aristocrat was apparently required to release inheritances on both sides but little else. Instead, our man decided to become a theatrical impresario, frittering away the family wealth with remarkable rapidity.
A noble life is related in the song, a bit of dance and much facial fluidity including a degree of interplay with the audience, who are expected to participate in limited fashion from time to time.
According to the blurb on the script, the nobleman believed himself to be dressing as Queen Eleanor of Aquitaine, although the underlying reasons are as unclear as some of the enunciation from the leading players.
The occasional tune is catchy and the humour risqué but ultimately those interested in the life of his Lordship might feel a little short-changed, since they will probably discover rather more about the behaviour and attitudes of Messrs' Davies and Blake than their ostensible subject.
Those that dote on ultra-camp cabaret should make a beeline down to the Young Vic's Maria Studio to enjoy the fun. Anyone else might be better advised to head to the main house, where The Jungle opens at the end of the week.
Reviewer: Philip Fisher