How to Write about Theatre
Mark Fisher
Methuen Drama
Released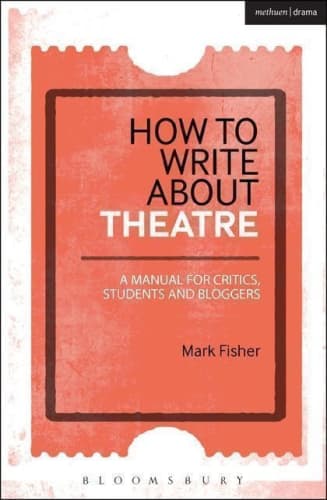 This is not the easiest book to review, given that the author is an expert in criticism and will unerringly pick up any failings that your modest writer might demonstrate. However, as he explains, the nature of the profession is that a critic has at times to be brave.
Mark Fisher has written an intelligent and insightful manual "for critics, students and bloggers" that will help those studying theatre criticism to understand their chosen trade and pursue it more effectively.
The title might be something of a misnomer, since this volume gives a great deal of information but is determinedly directed towards aspiring critics and those taking their first steps in the business rather than say academics or tired old hacks who have been writing about theatre for decades.
As one would expect from a well-respected journalist, Fisher writes clearly and well, elucidating his subject throughout the 260 pages.
They are distinguished by an impressive level of research added to an innate knowledge that only a lifetime in the business can generate.
Some may take issue with his micro-political stance. In the debate about whether professional critics are more valid than casual bloggers, he apparently takes an egalitarian view. This means that while the rigorous training programme is most prominently directed towards those who are likely to get into the traditional media, blogging and tweeting are cited as examples and treated as serious competition.
His argument would probably be that these days many mainstream journalists are obliged to supplement their more thoughtful pieces with brief opinions delivered via abbreviated, alternative forms of media.
The author starts by putting theatre criticism into perspective, offering a brief overview of the subject across the last 400 or so years. This is helpful and might send readers back to some of the great names of the past such as Addison, Hazlitt, Shaw, Agate and Tynan, which should lead them to fruitful and enjoyable research.
The bulk of the text is then devoted to analysing as many elements of writing about theatre as Fisher can think of.
The instruction is generally presented in a methodical fashion. As with any manual, it may well be that beginners find the explanations a little too brief, while theatre addicts will immediately understand his terms and frames of reference. However, the balance is generally well thought through.
Each section is followed by an exercise, suggesting that this book may be a by-product of lectures on a university criticism course. These should prove fun, challenging and educating for those investing in a volume that might determine their future careers.
It is worth observing that this volume gives little information about the downsides of what is now a very insecure business, nor does it address the question as to whether the profession of theatre criticism will still exist in a couple of decades' time when the bloggers and tweeters might have driven the experts into history.
Having said all of that, for anyone who is about to embark on a course in theatre criticism or wishes to understand what it takes to write intelligently about stage productions, How to Write about Theatre is a perfect introduction to what could be a lifetime of pleasure in and around theatres.
Reviewer: Philip Fisher