How It Ended
Emily Watson Howes
You Need Me
Arcola Theatre
(2009)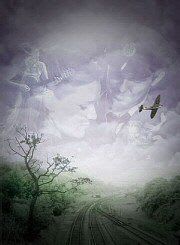 Director and creator Emily Watson Howes has put together a lovely piece of total theatre that tells an old, old story in a truly charming and endearing way.
How it Ended, which packed out a sweltering C Venue in Edinburgh last August, is built around a love story that could have escaped from Little Women, had Louisa May Alcott lived in Wales during the Second World War.
Miss Watson Howes has achieved this using a multi-talented, international company with Welsh and Basque to the fore. For an hour, they act, sing (very sweetly), dance and create their own soundscape on a series of instruments that are led by a radiogram, accordion and guitar but include all kinds of unorthodox percussion as well.
Thanks to the soundscape and deliberately dowdy costumes, the story that they tell evokes its period perfectly, immaculately recreating the highs and lows of wartime passion.
The first half focuses on the Edwards sisters, five orphans evacuated from Swansea to Pontypridd under the guidance of the noble eldest, Nerys (Fran Mould), who selflessly devotes her energies to bringing up her four younger siblings.
Their girlish pranks are interrupted by the arrival of a French RAF trainee flyer Raymond, a quiet type played by Roger Ribó. He instantaneously charms 18 year old Lillian (Kate Hewitt) and in three weeks, they are married.
At the end of the war a few months later, Raymond returns to discover his wife pregnant. He sweeps her back home to meet his parents and there, tragedy meets comedy with the introduction of Lillian to his stern Gallic Mother, Nathalie Meyer giving up her accordion (and temporarily sound effects) to take the part.
The play then develops into a kind of extended mother-in-law nightmare, impeccably realised by a company that believes in creating simple, naturalistic effects that speak volumes, even across a language barrier.
How it Ended is timeless, high class physical theatre that can make one both laugh and cry, while recognising the kinds of tiny problems that wars can create amidst the far more serious carnage.
There is little like this in London at the moment. It looks and sounds good, as well as telling an engrossing tale. Don't miss out.
Reviewer: Philip Fisher