Human Animals
Stef Smith
Royal Court Theatre Upstairs
–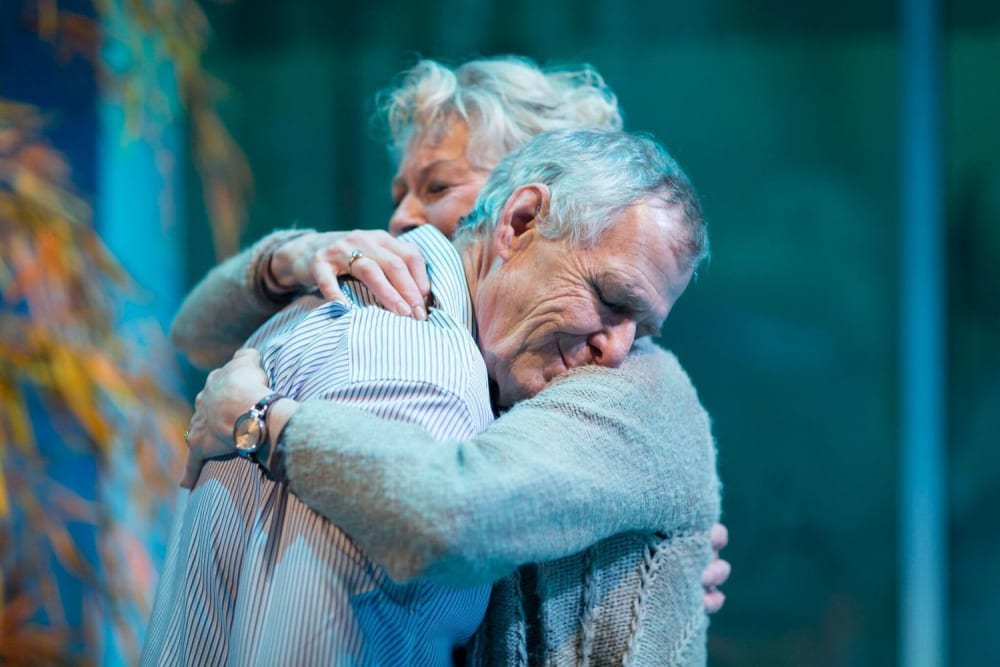 Stef Smith's Dystopian vision of Human Animals is a truly terrifying parable of the destruction that mankind is wreaking on itself and the globe.
Although it is ostensibly an eco-thriller, the piece also has elements of black comedy to leaven 75 intense minutes, featuring a strong cast under the direction of Hamish Pirrie.
The evening starts out innocently enough, as we are gradually introduced to three pairs of characters, who, it subsequently transpires, also have many other touchpoints.
In a series of stylised gardens backed by a wall of windows, the whole designed by Camilla Clarke and looking like an art installation, we gather that a loving couple, Lisa and Jamie played by Lisa McGrillis and Ashley Zhangazha, are as happy as it gets.
At the same time, Stella Gonet's lonely Scottish widow Nancy is welcoming Nathalie Dew as her daughter Alex back from a gap year, while Ian Gelder in the role of their lonely neighbour John might be devoted to the older lady but feels a need to cruise and in doing so meets a nosey, smug businessman Si, Sargon Yelda.
The only oddity in the opening encounters is the way that pigeons rather bloodily find ways of self-extermination, symbolised by gory splats on those windows.
Swiftly, almost everything else that is red in tooth and claw follows suit, foxes lamented less that a missing pet cat, for example.
Rumours of infection caused by both live and dead fauna begin to eat away at the comfortable security of suburbia. Panic sets in and curfews, immolation and protective slaughter follow.
By this point, we have observed the multiple interactions between the varied group of individuals. The old couple has a special relationship, while breadwinner Lisa works for sinister Si, a representative of corporate brutalism in the form of a chemical company that can make untold wealth from disease and fear.
On the other side of the equation is Alex, who predictably frustrates Nancy by deciding to chain herself to park railings in a pointless but worthy protest. In parallel, Jamie takes on a Noah role by beginning to build a private menagerie.
Soon, fires are raging as someone, never identified, takes the decision that the only way to save humanity is indiscriminately to kill, kill, kill almost anything that moves, with humans under threat as well as the animals.
By this stage, all six individuals are caught up in a spiral of mistrust, uncertainty and fear worthy of a horror movie, as their lives are potentially threatened, not so much by the immigrant animals but by unseen officialdom, ostensibly protecting them.
Stef Smith has written a powerful, poetic and at times sophisticated contemporary play that can be a little quirky but should make viewers think about their lives and society today as they reflect on their horror at the minutiae of the slaughter that they witness, probably barely cheered by what seems to be a mildly hopeful ending.
Reviewer: Philip Fisher