+/- Human
Curated by Wayne McGregor / Zoological art installation by Random International
Royal Ballet and Company Wayne McGregor
The Roundhouse London
–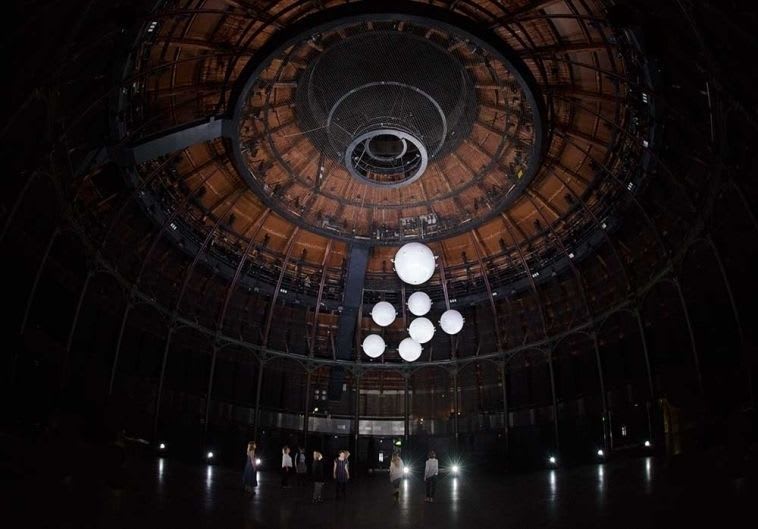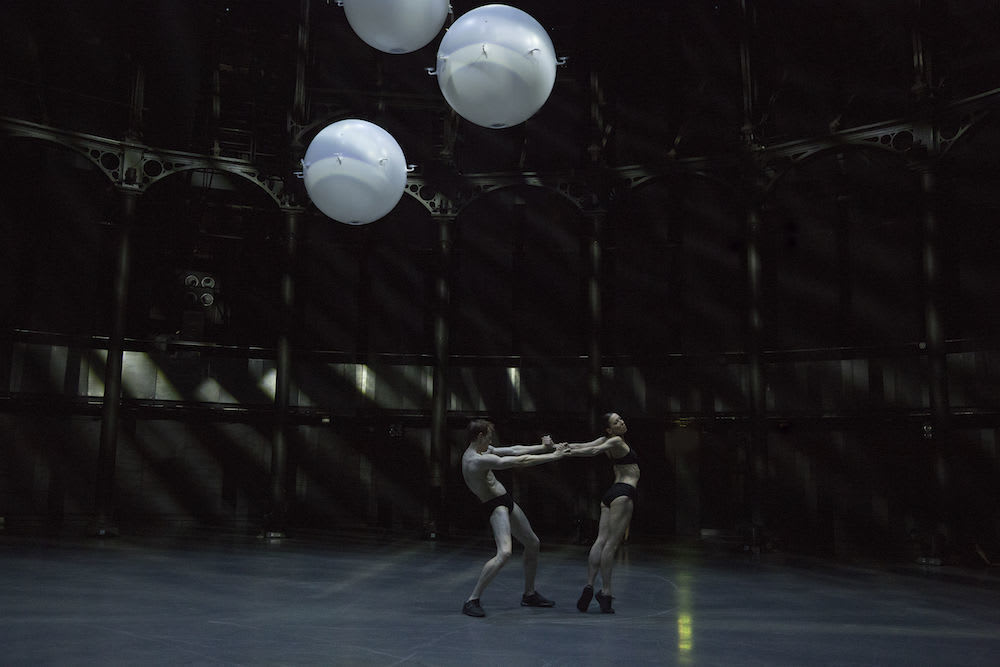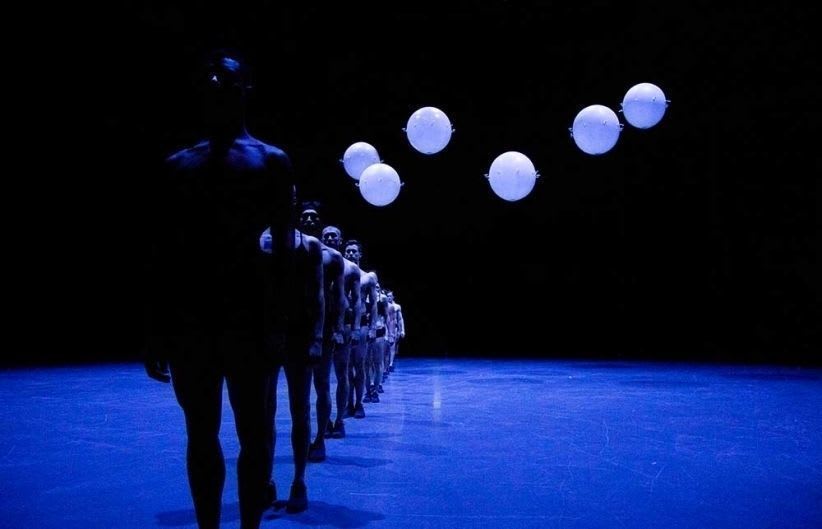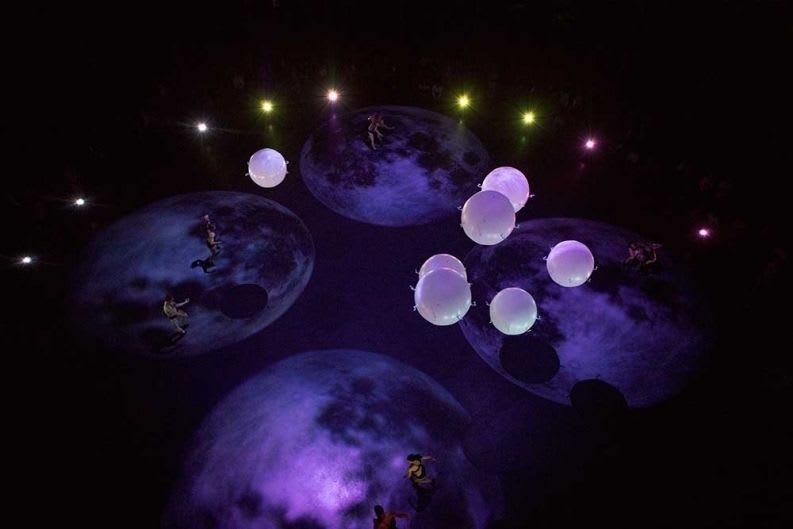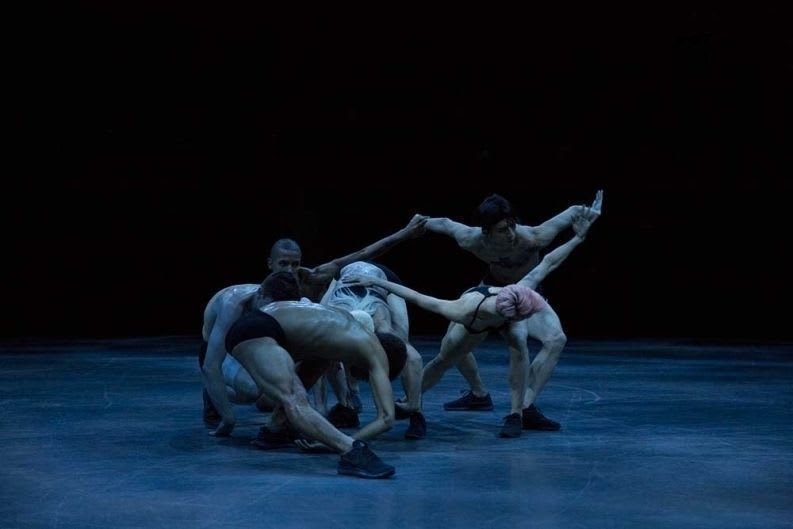 Apologies for being late to the ball—or rather to the flying balls: large white globe drones that ostensibly "are programmed using complex algorithms and motion sensors to react intelligently to their surroundings and to bodies in their environment, exploring the relationship between mechanical autonomy and human beings."
This is Zoological, an art installation by Random International (famous for their extremely popular 2013 Rain Room at the Barbican), that during the day is open to the public to interact with these delightful animated beings, and which for six evenings only as +/- Human witnesses the supremely worked-out bodies of Royal Ballet dancers and Company Wayne McGregor do the business.
The former Victorian railway turning shed, the Roundhouse, emptied of clutter, stripped back to vaulting roof and its twenty-four encircling cast-iron Doric columns, with atmospheric lighting by Lucy Carter, is a stunning mosque, a temple, a vast arena in which anything can happen.
Audience corralled behind ropes, light fanning out (rays of perception) across the floor, seven angelic globes glide out from an aperture high above, their tiny ear-like propellers purring. The music kicks in all bells and thunder, ecclesiastical in its intensity, as a column of dancers (fifteen are listed) slinks in, and explodes in duet, trio and group entanglements.
The drones, a corona above the dancers, keep their distance—are they come from another galaxy to spy on these hyperactive beings below? My companion, who came twice with his children to the daytime installation, is reminded of the 1980s film Batteries Not Included.
Of course, there is something extra-terrestrial about drones. I often wonder if McGregor is from another planet with his restless mind's penchant for cognitive theory, sci-fi, and his atypical signature style that takes the body beyond the human.
Seven, why seven drones—seven dwarves—seven hummingbird spheres, sub/consciously anthropomorphised: the audience can't wait to play with them. My music technology escort also tells me that there are two people controlling the drones—so, it's not all down to motion sensors. Hmm. A Wizard of Oz Fantasia…
But what of the dancers, is anyone paying attention to them? The dancers are amazing. Dressed all in black, in trainers that shorten the leg, plus or minus signs painted on their torsos, men in trunks, girls in pants and bras.
Under the hot lights, their elegant, strong bodies shimmer with moisture and the signs get smudged or rubbed off entirely—a metaphor for sure. In repose, waiting their turn, they stand like sentinels by the columns—one in front of my nose, and doesn't he smell good.
In action they are wriggling, spinning, twisting earthbound organisms, dancing on satellite images of the universe—or is that a multiverse? In shadows, under a crucible red light, burnished molten superhuman creations. Are the spheres scouts for an encounter of a third kind? Aren't we creatures from another planet to someone from another galaxy?
What the seven-orb flock is about is as indecipherable as the signals from the dancers. Is it some sort of ritual, a rite of passage? How will we communicate when the time comes? Back to monochrome, the red alert over, cogs and wheels, together the group forms a writhing mass of cells and molecules.
Music by Mark Pritchard, as well as Clark, Gaika, and Lorenzo Senni, from the Warp Records stable, sounds familiar, though I can't quite put my finger on it. It grows portentous; the dance more hectic; the soundscape's beeps and bleeps are replicated in the semiotics of the ones below. Machines after all, two sets of machines in competition, or is that alliance?
Fifty minutes fly by. It's good to see the pairing of Edward Watson with Mara Galeazzi again (once Mary Vetsera to his Prince Rudolf in Mayerling). I read that Watson has been McGregor's muse for some time—he acknowledges that he loves his body and has created more dances on him than anyone else: "the instrument is phenomenal, it's got an amazing ability."
But there's another in the wings I feel: Calvin Richardson, first artist of the Royal Ballet, stands out as a McGregor man—supple, daring, more than willing.
Dancers file off, the flock returns to its binary home and the audience is allowed into the playground. Out they come again to see who these eager beavers are. Amusing to watch how keen we are to make contact. Who or what is the more childlike? Appearances can be deceptive.
Reviewer: Vera Liber