Humble Boy
Charlotte Jones
Orange Tree Theatre, Richmond
–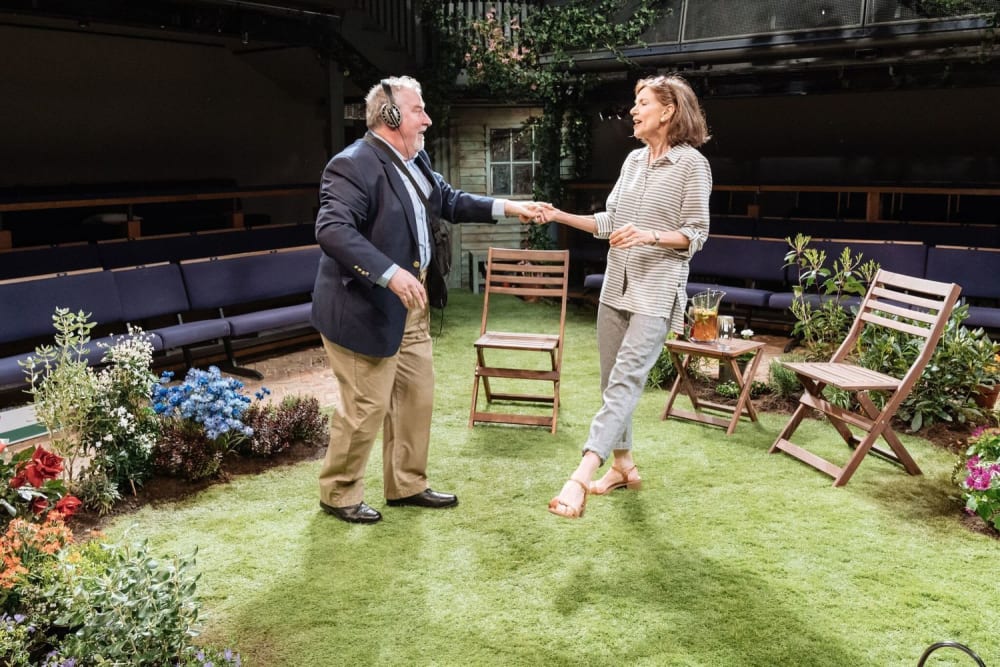 When Charlotte Jones's best work to date first appeared in 2001, the National paired Humble Boy in the Cottesloe with a memorable Hamlet, John Caird, who directed both productions, drawing a number of cast members from that ensemble.
17 years on, it is still hard to erase the memories of Simon Russell Beale portraying unworldly genius Felix or Diana Rigg in the role of his brutally strident mother, Flora. The supporting cast was almost as good and ensured that the play was launched in magnificent fashion.
It is odd that such a popular piece should wait so long for its first significant London revival and a credit to the Orange Tree that it can claim the credit for doing so.
Ignoring an almost invisible step that endangered visitors, Simon Daw's design is an instant classic, comprising a lovely country garden complete with flowery border and its environs.
This is the setting for a social comedy that takes place following the untimely demise of James Humble, a schoolteacher and beekeeper who quietly lived down to his name.
The events that take place wittily echo those of Hamlet but in condensed and surreally comical fashion. While there is no suggestion of murder, widow Flora, played with lofty archness by the splendid Belinda Lang, has been having an affair with Paul Bradley's uncouth George Pye.
At the same time, Jonathan Broadbent's unprepossessing Felix enjoys a strained, on-off relationship with Rebekah Hinds as George's matter-of-fact daughter Rosie. Unlike Shakespeare's Ophelia, Rosie has a daughter named Felicity, whose paternity adds to the intrigue and stress for all concerned.
Completing the picture are two secondary characters. Selina Cadell is jumpy, verbose Mercy, the kind of charitable do-gooder who inadvertently destroys anything in her ambit but does, at least, get the best gag of the evening and an inevitable round of spontaneous applause. Christopher Ravenscroft takes the role of Jim, the gentle gardener, who has his own hidden depths.
Before the interval break in the 2½-hour production, the plot largely builds a warts and all portrait of a series of uncomfortable relationships with only unfeeling George really happy, while stuttering theoretical astrophysicist Felix is so unstable that he seems unlikely to make it into the final stages of the evening.
A dinner to celebrate the upcoming nuptials of Flora and George dissolves into argument and comedy, before a series of unlikely events lead to a satisfying and unexpectedly hopeful ending.
Paul Miller's well-cast revival confirms what those who saw it first time around had concluded, which is that Humble Boy is a fine and very funny piece of imaginative writing that should be enjoyable whether or not you are familiar with the Shakespearean allusions.
Reviewer: Philip Fisher