Hymn
Lolita Chakrabarti
Almeida Theatre
Almeida Theatre
–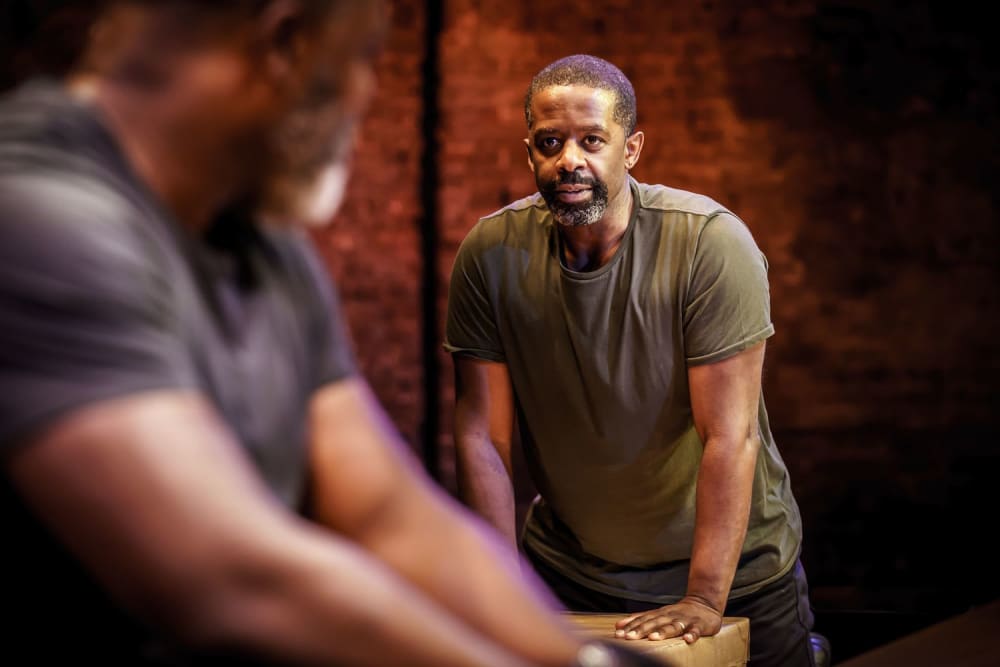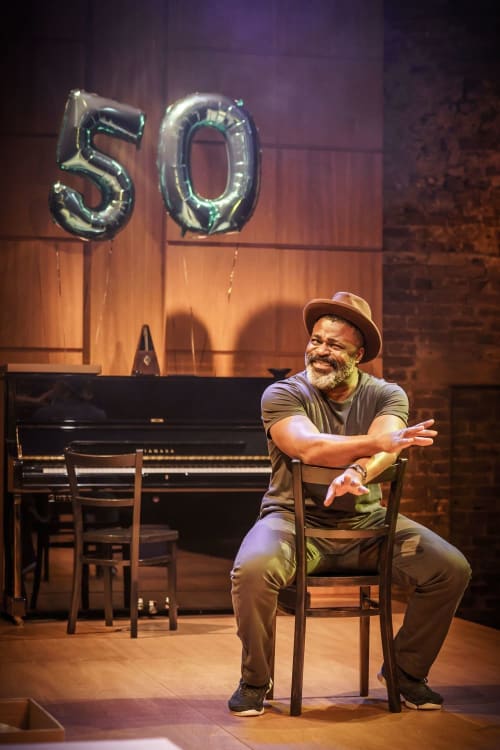 Staged live on a thrust stage in an empty Almeida Theatre, Hymn has the structure and many of the component parts of an upmarket soap opera but manages to subvert the genre by presenting deeply felt portraits of its two central characters.
Blanche McIntyre directs the playwright's husband Adrian Lester and Danny Sapani in a 90-minute drama that opens with a scene which could either effectively be its prologue or its epilogue, although it could even be dual-purpose. This sees Sapani's Benny raging drunkenly against a publican but more widely the world at large.
We then move smoothly into a eulogy delivered by Lester's Gilbert at the funeral of his 86-year-old father Augustus "Gus" Jones, a paragon of virtue if ever there was one. This being drama, it doesn't take long to discover that the paragon's reputation was stained.
Gus was a stern and loving father to Gil and his three high-achieving elder sisters, much favoured, appreciated by them all as a businessman who supported a growing family and encouraged them to pursue successful careers. However, at the end of the funeral, Benny, who seems strangely out of place, insists on a brief interview with Gil, during which he drops an unlikely bombshell, explaining that they are half-brothers as result of an affair between Gus and Benny's mother.
Predictably, the recipient of this unwelcome news is disbelieving. However, following standard medical tests, he is forced to accept that a man who is practically his twin, each about to celebrate their 50th birthday with a six-day gap in between, has turned them into Blood Brothers—a subject for plays if ever there was one.
The story that unfolds is embellished by a number of songs, each actor proving to have an attractive singing voice, together with physical interaction, never more pertinent than as the pair train together at a boxing club.
Given the initial premise, there only two ways forward: either the duo must be consumed by love or hate. In this case, they become best buddies, businessman Gil even offering Benny the chance of a lifetime via a change in his career that will present an opportunity to get richer quick. The extended families also become close, children mingling as easily as wives and the brothers themselves.
It is in the nature of this type of drama that the final outcome will not necessarily turn out to be what either the protagonists or viewers might expect and that might prove to be part of this play's attraction.
As stated in the opening paragraph, Hymn's strong suit lies in its sensitive depiction of two very human beings, while the plotting helps to illuminate their characters, even if it does sometimes stretch credibility a little further than some might like.
This is an important venture for the Almeida and viewers are encouraged to catch the show and purchase tickets as a positive way to invest in the theatre's future.
Reviewer: Philip Fisher