Hymns
Chris O'Connell
Frantic Assembly
Lyric Theatre, Hammersmith
(2005)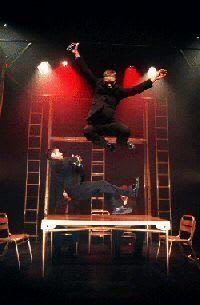 There are few companies that have changed their nature as much as Frantic Assembly, which is now celebrating its 10th birthday.
In the early days, they were very much a dance-based, physical theatre company for whom the text at best came second. Now, following collaborations with a series of excellent and innovative young playwrights, they have become a successful, straight theatre company, albeit one that is strong on choreography.
Hymns was written and first performed in 1999 which appears to have been at roughly the turning-point between dance and text-based productions. The first two thirds of the play is not too far from a dance piece while Chris O'Connell's cogitations on life and death predominate towards the end.
O'Connell is an interesting writer whose milieu is the disenfranchised young. Strangely, he must be pretty much the only playwright who has managed to write a trilogy with combined titles (Car, Raw and Kid) shorter than his own name.
On a dark stage, dominated by free-standing, high ladders, four actors begin an aerial dance that conveys their presence in church. This is eventually broken by the sound of a mobile phone that had several audience members diving for their bags.
The quartet are friends of the late Jimmy, a man who found life too much and ended it hanging from a rope in his own home.
The delight of Hymns is very much in the performances which are exceptionally well choreographed under the direction of Liam Steel with the assistance of Frantic Assembly veterans, Scott Graham and Steven Hoggett.
To a wide assortment of musical accompaniment, the team show wonderful acrobatic skills, not to mention bravery on occasion, for example when a pair leap onto chairs suspended several feet off the ground. Bearing in mind that the original members are now six years older than they were when the project was conceived, their fitness levels are impressive and it is never obvious that any of them struggles, even after the most physically testing series of moves.
The Jimmy story is simple as everyone feels responsible for their lost friend but tries to avoid any accusation of neglect. They all suffer from a high measure of guilt but it is possible that some should do so more than others.
As the truth finally comes out, it is Steven Hoggett's Scott, the one who has left his home town for a career in the big city and "Friday and Saturday night blondes", who eventually moves centre stage and is forced to bare his soul.
As might be expected from a 75 minute production which is dominated by dance and gymnastics, Chris O'Connell's text does not get too far below the surface of the lives of five mates and the way in which death affects four of them.
The performances are all superb from a newly-constituted cast. It is somewhat confusing that having originally taken the Christian names of the performers, as a result of Scott Graham's absence on paternity leave, it is Steven Hoggett who plays the Scott character while Scotsman Eddie Kay has the odd experience of playing somebody standing opposite him.
Reviewer: Philip Fisher