I Believe in Unicorns
Adapted by Daniel Jamieson from the book by Michael Morpurgo
Theatre Alibi
Northern Stage, Newcastle
–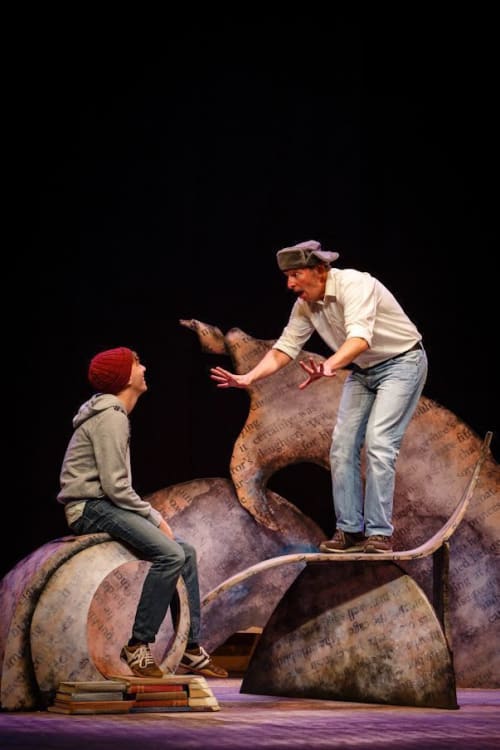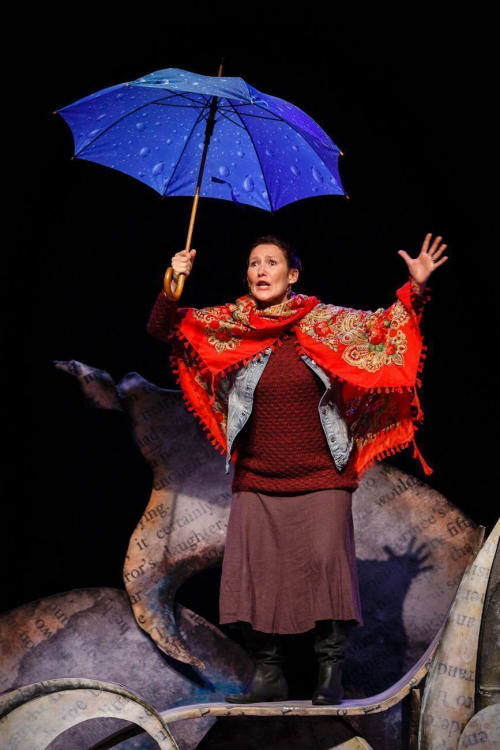 Michael Morpurgo does tell a good tale!
After the huge success of the National Theatre's production everyone knows War Horse but I also remember being impressed by stage versions of The Butterfly Lion (2004) and Kensuke's Kingdom (2006) and, of course, productions of Private Peaceful have been running for quite a few years.
So Daniel Jamieson had excellent material to work on when he began his adaptation of I Believe in Unicorns—and he does a great job with it.
With a cast of three and a musician (Thomas Johnson), the play tells the story of young Tomas (Ben Worth) who is introduced, against his will, to the joys of stories in the local library by the Unicorn Lady (Cerianne Roberts). Roberts also plays his mother and the other member of the cast is Derek Frood who plays Dad, Mr Libo and Tomas's ultra-cool mate Parvo—and it says a lot that he is equally convincing as Parvo as he is as Dad.
A play which reveals the pleasures of reading would seem at first sight to be somewhat worthy, even patronising, but it's a mark of Morpurgo's understanding of the way children feel and react and of the sensitivity of Jamieson's adaptation that there is no sense of it being in any way preachy. We see everything through Tomas's eyes and we react as he does, so even the adults in the audience become childlike for the duration!
And the play does turn dark... no spoilers though!
Tomas talks to the audience; scenes are acted out; there's a simple but very effective puppet; the set (designed by Trina Bramman) is flexible enough to be anything from the family's home to a sledge to the library and even Noah's Ark; Thomas Johnson's music (for he is composer as well as performer) underscores the feelings and links the scenes, and director Nikki Sved weaves it all together sensitively and smoothly.
And the verdict of the target audience? Well, yes we did have some rustling of packets of sweets—but the children were rapt, with the occasional little gasp and the not-so-occasional burst of laughter. A palpable hit!
Reviewer: Peter Lathan