I, Malvolio
Tim Crouch
Perfect Fools
Arts Centre Washington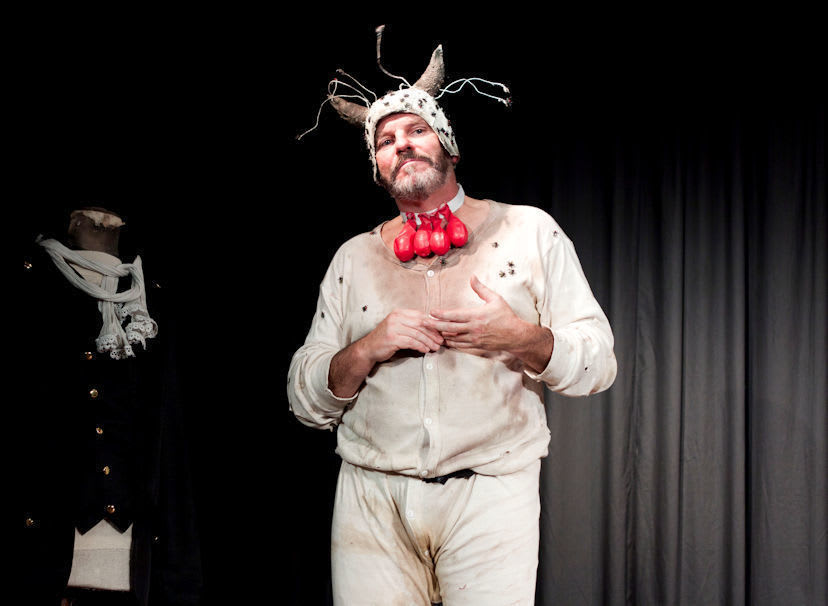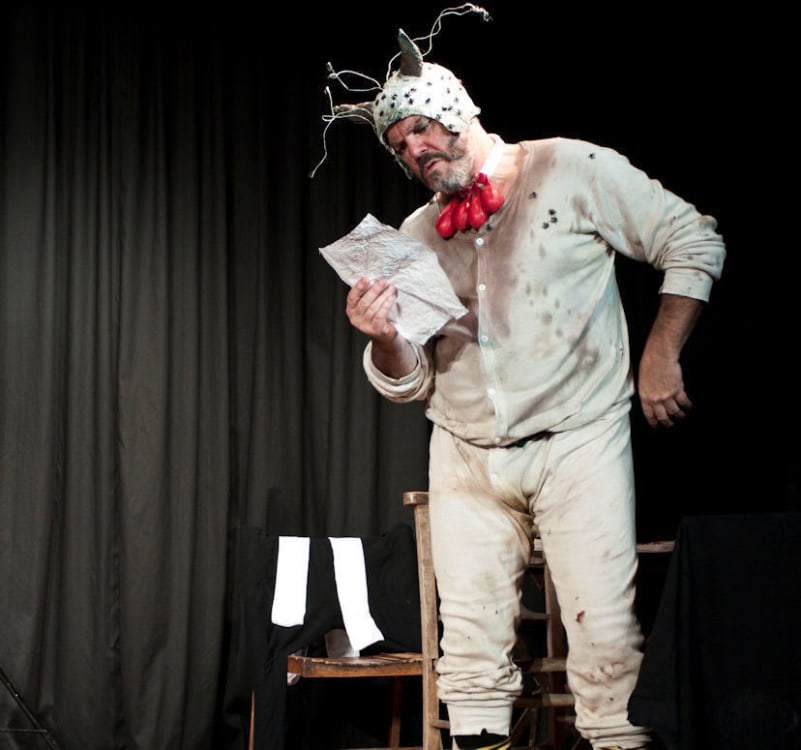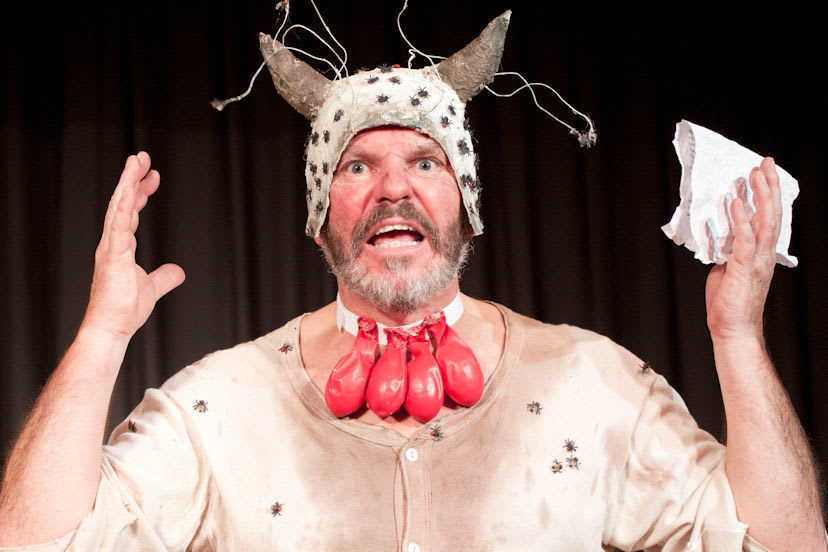 "Dost thou think, because thou art virtuous, there shall be no more cakes and ale?" demands Sir Toby Belch of his niece's puritanical killjoy steward, Malvolio, in Twelfth Night. Then,when Malvolio gets his comeuppance, we cheer along with Sir Toby and his drunken crew. In fact, generations of Twelfth Night audiences have delighted in his downfall and his punishment—being locked in a darkened room and tormented mentally—seeing them as proper payback for his arrogance and priggishness.
When Olivia finally remembers that he is confined and says that he must be released and brought before her, Fabian says that there were faults on both sides and what happened "may rather pluck on laughter than revenge."
It was just a joke! Is it any wonder that Malvolio's final line in the play is "I'll be revenged on the whole pack of you"?
In I, Malvolio, we find him, dressed in stained long johns with a turkey cock headpiece on his head and insulting comments pinned to his back, brooding over what has been done to him and telling the audience over and over that he will have his revenge.
I don't want to give anything away—there's nothing worse than a review full of spoilers—so I'll say no more except that, in the course of about an hour, he makes us not just aware of but also feel the humiliations to which he has been subjected. You don't even need to have seen Twelfth Night to follow the piece with its depiction of what is essentially bullying, even mental torture; almost the whole of the plot is revealed in quite an hilarious fashion.
"Hilarious" hardly seems an appropriate word in this context but there is a lot of humour in the play, but this time it is Malvolio who is poking the fun, having his revenge—and "the whole pack of you", it appears, is a lot wider than the original play might suggest.
It's a very demanding piece to perform but École Jacques Lecoq-trained Gordon Duffy-McGhie (whom we last saw at Washington in Bulgakov's A Dog's Heart in 2014) is compelling as this ravaged Malvolio. There is a desperation in his playing of the character which attracts both sympathy and revulsion from the audience.
A minimum of props, no set other than a small table and chair, plus a tall lighting stand (without lights) and lighting which is a bit gloomy, a single state throughout, provide minimal support, throwing the onus entirely on the actor. It's a burden which Duffy-McGhie shoulders well as he moves the audience's responses exactly where he wants them to go—in short, a riveting performance of a fascinating piece which offers insight into both Shakespeare and our own behaviour.
I, Malvolio tours to Cotherstone Village Hall on Friday 22 February; Scarth Hall, Staindrop - 9 March; The Witham, Barnard Castle - 14 March; Dalton and Gayles Village Hall - 6 April; Romaldkirk Reading Rooms - 12 April; Barnard Castle Parish Church - 10 May; Georgian Theatre Royal, Richmond - 26 April and Saltburn Theatre 31 May.
Reviewer: Peter Lathan