I Wish I Was A Mountain
Toby Thompson
the egg / Travelling Light / Theatr Iolo
Weston Studio, Wales Millennium Centre
–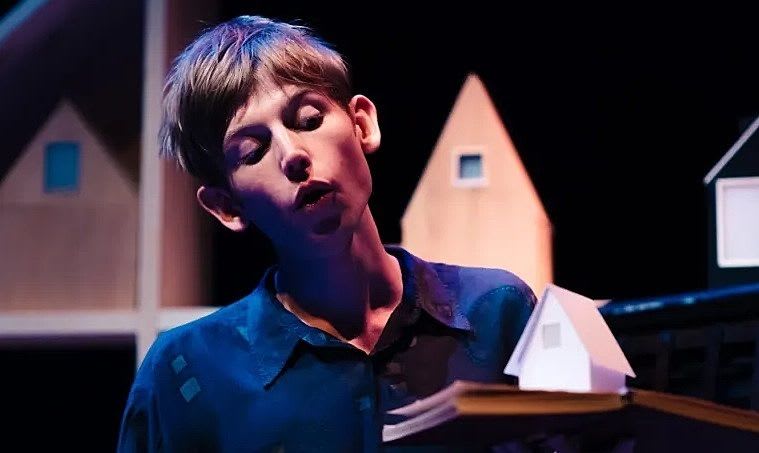 I Wish I Was A Mountain has been developed as part of Bath's the egg theatre company's Incubator programme, which promotes work aimed at young audiences. It is thus surprising, perhaps, that it is an intellectually ambitious piece based on work by the mystically-oriented, Nobel Prize-winning German author Herman Hesse.
Adapted and performed by West Country poet and musician Toby Thompson, working in conjunction with director / dramaturg Lee Lyford, the show begins with the storyteller accompanying vintage jazz recordings on piano. Anisha Field's beautiful set calls to mind a village comprising old-fashioned wooden cottages, which also serve as shelving, and hiding places for sundry items.
The conceit is that Thompson has discovered and become engrossed in a book of exotic fairy-tales left on a park bench. He is particularly intrigued by the story of a town called Faldum.
There, at some unspecified point in the past, the annual festival is visited by a magical mirror-seller and wizard, who promises each inhabitant that he will honour their most heartfelt wishes. Some wish for wealth, others for physical beauty, and each wish is granted, thus transforming the small community.
Two young men are, however, late to the party, and their eventual wishes are more spiritual in nature. One, a violinist, desires to live inside his beloved music—the results are perhaps not quite as one might have predicted. His friend, in response, decides that he wants to become a mountain—timeless, selfless, beyond human needs.
Thompson is an affable narrator (reminiscent of Harry Enfield's Kevin before he became a teenager), indulging in moderate audience interaction. In the show I attended, he was accompanied by sign-language interpreter Donna Williams (also a poet in her own right), director Lyford ensuring that she is amusingly integrated into the action.
The text is apparently freewheeling, full of witty half-rhymes. If it takes us a little while to get to the meat of the story, the journey is, at least, a diverting one.
There are two record players on stage, generating much of the soundtrack, which, hearteningly, comprises 1950s/1960s jazz and bossanova, setting a tone which, although light, reflects the philosophical complexity of the unfolding narrative.
For this is a Buddhism-inflected tale which in which the hero frees himself from temporal concerns and becomes at one with the universe; not typical fare aimed at seven-year-olds.
The Welsh tour of I Wish I Was A Mountain is produced by Theatr Iolo; audience members of all ages will be captivated.
Reviewer: Othniel Smith