I Am Falling
A Dance Theatre Collaboration
Gate Theatre, Notting Hill
(2008)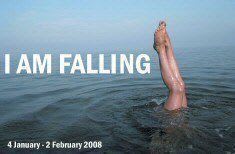 This 40-minute modern dance theatre piece is a further statement by its director, Carrie Cracknell, and her colleague running the Gate, Natalie Abrahami, that physical theatre and movement will have an important place in their programming.
I Am Falling has enough text to ensure that viewers can understand the plot and be moved by a simple tale of long-term love and mutual support, symbolically represented by the dancers.
After some Brechtian scene-setting, it is primarily narrated by Tom, played by Simon Molloy, an actor who is probably in his sixties. His age is relevant, as the play features a kind of age reversal, with Tom's parents danced and spoken by the much younger Ben Duke and Petra Söör.
The main story is theirs, from an initial proposal of marriage, unheard on a terrifying, wind-blown cliff-edge, through fifty-two years of happy marriage. The end for them though does not close the drama that circles around as does the dance.
Their love affair is terminated after Mother wastes away with cancer and the pair make a pact affirming their mutual love. In doing so, they reach closure but never forget the happy, carefree times that they had enjoyed together.
The staging is at times beautiful and owes its effects to the creative team's collective efforts as the text and dance (Choreographed by Anna Williams) complement each other. The action is observed through featuring a black frame outside a rehearsal room designed by Garance Marneur. The room may even be haunted by the shade of Tom, acting as a muse for a pair of dancers, rather than having him there in person.
There are also strong lighting and sound designs from Katharine Williams and Ed Lewis. These add an extra dimension, with side lighting and music sometimes drifting towards white noise.
I Am Falling is an unusual but rewarding piece of dance theatre that utilises repetition on its titular theme and challenges the audience members to use their imaginations while enjoying visual and aural effects that are more commonly enjoyed at Sadlers Wells than in a fringe theatre.
Reviewer: Philip Fisher