Ian Brown & David Greig: Scotland on an International Stage

Edinburgh Book Festival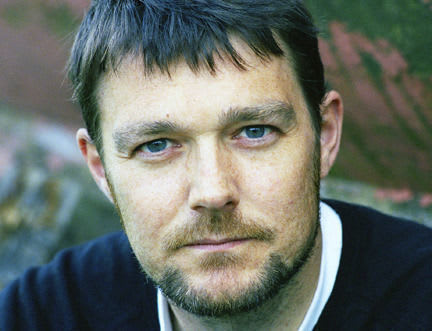 There are more events than ever in this year's Edinburgh festivals that discuss Scottishness and Scottish culture—or maybe it is just that, as playwright David Greig said in this event at the Edinburgh International Book Festival, that everything in the year of the Referendum will be seen through that lens, such as the James Plays in the International Festival.
Greig has been very vocal about campaigning for Scottish independence before next month's vote, from his social media platforms to a series of events at the Stand in the Square under the title All Back to Bowie's.
Chaired by Ruth Wishart, Greig and Scottish playwright, poet and academic Ian Brown spoke about how Scottishness is reflected in literature, largely through theatre and poetry.
Brown, from his in-depth knowledge of Scottish cultural history, argues in his book Scottish Theatre: Diversity, Language, Continuity that there are three misconceptions about Scottish theatre: that it was suppressed after the Reformation, that there isn't a Scottish canon and that there was an obsession with looking south to playhouse culture in the English language.
He said that whereas Scottish playwrights such as J M Barrie and Graham Moffat were focussing on getting into the West End, there was later a move into translating classics into Scots in the 1970s and 1980s. However work in Scotland between A Satire of the Three Estates in the mid-sixteenth century and 1985 is, he said, often forgotten.
Greig—who was at the Book Festival promoting a book on Suspect Culture, the theatre company he created with Graham Eatough in 1993—said that when he began writing in 1992, there was a debate over whether to write in Scots. His early play Europe, produced by the Traverse Theatre in 1995, was a story about Motherwell but written as though it was a translation of a play from Europe.
Greig said that Suspect Culture was born in Bristol, where he went to university, but they decided to base themselves in Glasgow as they believed that Mayfest would soon be bigger than the Edinburgh Fringe (the last Mayfest was in 1997).
The two writers spoke of the effect of National Theatre of Scotland on Scottish theatre. Greig said that when he began writing the Traverse was a paternal figure and the only place Scottish writers could get a play on. Now, NTS has "taken the role of the big beast", which has taken the pressure off other theatres. However it has also allowed funding bodies to reject some applications from smaller theatres as NTS is already covering the same areas.
Ian Brown's Scottish Theatre: Diversity, Language, Continuity is published by Rodopi. The Suspect Culture Book is published by Oberon Books.
Reviewer: David Chadderton