And I and Silence
Naomi Wallace
Finborough Theatre
(2011)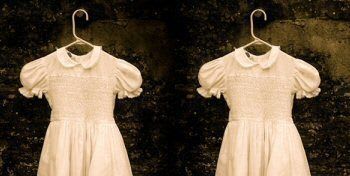 In And I and Silence Naomi Wallace has written a short, terribly intense drama about racial tension, despair and love. It is set at either end of the 1950s, in a United States that was still the victim of the kind of vicious racism that thankfully is difficult to comprehend in what we must see, at least in this respect, as our more enlightened age.
In many ways, it is the structure of And I and Silence that is its real strength. Although the evening features only two characters, each of them is played by a pair of actresses, which helps us to home in on their physical and mental development in a decade from the age of 17.
Even more cleverly, aided by director Caitlin McLeod who had such a success with Northern Star at Finborough earlier in the year, Miss Wallace starts off the alternating scenes in 1959. Thereafter, our perspective is always led from the future rather than the past. This is intriguing although at times also depressing, since we know that many of the hopes of youth will never be fulfilled.
When we first meet them, Cat Simmons' (Black) Jamie has just come out of prison after a nine-year sentence for robbery. Jamie arrives for a reunion and immediately moves in with Dee, played by Sally Oliver. She is a White Trash, ex-con who murdered her own father in self-defence and it is clear from the start that they had formed a deep and enduring friendship while incarcerated.
By moving a metal bench into a window, set designer Cecilia Carey instantly changes a stark apartment into a prison cell. This takes us back to 1950 and the first meeting between the young women, Cherelle Skeete and Lauren Crace respectively playing younger Jamie and Dee.
Being a prison, their initial encounter is filled with suspicion but soon enough, the very open if not terribly bright Dee persuades Jamie that the only way that they can survive in prison is together.
Quickly, they begin to make plans for the long distant future when they will have an opportunity to re-enter the real world and make money as servants, which is the height of their unambitious ambition.
Having come out of prison, even that proves challenging. As the two women soon discover, finding work is difficult but initially they do it least get cleaning jobs.
The problem is that in every case, the man of the house believes that the cleaner will provide additional services at no extra cost. The consequence is that unemployment becomes the norm with, not too far behind, hunger or possibly even starvation, unless prostitution in all but name is tried.
What will shock audiences today is the realisation that even only just over fifty years ago, in the United States a Black woman and a White one could not walk along the street together without causing controversy. This makes the tight bond between Jamie and Dee all the more surprising, let alone the fact that they are mutually supportive with each contributing equally to their partnership.
Both pairs of actresses work extremely well together, the younger ones charged with building a friendship, while their more experienced colleagues continue it under the greatest pressure from society.
And I and Silence is a play that takes on big themes in a very small way and has the ability to be both powerful and touching, leading to an unforgettable dénouement.
Reviewer: Philip Fisher