A Christmas Carol / Ikrismas Kherol
Charles Dickens, adapted and directed by Mark Dornford-May
Young Vic
(2007)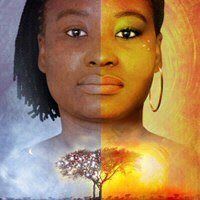 This happy mix of cold British winter and African Yuletide hails from Khayelitsha in the African hinterland not too far from Cape Town.
As the unforgettable opening tells us, this is gold mining country. In complete darkness, a shift of miners descends from the rafters and begins to work, encompassed by high volume white noise, mainly generated by men and oil drums. This gives a real impression of what this cheerful community must endure buried underground, digging for gold, day after day.
Having ascended in a minimalist elevator and completed the first of many songs and dances, we move into a story that becomes recognisable as that of Tiny Tim, Bob Cratchitt and Ebenezer Scrooge but Africanised.
Cratchitt is a miner played by Luthando Mthi, while his popular, crippled child is a sweet-voiced girl, Tiny Thembisa (Poseletso Sejosingoe).
In this country, the shortage is of schoolbooks, for which TT is collecting from already impoverished miners. The one person who turns away for the little girl is uScrooge the meanest of cold-hearted, modern women played by Pauline Malefane.
She follows the traditional trail, meanness personified, until three fashionable female ghosts to die for evoke the shade of Jacob Marley and family history is recalled on a large white sheet film screen.
We see the baby uScrooge brought up by a sister who sells her body to make ends meet. She dies early, leaving the anti-heroine to look after a niece, Busisiwe Ngejane's Winnie, who offers the purest of soprano voices singing In the Bleak Midwinter but still garners no sympathy. This young lady is only 18 and David Lan assures me that only four months ago she had never been on a stage. There can be no doubt that she has a glittering future to look forward to.
uScrooge gets rich on the back of her meanness but it is only on Christmas Eve, far from British snow, that she finds her long-lost conscience and, with it, another beautiful voice that rewards not only the Cratchitts but all present.
Mark Dornford-May's English/Xhosa production is distinguished as much by the African elements of scene-setting and performance as Dickens' simple, adapted parable and, for 90 minutes, pleasurably transports visitors from South London to South Africa.
Playing until 19 January 2008
Reviewer: Philip Fisher