Il Barbiere di Siviglia
Gioachino Rossini, libretto by Cesare Sterbini, based on the play by Pierre-Augustin Caron de Beaumarchais
Théâtre des Champs-Élysées
Edinburgh Festival Theatre
–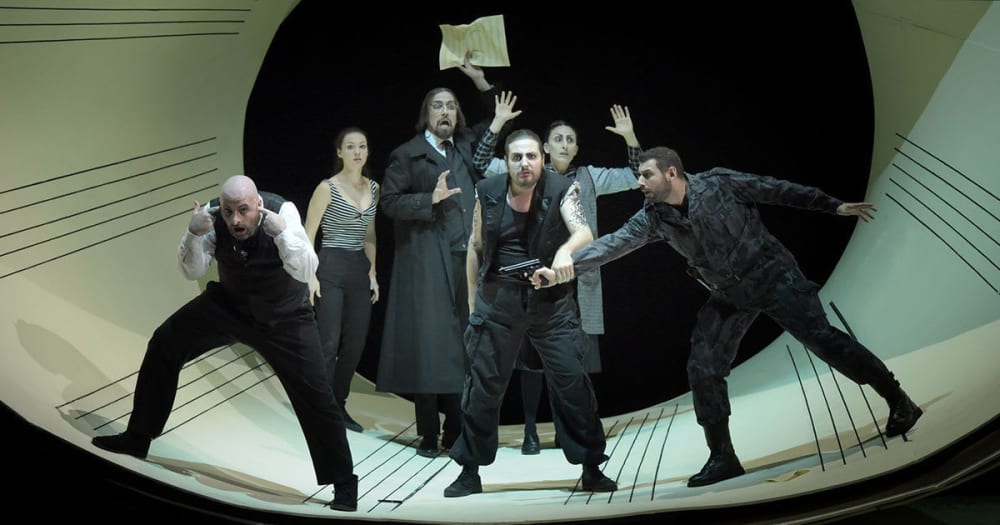 This production from the Théâtre des Champs-Élysées under the direction of Laurent Pelly is, on the surface, a somewhat incongruous mix.
The orchestra, Le Cercle de l'Harmonie, plays the music rousingly on period instruments. However, Pelly's design and costumes are both very much contemporary. Rather than trying to convey a sense of Seville, the sets each comprise curls of sheet music, with all of the costumes strikingly modern in black and white.
One consequence of this concept for some viewers may be a slight delay in tuning into the melodramatic plot. Soon enough though, even the uninitiated will realise that the tall, handsome Count Almaviva, sung by Michele Angelini, has fallen in love with Catherine Trottmann's Rosina, a tiny lady with a gorgeous soprano voice.
His problem is that he can get never get close to her as the young beauty is trapped by Peter Kálmán playing Bartolo, a shaven-headed, evil Guardian who has his own designs on her.
With the assistance of Guillaume Andrieux joyously taking the role of the eponymous Barber, heavily tattooed on this occasion, the aspiring lovers work hard to find opportunities for closer exchanges of sweet nothings and even the occasional kiss.
Along the way, there are many suitably comical ups and downs and some impressive stage images leading to an inevitable happy ending that leaves just one sad, lonely individual failing to share in the universal celebrations.
This production sounds fantastic, thanks to the orchestra and a cast of singers each one of whom takes his or her opportunity with open hands and sweet voices. In particular, Guillaume Andrieux, Michele Angelini, especially in his finale, and Catherine Trottmann give memorable performances in the major roles.
The design concept is radical and might well divide audiences, pleasing the avant-garde but possibly offending traditionalists. There is little doubt that this is exactly the intention of M. Pelly.
Reviewer: Philip Fisher