Il Barbiere di Siviglia
Gioachino Rossini, libretto by Cesare Sterbini, based on the play by Pierre-Augustin Caron de Beaumarchais
La Fenice
La Fenice Theatre, Venice
–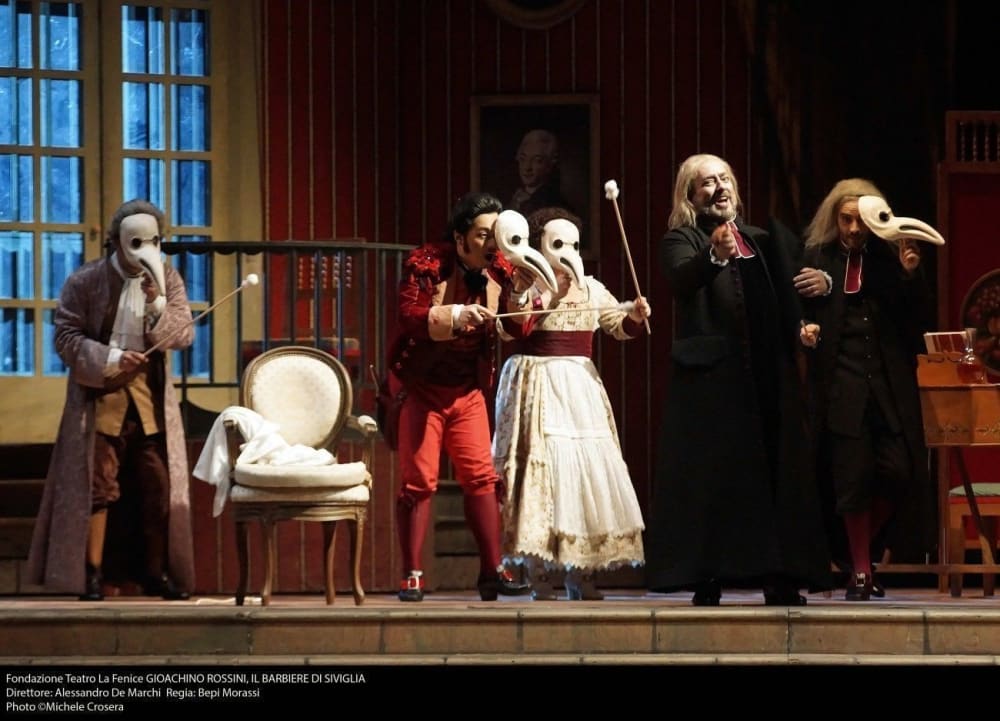 Opera really does come in all shapes and sizes. This critic has been lucky enough to see two contrasting productions of Il Barbiere di Siviglia or The Barber of Seville in very different settings during the first few months of 2017. While neither was the minuscule brand popularised by OperaUpClose featuring little more than a quartet of performers and a virtuoso at a piano, the differences between this production at La Fenice in Venice and the version at the Met in New York say a great deal about the versatility of this art form.
The Met is a state-of-the-art opera house housing over 2,000 enthusiasts every night, often watching a cast stretching into three figures on mostly expensive, oversized sets.
For this production, La Fenice offers something very different. It is like a trip back to the time when Rossini was writing. At stalls level, visitors sit in individual chairs, while on the four layers above they are almost exclusively accommodated in tiny boxes.
Not only does the theatre's website encourage everybody to dress formally but on an opening night the vast majority seems to take heed of this message from a bygone era.
The building itself is gorgeous with a clock in the ceiling of the auditorium, as well as surtitles in both Italian and English.
Venetian director Bepi Morassi's production fits into this ambience perfectly, attempting to reenact the opera as it must have been seen when it premièred in 1812, over 50 years after this building first opened.
Most of those involved are Italian, the costumes are authentic, while the sets behind a false proscenium are simple but effective, evoking Seville through an orange tree and horizon.
The Barber of Seville is the most popular of comic operas featuring the efforts of Giorgio Misseri's disguised Count Almaviva to seduce and marry the tyrannical Don Bartolo's young ward Rosina.
Omar Montanari's Don Bartolo has his own designs on the young woman sung by Chiara Amarù, which seem likely to lead to a fate worse than death until Figaro, the titular Barber steps in during a series of comical scenes leading to a dénouement that is inevitable long before the end of the two-hour 50 minute running time.
In this production, Julian Kim playing Figaro has a great baritone and nice sense of humour, which veers into slapstick. This is particularly apparent in the scenes involving the disguised Count, since Misseri seems to love hamming up his acting to great comic effect regardless of who might be his foil.
Miss Amarù comes from the old school, where a great mezzo voice is the main qualification for playing the role, rather than the glamour commonly associated with film starlets. She and the Seri make a good combination, particularly when they are falling Omar Montanari's angry but gullible Bartolo.
The orchestra and chorus of the theatre La Fenice under conductor Alessandro De Marchi work well to complement Figaro and Rosina but also the Misseri, Montanari and Carlo Leppore as the bass Basilio.
For anyone that enjoys a leap back in time in both an operatic and theatrical sense, a visit to La Fenice to enjoy production will not disappoint.
Reviewer: Philip Fisher