Il Ritorno d'Ulisse in Patria
Claudio Monteverdi, libretto Giacomo Badoaro
La Fenice, Venice
Released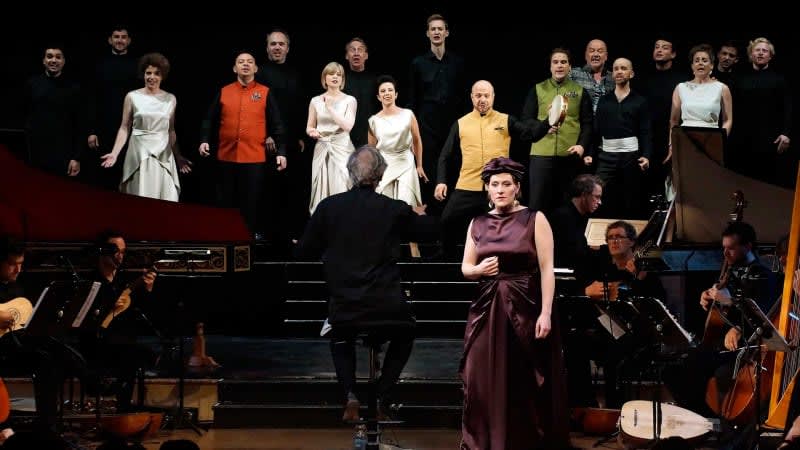 This is the second of the three Monteverdi operas conducted and co-directed by John Eliot Gardiner that he launched in their home city of Venice in 2017 to celebrate the 450th anniversary of the composer's birth, and which he later triumphantly brought to Bristol and Edinburgh.
The work is semi-staged, as with the first opera, Orfeo, and many of the performers are regulars throughout the cycle. The final part of the trilogy, L'incoronazione di Poppea, is yet to be released.
The piece is performed in the original five acts with a prologue, but additional music by the composer inserted to add dramatic effect bring the running time to a substantial 3 hours and 15 minutes.
Presented in plain modern costume, and without props—Penelope stretching her arms as a substitute for Ulysses' bow—it's a vision for those who get up at 5AM, prefer cold showers and take their drink straight, if at all.
To help understanding, gods appear in formal dress, mortals in casual gear, Ulysses himself in a worn trench coat. There is depth of characterisation too in the players, led by Furio Zanasi in the title role, who maintains a light, burnished tone while giving off the weary attitude of one who has wandered away from home for ten years.
Lucile Richardot (Penelope), Krystian Adam (their son Telemaco) and Hana Blažiková (Minerva), all previously heard in Orfeo, bring nuance as much to the recitative as the arioso passages, guided by Gardiner's sensitivity and sympathetic accompaniment by the English Baroque Soloists and commentary by the Monteverdi Choir. Robert Burt does a fine comic turn as the gluttonous Iro, who has mastered the art of eating a sausage and singing at the same time—something unlikely to have been taught in the conservatoire—and Francisco Fernandez-Rueda is an appealing Eumete, bringing a sparkle to his news of Ulysses' return.
As before, there are little touches of contact between singers and players—note the woodwinds doing a bit of quiet knitting behind Penelope. It's not a piece for the superficial listener, but concentrated attention is constantly rewarded.
The impressive Blažiková, an ever-present in the trilogy, appears again in the title role of L'Incorazione di Poppea with Kangmin Justin Kim as Nero and Gianluca Buratto as Seneca (seen as The Styx in L'Orfeo).
Reviewer: Colin Davison