Immortal Tango
Direction, choreography, set and costumes Germán Cornejo
Peacock Theatre
–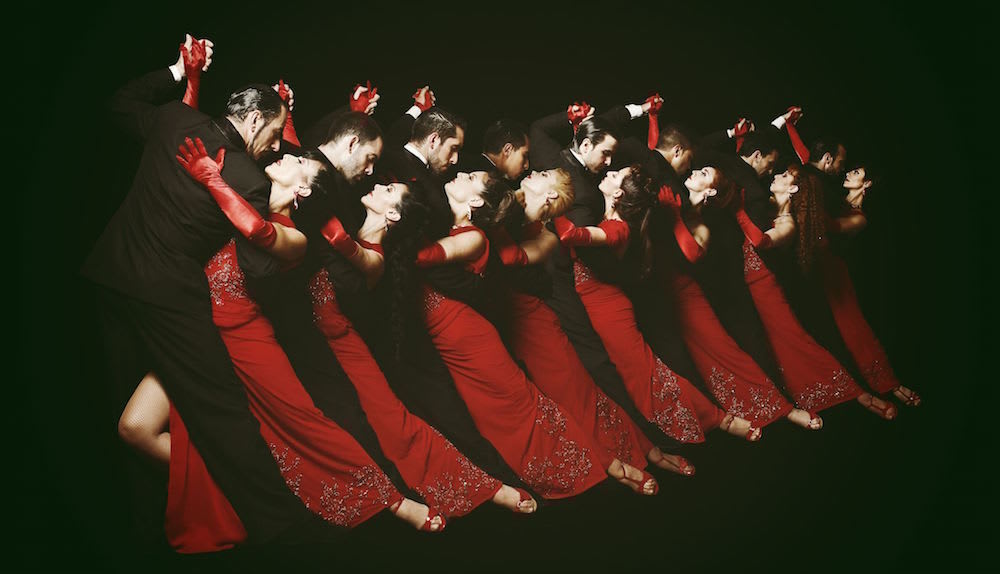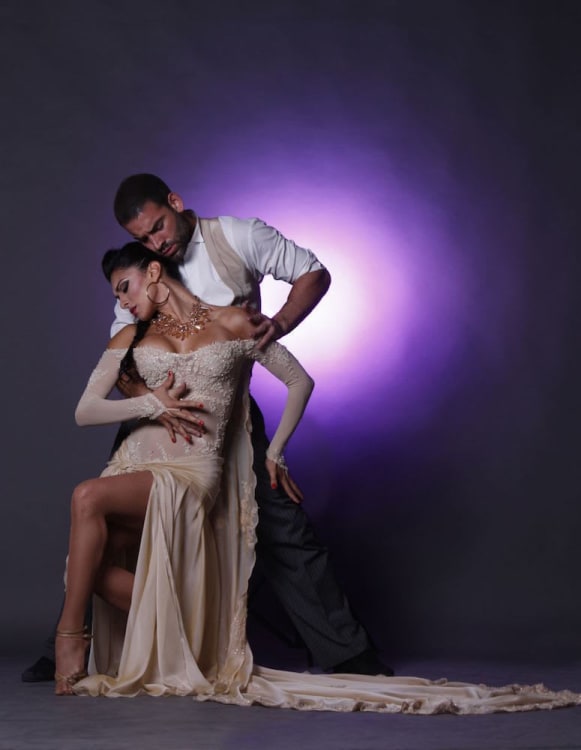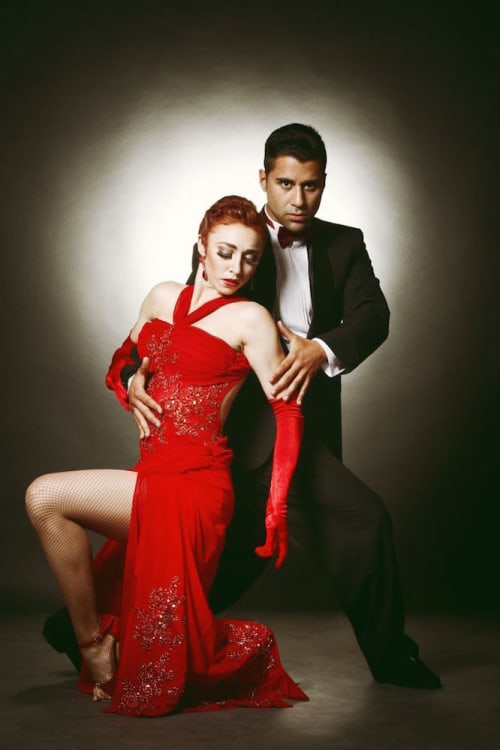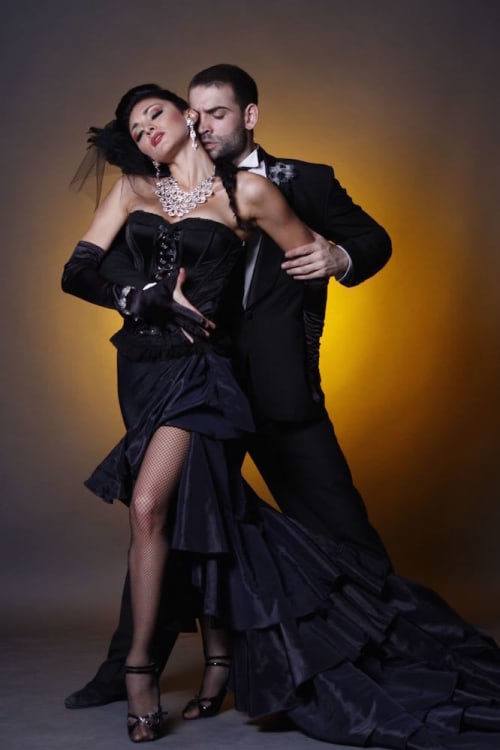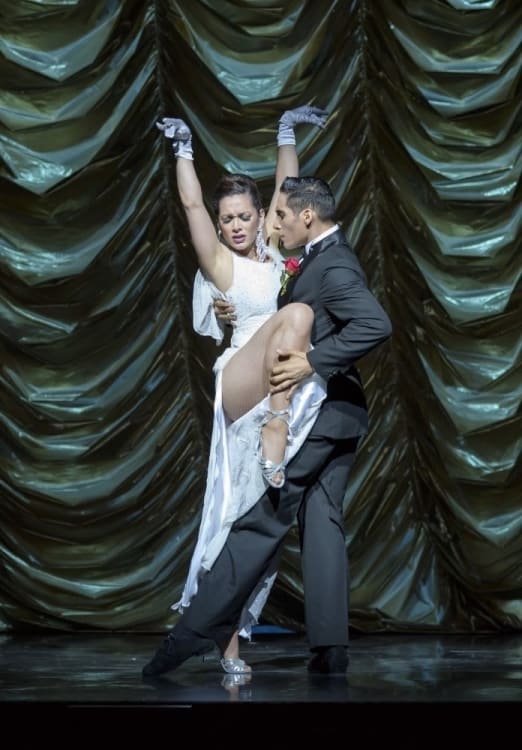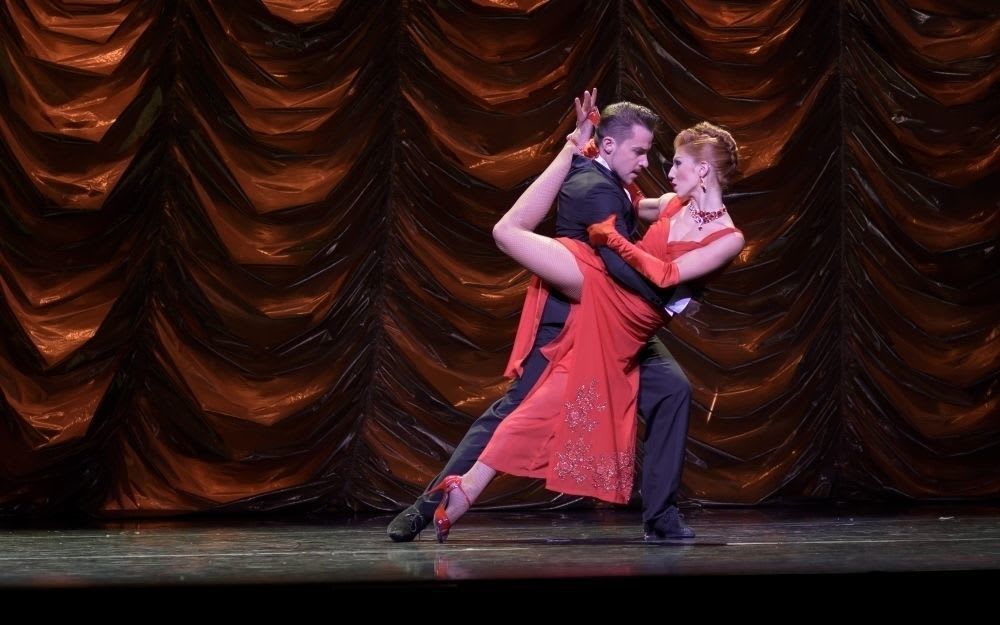 Fourteen top-notch world tango champions, a live band (piano, drums, double bass, violin and bandoneon), a singer (Antonela Cirillo) belting out songs from well-known films, attempts at comic interludes by a pantomimic Carlos Debat in wig and pearls channelling the Trocks and Widow Simone, Immortal Tango is a production that would be most at home in Las Vegas or the London Palladium Variety Show.
Tango always pulls in a wide audience and press night is no exception—the crowd roars approval after every number, and there are twenty-seven numbers—the show is evidently critic proof. The Strictly Come Dancing crowd are out in force. Mills and Boon has a lot to answer for, too. A light entertainment flashy tango circus is in town.
The glamour of Hollywood cinema infects Germán Cornejo's through concept of Immortal Tango: period costumes and elegant gowns with awkward long trains, masked balls, picnic and parasols point to defining celluloid eras, men in top hats and tails reference you know who, women are femmes fatales Gildas, a comic interloper could be Buster Keaton.
Cliché after cliché and the Peacock audience loves it. The corny encore is a sexed-up Seven Brides for Seven Brothers. And there's an odd ballet with solo female en pointe and six men in monk cowls—which film is this, The Name of the Rose, or The Hunchback of Notre Dame?
The medley of songs and film scores includes "My Heart Will Go On" from Titanic, "Don't Cry For Me Argentina" from Evita, "I Have Nothing" from The Bodyguard, "Gimme Gimme Gimme" from Mamma Mia, "Ochi Chyornye" from Eastern Promise, interspersed with the odd tango tune and musical solos.
Lead couple Germán Cornejo and Gisela Galeassi, in elegant suits and sheer skin-skimming costumes, are dynamite: one hand lifts, scissor legs razor sharp, overhead spins, death-defying drops, fine precision timing and coordination. For the sultry James Bond theme Skyfall number, they change into wet-look black leather. It doesn't get more calculatedly steamy than this. The auditorium goes wild.
There's also a funky hand jive in a sleazy dive to "Gangsta's Paradise" from the 1995 film Dangerous Minds. Another one that blazes in red—to E Arolas's compositions (El Marne and Derecho Viejo)—is the duet to that refracts into a line of couples, tango in its most popular incarnation.
Couple after couple—José Fernández and Martina Waldman; Max Van De Voorde and Solange Acosta; Mariano Balois and Sabrina Amuchastegui; Leonardo Luizaga and Florencia Roldan; Mauro Caiazza and Tere Sánchez Terraf; Julio Seffino and Carla Dominguez—acrobatic, gymnastic, supple, sensual, show off their amazingly pliable technique, adapting and refining layer on layer of virtuoso moves.
But it is a soulless, glitzy show and I miss the earthy, genuinely smouldering dance that reeks of emotion. The best number for me is a macho male duet to Piazzolla's Libertango. José Fernández and Leonardo Luizaga battle dance in shirtsleeves—this is the tango of the street that draws me in, this is the tango beat that makes me want to dance, that touches the heart and the blood.
Reviewer: Vera Liber