Imperium I and II
Robert Harris, adapted by Mike Poulton
Royal Shakespeare Company
Swan, Stratford-upon-Avon
–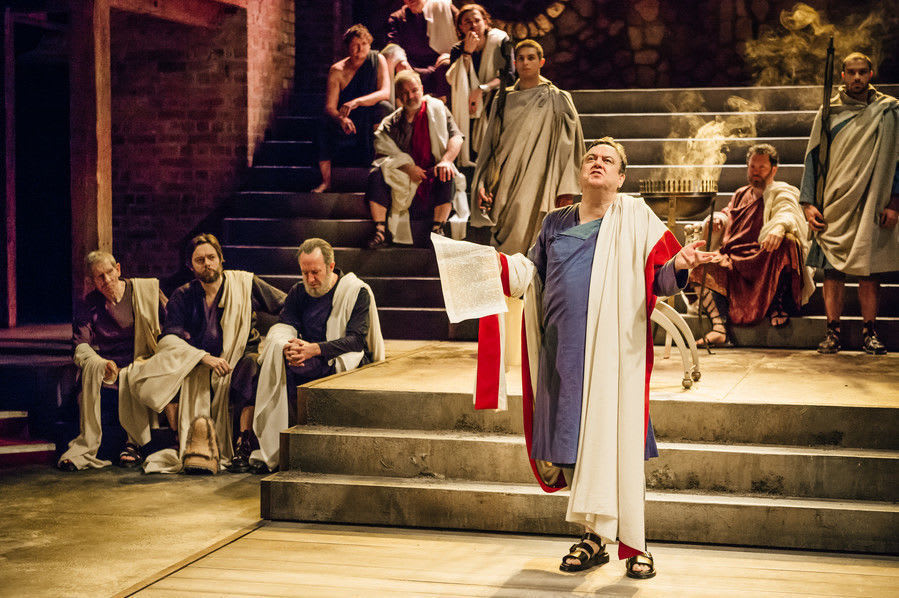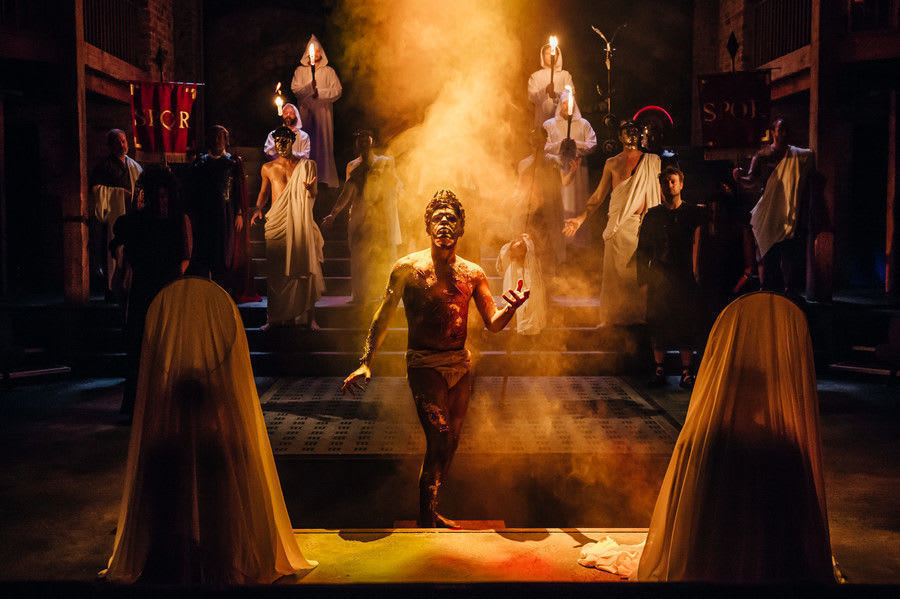 It might have been less pithily titled Decline and Fall of the Roman Republic, the story based on the Robert Harris trilogy about the orator and politician Cicero during the 25 years or so around the time of Julius Caesar.
It's a monumental undertaking to transfer the momentous events of the novels—conspiracy, revolt, assassination and war—onto the stage, even though adapter Mike Poulton has largely dispensed with the first volume of the set to concentrate on the last five years of Cicero's life.
And even then, with a total running time of over seven hours for both parts of Imperium, it did seem on those uncomfortable seats in the Swan as if Poulton faced an immensely difficult task of trying to pour a gallon of material into a quart-sized amphora.
Harris has described his agreement "with great reluctance" to leave out Cicero's first courtroom triumph in the play, but he must have got his way to some extent, for there it pops up, recounted, as many off-stage occurrences must be, by Joseph Kloska as Cicero's lively minded secretary Tiro.
That clever, thoughtful actor Richard McCabe, whose features always seem to indicate a fomenting stew of ideas within, gives a phenomenal performance of endurance and complexity as Cicero. Enter the zealous scourge of corruption, arise the wise consul and protector of a sort of democracy amid dirty politics, witness his fatal, faulty assumption that he can "praise, raise, erase" the unknown, up-coming 19-year-old Octavian, Caesar's soon-to-be autocratic successor.
It was a pity that audiences at the performance before press night missed seeing the indisposed McCabe. Had this not been the case, he would have been on stage in this massive role for 11 hours in 28. Add dressing time etc., it does raise questions about timetabling.
I love watching the exceptional Joe Dixon, even though he does seem to be brought into the RSC to play roles on a specialist range from raging bull (the conspiratorial aristocrat Catiline) to mad dog (a drunken, spewing, foul-mouthed Mark Antony).
While Dixon raves, it is through calculation and guile that Peter De Jersey's Caesar stalks the capitol as the Cicero's true adversary, a role to be assumed later by Oliver Johnstone's Octavian, whose chilling, unnatural conviction in his own divinity has been hidden by gestures of of friendship and conciliation.
Poulton also adapted Wolf Hall for the RSC, and there seem parallels between Cicero and Thomas Cromwell in their mixture of moral sense and political acumen, with both epic dramas lightened by the caustic wit of their main protagonists.
Imperium, modestly described by Harris as "West Wing-on-Tiber", never quite ascends to Hilary Mantel's level of insight, but it comes closest to matching its drama when the history is put on pause and the personal confrontations take over—McCabe as a Rumpole-like courtroom orator, his confrontation with Caesar's Realpolitik, and the moment of his humiliation by the 19-year-old Agrippa, whose merciless judgement is delivered by Pierro Niel-Mee with the steely precision of a soldier.
There are contemporary resonances too, and an audible gasp of recognition as Cicero opines, "Stupid people tend to vote for stupid people."
Director Greg Doran hastens the action as much as he might without losing clarity, complemented by Paul Englishby's percussive score and Anthony Ward's simple but effective design, against a backdrop of huge mosaic eyes, and presided over by a great heavenly body, Jupiter or Mars as appropriate.
Thrilling? Exhausting? Unless of a strong constitution, I'd advise seeing the plays on separate days to relieve the brain and bottom.
Reviewer: Colin Davison