The Importance of Being Earnest
Oscar Wilde
Edited by Woods & Haynes, and performed by David Woods & John Haynes (Ridiculusmus)
Theatre Royal, Winchester, and touring
(2005)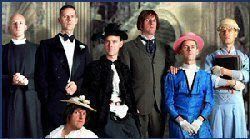 There is obviously a market for this sort of thing. A full house and the audience, many of them students, cheering loudly at the curtain.
What Oscar Wilde would have made of it is another matter. For this is more like an evening with Hinge and Bracket than a performance of his trivial comedy for serious people The Importance Of Being Earnest.
The players, David Woods and Jon Haynes, directed by Jude Kelly, devised and edited the proceedings and between them play every part, changing costumes at impressive speed, aided considerably by their costumiers Zoe Atkinson, Sara Walke,r Marsia Rigg and Elizabeth Maisey, together with their milliner, Tony Bergin.
Changes and transformations are made at lightening speed, although the whole thing comes adrift in the closing scenes throughout which Jack and Algernon loll around in their underwear. Quite apart from cheapening what is until this point, a thoroughly professional duologue, this introduces a note of unbecoming slapstic.
Having many years ago played Jack in an amateur performance in the North West, I found myself increasingly in awe of the standard we reached in those far off days and even more admiring of those professionals who take their work, and their plays, seriously.
More unfortunately, Woods and Haynes treat their several roles inconsistently. Lane the butler is a mere cipher while Prism and Chasuble are given little more than short shrift.
Woods is hardly more generous with his interpretation of Jack, though, by comparison, Haynes is almost convincing as Algy and a somewhat bleak Lady Bracknell.
Those who value their Wilde will do well to avoid this experience. With so much decent character comedy around in the wake of Ronnie Barker's sad death, there is no need to look for disappointment.
For those who must, this production can be seen at Warwick Arts Centre (October 20 -22 , Thoralby Riding Stables, Nottingham ((26 - 28 October,West Wing Arts Space, Slough (2 November, Norwich Playhouse(3 -4 November), Aberystwyth Arts Centre (7 November) and Wales Millenium Centre, Cardiff ( 9- 12 November).
This production was also reviewed by reviewed J.D. Atkinson at the West Yorkshire Playhouse, Leeds and by Jackie Fletcher at the Barbican Pit.
Reviewer: Kevin Catchpole