The Importance of Being Earnest
Oscar Wilde
Salisbury Playhouse
(2009)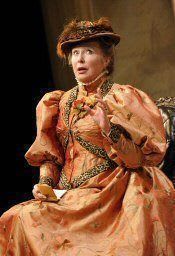 Can it really be more than forty years since Salisbury Playhouse staged Oscar Wilde's brilliant satire on late Victorian society, The Importance of Being Earnest?
I fear so, since my only trace of a performance prior to this week's excellent revival by Lucy Pitman-Wallace was in the 1960s, featuring, among the company, Jonathan Cecil and Stephanie Cole.
Not that Salisbury has neglected the great Anglo-Irish wit for in recent times the Playhouse stage has been set alight by Pitman Wallace's classy production of A Woman of No Importance, plus equally stylish productions of Coward's Relative Values and Stoppard's Indian Ink.
Friday's first night house was clearly delighted with this fresh account of Wilde's most brilliant piece, representing the peak of his career which, even as the 19th century audiences at the sadly vanished St James' Theatre were singing his praises, was already crumbling beneath him.
Not only will this production send the patrons of Salisbury singing into the night for the next few weeks, it may even prompt them to reflect for the moment on the sadness of financial constraints which prevents this gem of a producing theatre in Wiltshire from mounting more work of this quality.
Pitman-Wallace's account of this English classic boasts a strong company headed by Joanna McCallum as the indefatigable Wagnerian, Lady Bracknell, herself an increasingly distinguished member of what theatre likes to call a dynasty. Her mother, Googie Withers, it is no secret, is to many who remember these things, a heroine of such black and white classics as White Corridors and Within These Walls.
Nor should it surprise us to be reminded that just twenty years ago she was herself a formidable Lady Bracknell at Chichester.
Joanna McCallum, I was delighted to note, finds herself a quality of characterisation, quite distinct from the histrionics of the star from whom the role has become inseparable, yet without falling to the ordinariness of some recent London performances which, to my mind, should have been better.
Lady Bracknell, after all, is no ordinary person, certainly not in her eyes. Thus, we have here the formidable gorgon of Wilde's own conception. Small wonder the excellent Jack of Edmund Kingsley cringes, even on the other side of the manor house morning room.
So stylish is this production, thanks in no small measure to Jessica Curtis's expansive settings, that it is probably churlish to carp at all. Yet, alas, carp we must and my grumble are with the strangely slow pace at which several of this otherwise immaculate company choose to take the dialogue.
This is Wilde on top form delivering rapier wit and we are entitled to expect a matching of the verbal skills. Moreover, a much faster pace will, subject to timing, remove the intrusion of audience laughter which presently threatens to impede the movement of the play...
Matthew Douglas, saving his tendency to linger over his dialogue, is a colourful Algy and, as the two young ladies, Gwendolen and Cecily, Sally Scott and Ellie Beavan are as delightful as any I have seen.
Tinna Gray is an excellent Prism with a nice Scottish touch while Maxwell Hutcheon is a splendidly vague Chasuble.
David Hobbs doubles as Lane and Merriman and, as is the fashion, almost succeeds in stealing the show.
Perhaps, in the present economic climate, the good folk of Wilts should, instead of asking for extension to the Salisbury season, should instead thank their civic stars that there is a producing theatre here at all when there are no doubt those above who might so readily whisk it away in the doubtful interests of other, surely less worthy projects.
"The Importance of Being Earnest" runs at Salisbury Playhouse until Saturday 23rd May
Reviewer: Kevin Catchpole