The Importance of Being Earnest
Oscar Wilde
Bath Theatre Royal production
Vaudeville Theatre
(2008)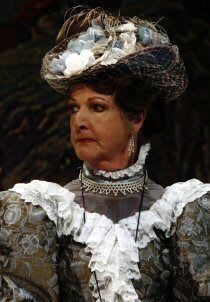 If it is possible for a play to get theatre fatigue, this one might be in danger of doing so. During the intervals on a star-studded opening night, several little huddles seemed to be involved in discussions with regard to the impossibility of doing anything new with this much loved classic.
Having said that, Peter Gill is a wily old director and by casting Penelope Keith as Lady Bracknell ensured that the Vaudeville Theatre will be welcoming coach loads of admirers throughout the run. There is little doubt that the fan club will be pleased with their idol's performance, although it is surprisingly low-key.
Gill's main weapon this time around was a simple one of ensuring that the diction of every actor is perfect. In a play that starts off with a witty aphorism and, with the exception of intervals between each act, doesn't leave the book of quotations for 2 1/4 hours, this is a wise policy. He has however allowed some eccentricities in the acting that do not always complement the text.
William Dudley has been commissioned to create appropriate designs for each of the three sets, giving something of a feel of wackiness to the production. We start in Algernon Moncrieff's flat at the Albany, decorated in a variety of conflicting styles.
It is certainly eye-catching and never more so than when his Aunt Augusta, Lady Bracknell, makes her initial entrance, clashing horribly with the decor but looking spectacular in a hat that might have been stolen from D'Artagnan.
This Algy played by William Ellis is effete to the point of campness and one can almost imagine him falling for his handsome chum, John (Jack and on occasion Earnest) Worthing. Harry Hadden-Paton plays that respectable JP somewhat manically at times but does derive a great deal of humour from the part.
This pair of idle, rich young men love their jaunts and are ready to capture rich wives. Worthing has his eye on Lady Bracknell's daughter, the heavily lisping and remarkably irritating Gwendolen Fairfax (Daisy Haggard). While the narcissistic lady is happy to marry, this is on the basis that she believes his name is Earnest. Her mother, though, has bigger problems with a man whose antecedents are unknown.
This builds up to the utterance of possibly the most famous single word in English literature, so much so that it became the title of a Mark Ravenhill play. The anticipation of the audience was literally audible but strangely, Miss Keith downplayed the moment. Where Edith Evans expostulates, she merely remarks, in a throwaway line that could almost be missed. While rather losing the moment, this was of a piece with the actress' creation of the character.
Algy's opportunity for love arrives during Act Two set in a garden outside Worthing's ivy clad country home. There, masquerading as another Ernest, Jack's wicked brother, he instantly falls for the impeccably pert Cecily Cardew (Rebecca Night).
To cut a long story short, not only do the men get their wives, with due approval from all concerned but, following a series of unlikely revelations in a country house library complete with a gigantic pastoral mural, a further pairing also takes place. This features Janet Henfrey who makes a tremendous, dotty Miss Prism and Tim Wylton's Canon Chasuble.
Peter Gill seems to have decided that the best way to present such a familiar play is mildly to lampoon it. The consequence is that on occasion, Harry Hadden-Paton's histrionics and William Ellis's campness get a little too much but this doesn't really matter.
The reason why The Importance of Being Earnest is, over 100 years after its creation, still one of the most popular plays in the English canon (despite having been written by an Irishman) is a combination of Wilde's delicious wit, excellently delivered throughout on this occasion, and the perfect construction of a well-plotted play.
Reviewer: Philip Fisher