Impressing the Czar
William Forsythe
Royal Ballet of Flanders
Sadler's Wells
(2008)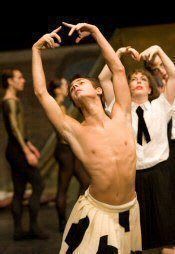 I should tell you to beat Sadler's Wells doors down to get tickets for Forsythe's jubilant dance-crammed Impressing the Czar, but it's too late: the Royal Ballet of Flanders are here for only three performance - final one tonight (8th November). Plenty of spare tickets, though. Belgium's only classical ballet company is hardly on the dance radar
It ought to be. Because artistic director Kathryn Bennetts (appointed in 2005), who had danced with him in the 1970s in Stuttgart, worked as his ballet mistress in Frankfurt, and knew his repertory well, had the temerity to ask Forsythe for his 'lost' full work, the 1988 Impressing the Czar, which has the well-known pure (but not simple) dance piece In The Middle, Somewhat Elevated at its heart (part 2), Forsythe's party piece seen here in context at last. It put them on the map at last year's Edinburgh Festival when they premiered the production, to which they now have exclusive rights, to rave reviews.
The four-part ballet, set by Michael Simon, costumes by Férial Münnich, with a structure in spite of the deceptively random disorder, opens with Potemkin's Signature, a game of spot the classical reference.
The stage picture is split in two, one half a Renaissance court with (re)moveable Velasquez canvases, the other a tilted chequered board with a throne. And everywhere gilded everyday objects - amongst them geometric cones, a saw, a hammer, a devil's pitchfork, dumbbells, giant scissors, a maquette of Venus de Milo, a golden branch, cherries, and arrows, lots of arrows, and masking tape. And a young man in a black and white pleated skirt (a hint of Nijinsky's faun maybe) - the martyr Sebastian?
An elaborate eccentric jumble, organised chaos, of artistic perspective, classical myth, and the history of art and ballet no less.
Dancers in courtly taffeta gowns of silver black, bronze, golden russet are disrupted by slinky liberated dancers in leotards flitting amongst them. The quicksilver execution of fiendishly difficult fast intricate choreography is breathtaking - the dancers constantly moving particles hurtling through space. "We have lift off."
So much is going on that one has to choose where to look and what to watch - the passive spectator as active participant in a work of art that requires some concentrated reading. "To each his own: know what I'm saying?"
And there's dialogue - radio space control "requesting co-ordinates" (if only) - between Agnes and Roger And a Mr. Pnut. Who are they? Doesn't matter. Give up trying to follow the plot; give in to the experience.
Could Pnut be the ballet maître, in brocade frock coat and golden cone on his head, assassinated by golden arrow, and resurrected by forty dancing circling St. Trinian schoolgirls in the final part - Bongo Bongo Nageela Mr Pnut Goes to the Big Top? Ecstatic pulsating orgiastic dance - a Busby Berkeley arranged tribal war dance Lord of the Flies, or a parodic Giselle?
Chatter (up-to-the-minute chatter - Obama and "yes we can") too in the third part -- La Maison de Mezzo-Prezzo - a madcap auction of scenery, objets d'art, and dancers from the first, a talking head in a gilded box, and a television relaying the broadcast. An auction of Western Civilisation? "What is the point of all this? Metaphor - not. Trend - not. Teutonic ritual - not." So we are told. Hmmn
Confused? You should be. Confused and dazed by a mind firing on all its cylinders, throwing out everything it has stored in the lumber-room of its brain.
Surreal, allegorical, subversive - one's brain scrambles to interpret a scattergun imagination - David Lynch, Breton, Cocteau, 1920s, post-modern, avant-garde, de Chirico, Louise Bourgeois? A stream of consciousness the only response to a stream of consciousness, a joke we can all share.
Does one need to understand Forsythe's "aesthetic of perfect disorder", as he called it? No, just succumb and enjoy the dance - an exciting performance of complex choreography powered by a fantastically dramatic cacophony of music from Beethoven, Leslie Stuck, Eva Crossman-Hecht, and Thom Willems who has composed for more than 70 Forsythe works.
Pulsating demanding electronic drum and bass beats and funky rhythms drive the dance from courtly ritual to ritualistic rites - the symbolic death of classical ballet and its resurrection in post-modern form done with incredible invention and wit. A bouleversement of the classical idiom, whilst retaining the best of it - with a bit of hand jive and break dancing, why not
The foundations of Catherine de Medici, Catherine the Great, and Imperial Ballet destabilized by triumphant irreverence, Impressing the Czar (ought that to be Czarina?) impresses this czarina. Spectacular verve, daring, total abandon and submersion in dance unrestrained by classical training, even though one can't do it without classical training, cheeky humour and pure joy. I left dazzled - not bewildered - but bowled over.
The Forsythe season culminates next spring with UK premieres both at the Wells and at Tate Modern and the South London Gallery. Dance installations - look out for them. Your mind can only be expanded.
Reviewer: Vera Liber