In at the Deep End
Laurence Peacock
Mikron Theatre
RNLI Scarborough Lifeboat Station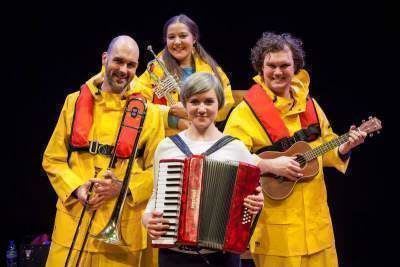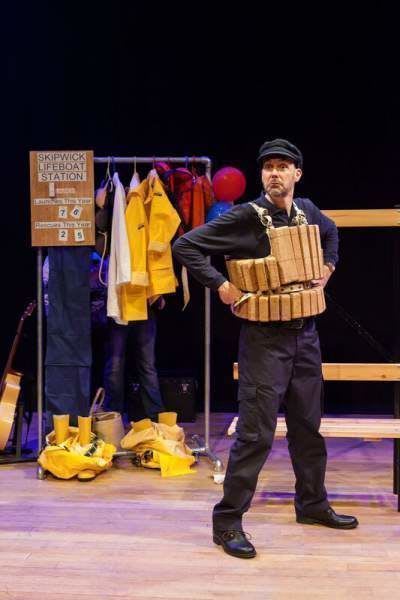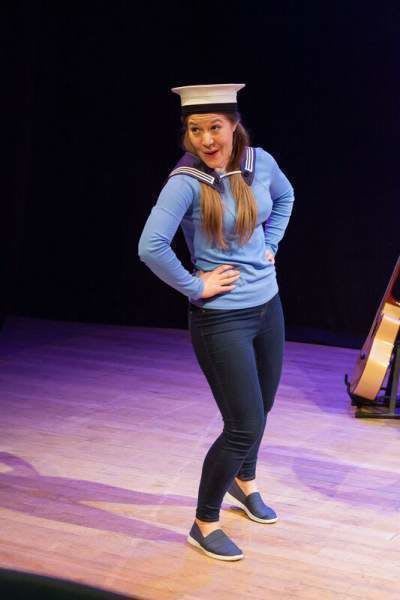 Mikron Theatre must be one of the UK's most unusual theatre companies. Not only do they tour the country by canal boat during the summer months, they also perform in a wide variety of non-traditional spaces, including chip shops, dry docks and allotments.
The company's other defining characteristic is their commitment to creating plays about beloved British institutions. Three months ago, for example, I reviewed Best Foot Forward (still touring)—a play about youth hostelling—at the York branch of the YHA.
In their latest production, In at the Deep End, playwright Laurence Peacock focuses on the Royal National Lifeboat Institution. Since it was founded by the philanthropist Sir William Henry in 1825, the RNLI has saved over 140,000 lives—a staggering achievement and one well worth celebrating.
Like other Mikron shows, In at the Deep End blends a contemporary narrative with comic vignettes which provide a historical overview of its chosen subject. With the help of various props—including wigs, fake beards and hats—we learn about the contested origins of the lifeboat in the 18th century and the invention of the lifejacket.
The present-day narrative centres around Shipwick's troubled lifeboat station. Coxswain Darren (James McLean) needs to recruit more volunteers, but people are reluctant to give up their spare time and put their lives at risk. His surly management style isn't helping matters either.
Young blood arrives in the form of Billy (Craig Anderson), Darren's browbeaten teenage son, and 17-year-old Shannon (Claire-Marie Seddon), a lifeboat expert with a maritime heritage. Can these two youngsters help save the lifeboat station? Does local fundraiser Hazel (Rose McPhilemy) have any tricks up her sleeve?
There is much to enjoy in Mikron's latest production. The four multi-talented performers demonstrate their versatility by acting, dancing, singing and playing a variety of different instruments. Their enthusiasm and warmth is infectious, and they strike an instant rapport with the audience.
As with previous shows, In at the Deep End manages to be both informative and amusing. Peacock's script is littered with smart gags and the troubled father-son relationship between Billy and Darren gives the production some dramatic heft. Rebekah Hughes's songs manage to be both witty and pleasing to the ear.
It's hard not be charmed by Mikron Theatre's "get-stuck-in" attitude: when the cast aren't busy performing, they're taking ticket money and flogging merchandise. It was also a treat to watch the play performed in Scarborough's lifeboat station with the sea clearly visible behind the performers.
Reviewer: James Ballands