In Extremis
Neil Bartlett
Kean Productions
King's Head Theatre
–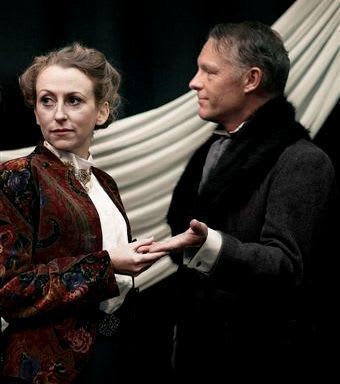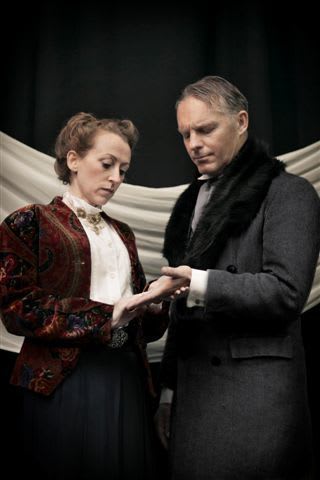 Just why, in 1895, did Oscar Wilde reject his friends' advice to leave the country while he could and avoid facing the trial that was to prove his downfall? It is a question we can never really answer.
David Hare explored it in The Judas Kiss (recently revived at Hampstead and about to transfer to the West End) and Neil Bartlett also address it in this fifty-minute play originally commissioned by Corin Redgrave which was first presented at the National Theatre in 2000 to mark the centenary of Wilde's death.
A telegram that Wilde sent to his friend Ada Leverson is evidence that a week before the trial began he made a visit to a fashionable palm reader called Mrs Robinson at her house in Mortimer Street. That consultation is the subject of Bartlett's play.
Caroline Devlin's production is played on the set of the production playing the rest of the week and designer Petra Hjortsberg relies on costume and a couple of Victorian chairs to set the period look. She swathes obtrusive elements of the other set with cloths and gauzes which wriggle along the ground and hint at ectoplasm. Since we are in the presence of a pair of ghosts, long dead, that seems appropriate.
Mrs Robinson addresses us like the lecturer she sometimes was, telling what happened as she saw it. She says that in her readings she never lied and maybe we can believe her. As the recreates their encounter, Kate Copeland's Mrs Robinson becomes much more natural but she can only recreate what was said. She can only imagine what Wilde is thinking.
Bartlett gives voice to those thoughts, of the people round the corner in Fitzroy Street (soon to crop up in his trial) and especially of his love for Alfred Douglas (Bosie). Nigel Fairs makes him a gentle, private Wilde. Although he knowingly self-quotes once or twice, this is not the clever performer but someone subdued and searching for confirmation that what his own feelings tell him is the right course of action.
This is an unexpected glimpse of Wilde. It is, of course, only conjecture and does not tell us anything new but provides two well-matched performances in an intriguing interlude. Did a palm reading really influence his actions? Maybe. Both Bartlett and Hare present an Oscar ready to interpret what other people tell him not necessarily as they mean it but as he construes it to confirm a decision that he sees as the one demanded by his relationship with Bosie.
Performances of this revival are on Sundays and Mondays only and during the run the roles are also played by Fiz Marcus and Charlie Buckland.
Reviewer: Howard Loxton