The Judas Kiss
David Hare
Hampstead Theatre
–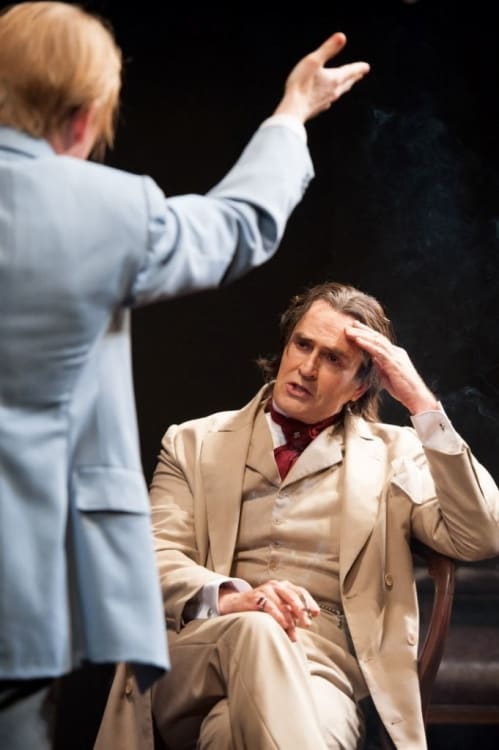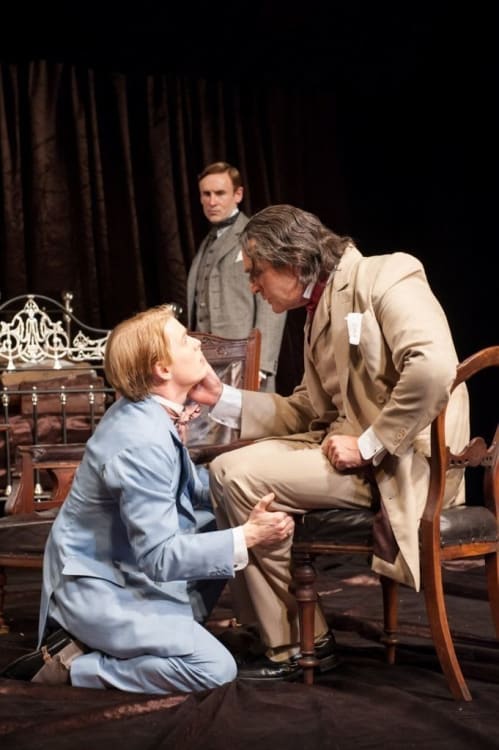 On consecutive nights, London has welcomed two directors from Sydney. Running alongside Benedict Andrews's radical reworking of Three Sisters at the Young Vic is this revival of David Hare's biographical play about Oscar Wilde and Lord Alfred Douglas, The Judas Kiss, directed by Neil Armfield.

First seen in 1998 with Liam Neeson and Tom Hollander taking the leading roles, the current production does not try to do anything exceptional, it just tells a very sad story on stage.
The first half (or to be more exact two thirds) takes place in a rather louche suite at the Cadogan Hotel in 1895 following the trial in which Wilde sued the Marquess of Queensbury to dispute the notorious accusations that the writer was a "sodomite".
What underlay the case was an intense relationship between the Irish poet-playwright, now played by Rupert Everett and Freddie Fox as Queensbury's self-serving son Lord Alfred Douglas, known to his friends as Bosie.
The debates that go on are hard to credit, if one did not know that they were based on fact. Entirely as a result of Bosie's hypocritical behaviour, not to mention his taste for innumerable rent boys, the man who is hopelessly devoted to him in an age when such love was illegal is threatened with two years of hard labour.
Ignoring the fact that Fox's character is odious beyond belief, anyone but the delusional Wilde would have taken the good advice of Cal Macaninch's straight-laced Robbie Ross and skipped the country. Indeed, even the legal authorities were quietly encouraging their worst nightmare to head for the continent.
Thanks to a stubborn streak and a sense of nobility that made no sense, Wilde merely tucked into his hock and lobster and waited for the inevitable to happen.
Two years drift by during the interval far more pleasantly for the audience than Oscar, who spent them on a treadmill in Reading Gaol. Thereafter, we meet him on the Bay of Naples effectively being cuckolded by his catamite with a handsome, smiling Italian stallion whose lack of English was hardly an impediment to the kind of relationship that Lord Alfred was seeking.
Now, David Hare does a far better job of putting Wildean words into the Wildean mouth in a well-written pastiche in which humour cannot help but emerge despite the seriousness of the situation in which lack of money sends the already strained relationship into free-fall.
Pressure comes from all sides as Ross delivers an ultimatum from Wilde's long-suffering wife Constance at the same time as Bosie receives a similar missive from his mother. The gist is that neither can be permitted to live with the other but while this causes Oscar suicidal levels of angst, all that his lover cares about is saving his own skin and reputation.
The Judas Kiss does something to illuminate the relationship between these two men of letters, one a great and the other firmly imagining that he is. It is at its best when Oscar Wilde is seen effectively signing his own death warrant to uphold a principle but why he would ever have fallen in love with such a horrendous, scheming little oaf is hard to comprehend.
In addition to recounting the past, the play does allow Rupert Everett to present a finely nuanced performance as a complicated artist whose integrity is as good as his judgement is bad.
Reviewer: Philip Fisher