JB Shorts 10
Trevor Suthers, Lisa Holdsworth, Diane Whitley, Peter Kerry, James Quinn and Dave Simpson
Reallife Theatre Company
Joshua Brooks, Manchester
–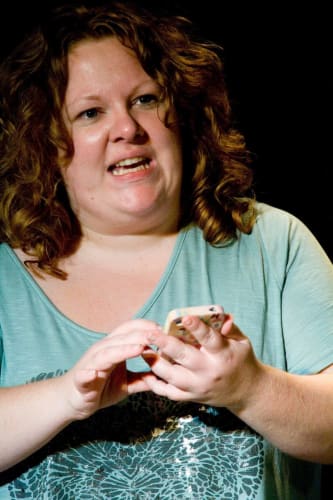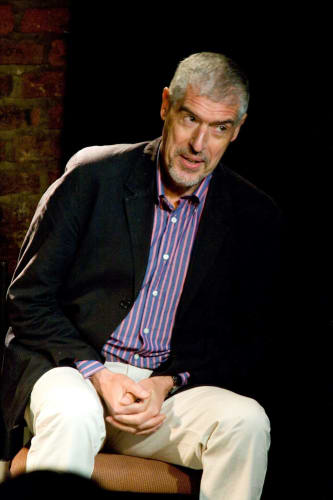 This latest run of JB's brand new 15-minute plays by established writers with far more TV than stage credits on their CVs is number 10, and the opening night was the 100th JB performance.
To mark this achievement, former Library Theatre associate director Roger Haines, who oversees the series under the title of Artistic Director, gave a flamboyant introduction to the evening, telling us that, over the five years of its existence, JB has presented 60 new plays and involved 184 people, onstage and off.
The evening kicks off with JB co-founder Trevor Suthers's What A Performance! directed by Miranda Parker. After his The Script in JB Shorts 9 had a go at the way scriptwriters are treated, this showbiz comedy looks at a dodgy touring farce—it opens with a vicar with his trousers down, a pregnant woman, an inspector with moustache and pipe and a lady with a long cigarette holder—and the bitchiness in a very cramped dressing room shared by all four actors.
It's all played very broadly by Chris Brett, Tigga Goulding, Gracie Kelly and Paul Quinn, the latter as Roland who insists he is the one the audiences are coming to see as he was once on TV, and there are quite a few laughs in it, but without any real plot or structure to it all it runs out of steam halfway through.
Following this is a much more serious piece (although with some good laughs) and the highlight of the evening, but it's difficult to describe much about the plot without spoiling the surprises. Lisa Holdsworth's Big Game, directed by Sushil Chudasama, begins with Stephen Hoyle's Will clearly escaping from a sexual encounter the night before, as he creeps around the living room collecting his clothes.
Amy Drake's Leah appears before he has left, but it comes out, when he has failed to prevent her from looking at her incoming texts, that his motives for being with her weren't what she thought. The plot cleverly twists and turns, so that when you have decided he is simply vain, arrogant and cruel he turns it back on her so that she thinks about herself and her own friends. A tightly-written and directed piece with two superb performances that I'm sure will be seen again.
Taking us into the interval is Diane Whitley's intriguing Relate, directed by former North West Playwrights director Chris Bridgman, which begins in the office of relationship counsellor Daniel, played by Arthur Bostrom, where Andrea (Melissa Sinden) is trying to patch up her marriage of 27 years to Steve (Mark Sheals).
Proper working class "man's man" Steve appears to react unfavourably to the idea of a gay marriage counsellor, but all is not as it seems. A big reveal early on, turning on a whopping great coincidence, turns everything around, but to say more would be a spoiler.
The idea, and even the coincidence, works well and the plot hangs together just about, but there is a split scene in the second half that is a bit confusing with some odd direction that involves a lot of walking in circles on a very creaky stage, plus the ending is a bit muddled. It may need a few tweaks, but this is still a good little piece.
After the interval, Peter Kerry's Icarus Descending, directed by Malcolm Raeburn, whisks us back to Vienna in 1787 to where Beethoven travelled in the hope of studying with Mozart. It is not known whether the two men met—Beethoven returned home to Bonn after two weeks as his mother was ill—but the play imagines the young composer arriving at the Maestro's house where he is regarded with contempt. However Constanza, Mozart's wife, insists that they need the money that a new pupil will bring.
Phil Minns is excellent as the petulant Mozart with Kate Coogan as Constanza, Haydn Holden as Beethoven and Dominic Biddle as Mozart's young pupil whom the Maestro believes will be a far greater composer than his visitor, Johann Nepomuk Hummel.
It's entertaining and often funny but a little predictable—especially the ending—and the writer appears to be trying to show off his research by cramming as many facts as he can into the fifteen minutes.
JB regular James Quinn is soon to appear in That Day We Sang at the Royal Exchange so he isn't acting in this JB, but he appears as the writer of A Special Relationship, directed by Elisa Amesbury. This begins as what looks like a typical break-up relationship story as Lucy Lowe's Brit is encouraged by her French friend Fran (Sarah McDonald Hughes) to separate from her American partner of 12 years, Sam (Rob Ward in a very tight suit).
It gradually becomes clear that these aren't conventional characters at all but representatives of something bigger, and it turns into political satire. When the satire is humorous it works very well, but when it tries to get more serious it starts to betray a lack of real depth to its arguments and turns into characters throwing information at one another that both already know in order to inform the audience. The funny parts are, however, very funny.
Last up is a sequel, a first for JB as far as I know. Dave Simpson's Blind Date at JB9 left awkward couple Angela (Susan McArdle) and Andrew (Will Travis) looking perfect for one another, even though both had lied on their online dating forms. Blind Date 2 (from the same writer and also directed by Alice Bartlett) begins when they have been too shy to contact one another and happen to be in the same place with new blind dates, Fiona (Alison Darling) for Andrew and Julius (Marc Parry) for Angela.
It is obvious to them and to us that the new dates are inappropriate, but luckily, after they have both been left in the lurch, they find one another again. While there are some lulls in this episode, the characters are sweet and lovable and there is some very funny writing made the most of by perfect comic delivery by the two excellent leads. A funny and touching way to finish the evening.
JB provides great value as always, with six very different plays and a few faces off the telly both on stage and in the audience. The Joshua Brooks cellar isn't for the claustrophobic or those who value their comfort, but it's a great evenings entertainment that doesn't go on too late. May it remain featured on the Manchester theatre calendar for at least another 100 shows.
Reviewer: David Chadderton